Did you know that speaking adds moisture to the air? Now when you go camping, you don't want a silent weekend. So how do you keep the moisture level down to control the humidity in your RV?
There are some tips to decrease the humidity to stay at a safe level, and they don't require you to limit your conversations.
Let's take a closer look!
What Causes Humidity in an RV?
Humidity in RVs is caused by temperature variations between the outside and inside. RVs aren't built like homes with that kind of insulation or ventilation system. Condensation builds up on the windows when it's colder outside than inside and increases the moisture level inside the RV.
Moisture is also trapped inside the RV when travelers cook and take showers. Even with an open vent in the bathroom or range vent above the stove, humidity can make living in an RV uncomfortable and even dangerous.
What Level Should Humidity Be in a Camper?
Around 40% humidity is a safe level inside a camper. Once it gets to 50% or above, changes are necessary to reduce the humidity level. Sometimes, your comfort level may also affect where you want the humidity level to remain. You may enjoy a level closer to 30%, so anywhere between 30% to 50% is safe. But the lower within that range, the better.
Why does this matter? Moisture can build up inside walls, carpets, and closets. It can ruin RVs because they consist of so much wood.
Unfortunately, too much moisture can lead to warping, expanding, and structural instability. So you want to reduce the amount of moisture inside your RV as much as possible to avoid damage.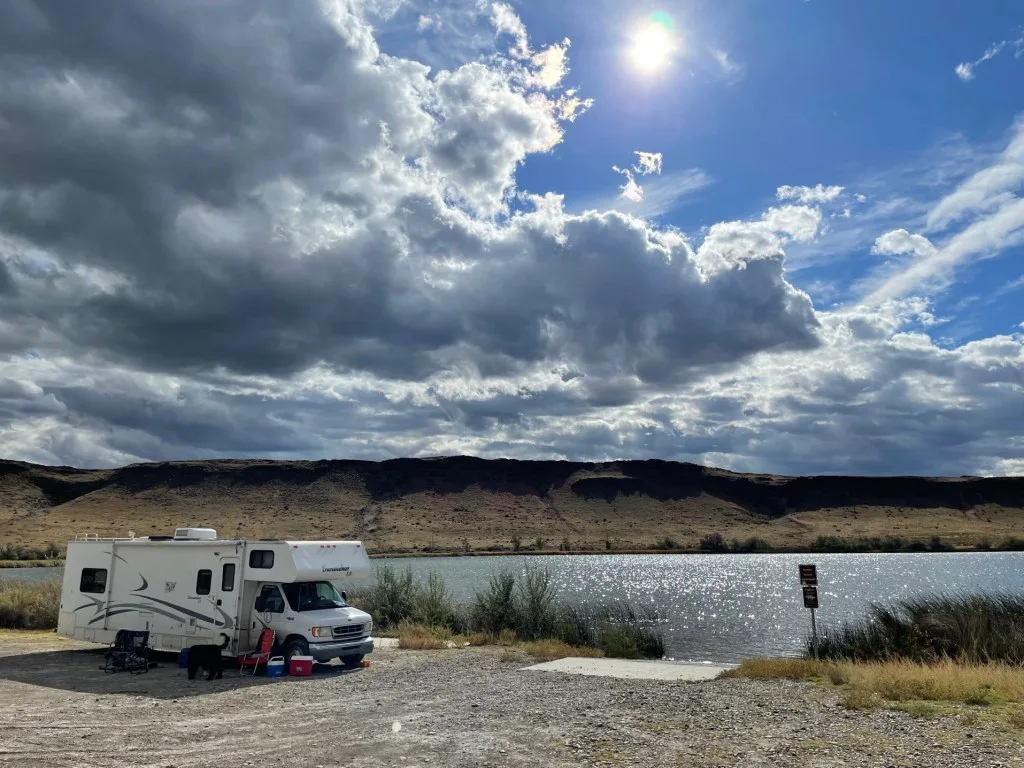 How Do I Keep The Humidity Down in My Camper?
First, get a hygrometer. This device measures the humidity level, and many RVers have a magnetic hygrometer on their refrigerators. Second, limit the amount of water you put into the air. This means turning off the stove when the tea kettle starts steaming, opening the vent in the bathroom when you take a shower, and boiling water using an outside burner if possible.
Don't dry clothes inside. Instead, hang them up outside to dry, so the water doesn't evaporate into the air inside the RV.
It's also a good idea to keep the air moving. Open vents and crack open windows when you can. Run a fan to generate air circulation. Finally, invest in a good dehumidifier. You don't have to spend hundreds of dollars, but it's worth spending some money to keep the humidity level down and protect your RV. There are different kinds of dehumidifiers.
Should I Run a Dehumidifier in My RV?
Running a dehumidifier in your RV is almost always necessary. You can get small dehumidifiers for $20 to $25 and put them in each room. Or you can invest in a larger dehumidifier for $150 to $250 and put it in the center of the RV. These larger ones have settings where you can program the desired humidity level. They're the most efficient.
You can use beads like Eva-Dry and hang these small dehumidifiers around your rig. DampRid is another cheaper option if you don't want to invest in a dehumidifier.
You can also buy refillable bags when it's time to dump the beads. Even when you put your RV in storage, you'll want to use beads to trap the moisture until you get your RV back out for the camping season.
Pro Tip: We uncovered more about Why You Need an RV Dehumidifier (and the Most Portable Options)

Does DampRid Work In Campers?
DampRid bags or buckets require no electricity. For RVers who like to dry camp, this is a great option. It's also a great option when storing your RV with no hook-ups. They come in all sizes, so you can buy one large bucket for a smaller travel trailer or a few smaller buckets to put around a larger motorhome.
According to reviews, DampRid really does work to reduce the humidity in an RV. It's not as efficient as a mechanical dehumidifier, but it's cheaper. One reviewer writes, "The product works well to keep the storage unit at my condo dry and mold-free. Easy to dump out the water and refill the tubs."
Does Baking Soda Absorb Moisture?
Another option is to go the all-natural route and use baking soda. You can simply place a bowl of baking soda on the counter, and it operates the same as DampRid or a dehumidifier.
However, it's best only for small RVs. You'll need a lot of baking soda to be effective in reducing the moisture in a Class A motorhome.
Pro Tip: Humidity fogging up your windows? This is How to Easily Prevent Vehicle Windows From Fogging.
How Do You Prevent Humidity in an RV Camper?
You can't completely eliminate humidity in an RV. The poor air circulation and differences in outdoor and indoor temperatures sometimes can't be helped. However, you can control things like how much cooking you do inside or how many showers you take during a weekend.
Try cooking more outdoors and use the bathhouse facilities at the campground if possible. Your camping experience will be safer and more enjoyable!
Do you have a dehumidifier and hygrometer for your RV? Tell us in the comments!
Discover the Best Free Camping Across the USA
To be honest with you, we hate paying for camping. There are so many free campsites in America (with complete privacy).
You should give it a try!
As a matter of fact, these free campsites are yours. Every time you pay federal taxes, you're contributing to these lands.
Become a FREE CAMPING INSIDER and join the 100,000 campers that love to score the best site!
We'll send you the 50 Best Free Campsites in the USA (one per state). Access the list by submitting your email below: