Camping in the mountains of Colorado, as evidenced by the number of RVs that hit that region every summer, is a huge dream many of us harbor. Ralph Lauren discovered a way he could camp there any time he wants. He purchased a large ranch with one of the most spectacular backdrops ever created – the San Juan Mountains.
The common RVer may not have the cash to buy mountain property. But they can enjoy it on a camping trip for the cost of the fuel to get there.
The national forest surrounding Lauren's land hosts many boondocking sites, free for usage (for up to 14 days). So take a look at the area described below, then go "live your best life" in Lauren's backyard!
Who Is Ralph Lauren?
Born Ralph Lifshitz in the Bronx, N.Y., Ralph Lauren became one of the country's most prolific fashion designers. He began his career selling ties and eventually opened his own design studio, creating his signature "Polo" line for both men and women.
Lauren is responsible for not only several clothing lines but fragrances with his moniker and restaurants. Eventually, the designer branched out into the home interior and furniture markets with sofas, lamps, bedding, linens, and even kitchenware.
He is also well known for his collection of rare automobiles, valued at over $350 million.
Over the years, Lauren has amassed a fortune and is reportedly worth $6.5 billion. He has put his money to good use, creating the Nina Hyde Center for Breast Cancer Research and the Ralph Lauren Cancer Center for Cancer Care and Prevention in Harlem.
He also created the Polo Ralph Lauren Foundation and the Polo Fashion School. That initiative uses company executives to teach inner-city youth about the fashion business.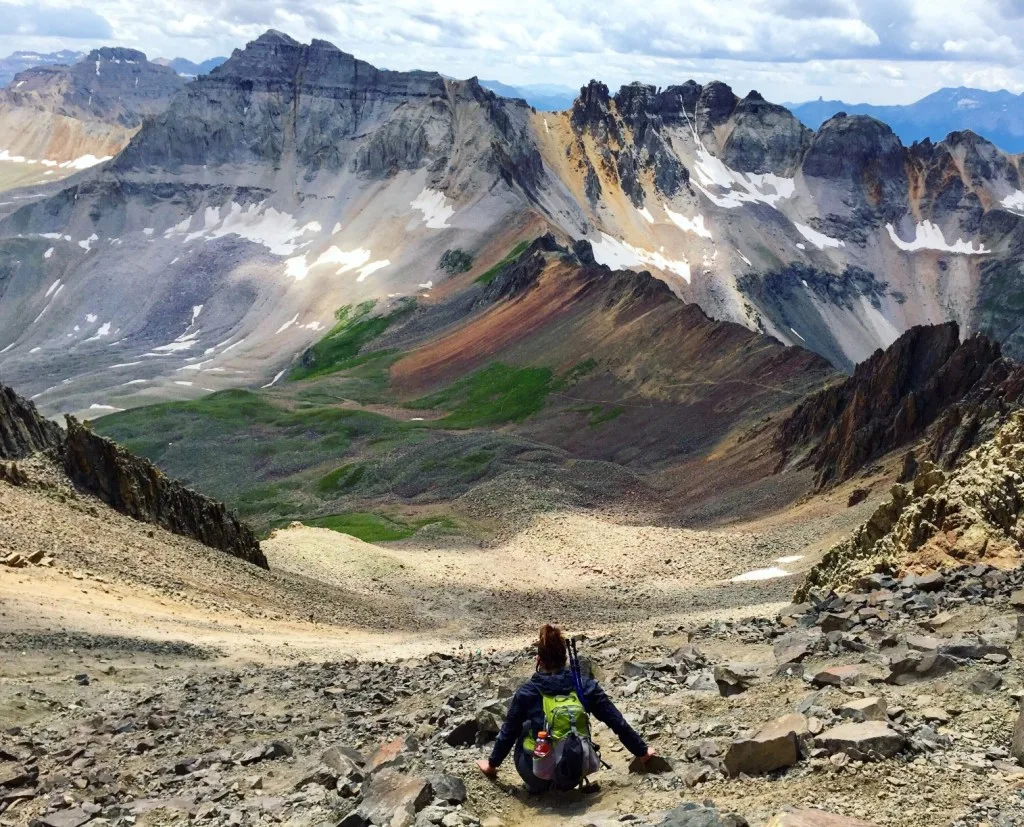 Pro Tip: Hit up one of these 11 Best Trails for Hiking in Colorado while boondocking near Double RL Ranch.
Where Is Ralph Lauren's Colorado Ranch?
The Double RL Ranch is located just outside the southwestern Colorado town of Ridgway, not far from Telluride. The 17,000-acre property is a working cattle ranch that overlooks the San Juan Mountains.
It consists of the main lodge, two cabins, five guest teepees, a historic barn, a pool, and several outbuildings.
How Big Is Ralph Lauren's Ranch?
The ranch consists of more than 17,000 acres, located right at the base of Mount Sneffels within the Uncompahgre National Forest.
It's prime real estate with a storied landscape out the back window. It's also a working ranch with cowboys and cattle.
Can You Boondock Near Ralph Lauren's Double RL Ranch?
Because the Double RL Ranch is located close to the Uncompahgre National Forest in Colorado, it's safe to say that there are probably a few dispersed camping sites close by.
We've found two that are within 20 miles of the ranch and are available for almost any size rig.
Last Dollar Road Dispersed Camping
Coordinates: 38.006, -107.9599
About: One of the country's most scenic dispersed camping areas, Lost Dollar offers views at the top of a steep 5-mile drive. Smaller campers will have no problem finding pull-outs for camping. But larger vehicles only have one option – a large parking lot full of other large campers. There are no amenities, but descent cell signals do exist here.
How Close Is It to the Double RL Ranch?: The Last Dollar Road dispersed camping area is just about 16 miles from Ralph Lauren's ranch.
However, those are some pretty winding, rough gravel roads where speeds don't exceed 25 mph. So the time taken to travel there is about 45 minutes.
Caddis Flats Campground
Coordinates: 38.0277, -108.0916
About: With only three designated campsites, Caddis Flats is not conducive to big rigs. Its location is right next to the San Miguel River, but it's also just below a hard turn on the highway, so traffic noise could be an issue.
The campsites have picnic tables and fire rings, and a vault toilet is available. Access to the river is great for fishermen and those who just want to relax.
How Close Is It to the Double RL Ranch?: Located almost 20 miles for the RL Ranch, Caddis Flats is right off Highway 145 near Placerville. Taking a paved road (Highway 62) toward Ridgway, the drive is only about 21 minutes from the campground to Ralph Lauren's ranch.
Pro Tip: Shhhh don't tell! We revealed Our Secrets to Camping in Colorado.
How Many Homes Does Ralph Lauren Own?
Lauren and his wife own five homes around the world. The bulk of his residences is within the state of New York, including a Manhattan apartment, a beach house at Montauk, and an English-style stone manor in Bedford.
Jamaica's Montego Bay is the location of Lauren's island villa. Of course, the Double RL Ranch in Ridgway, Colo., is where the designer and his family enjoy horseback riding and hiking.
Is Boondocking Near the Double RL Ranch Worth It?
Is camping in one of the country's most scenic areas on your bucket list? You'll want to scoot on down to the San Juan Mountains of Colorado. Grab a dispersed campsite close to Ralph Lauren's ranch.
His brand motto advertises how to live the best life we can, and camping at the base of Mount Sneffels is certainly a fine example of reaching that goal!
Would you go boondocking near the Double RL Ranch? Tell us in the comments!
Discover the Best Free Camping Across the USA
To be honest with you, we hate paying for camping. There are so many free campsites in America (with complete privacy).
You should give it a try!
As a matter of fact, these free campsites are yours. Every time you pay federal taxes, you're contributing to these lands.
Become a FREE CAMPING INSIDER and join the 100,000 campers that love to score the best site!
We'll send you the 50 Best Free Campsites in the USA (one per state). Access the list by submitting your email below: