After the last couple of years, Americans want to get out and explore, visit friends and family, and see and do things they haven't been able to until recently.
More people are hitting the roads, railways, and air this summer. But is it safe? Are these modes of transportation going to get you safely from point A to point B?
Let's look at the worst ways to travel in America. Then you can decide what your plans will be. Let's dive in!
What Mode of Transportation Has the Most Deaths?
Although airplane crashes and train derailments may be catastrophic, they don't occur often. More people die in passenger vehicle crashes than in any other mode of transportation. In 2020, automobile accidents caused almost 39,000 deaths, according to the US Department of Transportation's National Highway Traffic Safety Administration.
Although police-reported crashes and accidents with injuries went down significantly, the fatality rate increased by almost 7% since 2019.
This fatality rate starkly contrasts the less than 1,000 deaths resulting from train-related accidents and less than 400 airline-related deaths. According to the National Safety Council, "Over the last 10 years, passenger vehicle death rate … was over 10 times higher than for buses, 17 times higher than for passenger trains, and 1,623 times higher than for scheduled airlines."
Is a Bus Safer Than a Plane?
Air travel is the safest mode of transportation. Billions of miles are traveled by plane each year in the United States. About one death occurs every 100 million aircraft miles.
So bus travel, although safer than passenger vehicle travel, isn't safer than plane travel. There were 0.02 deaths per 100,000,000 passenger miles due to bus accidents in 2020 compared to 0.002 deaths per 100,000,000 passenger miles in airline accidents.
However, compared to passenger vehicle deaths, which was 0.56 per 100,000,000 passenger miles, bus travel and airline travel are incredibly safe.
Is Amtrak Safer Than Driving?
In 2020, there were 0.03 deaths per 100,000,000 passenger miles as a result of passenger train crashes. This amount is only slightly worse than bus travel. If we were to rank the worst ways to travel, first would be passenger vehicles, followed by trains, then buses, and then airplanes.
However, there's a massive gap between passenger vehicle deaths and train-related deaths.
Pro Tip: We took a closer look to uncover if traveling across the US on the train is an affordable option. Find out if it is in your budget.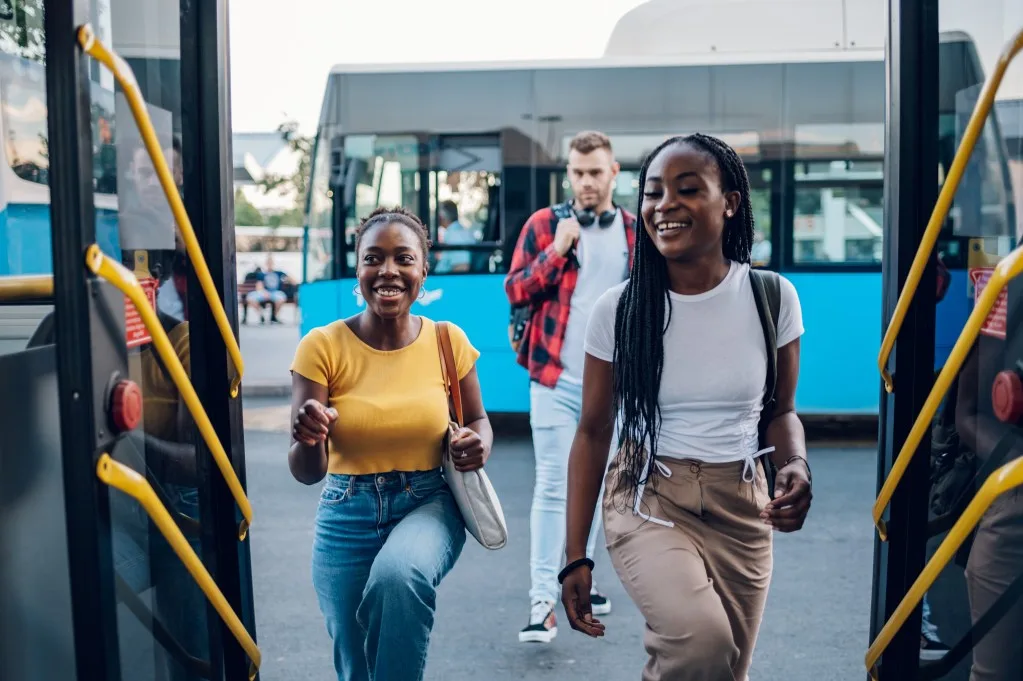 The Worst Ways to Travel in the USA
Safety is only one concern when planning to travel in the United States. Passenger vehicles are involved in more total accidents and fatal crashes, but it's also easier to travel by car from place to place. Let's look at three of the worst ways to travel in America.
Car
The fatality rate is highest when traveling by car. However, beyond safety concerns, fuel prices are high. It's expensive to take a road trip. Plus, you can't rest in a car like you can on a train, plane, or bus. You're the driver, so you must be well rested and alert to focus on the road ahead.
Construction, traffic, and accidents can all delay or reroute your trip, so traveling by car isn't only bad because it's the most unsafe. It can also be a hassle.
Train
Although safer than passenger vehicle travel, train travel is slow. Depending on where you're going and how many stops you make, you can get to your destination faster if you drive than if you take a train. For example, if you boarded Amtrak in Charlotte, NC, and rode to Washington, DC, the trip would take about nine hours.
If you just got in your car and drove the distance, it would take approximately six hours, depending on traffic and pit stops.
You also have no control over stops when taking the train. There may be a layover for an hour or track maintenance for thirty minutes. The train may schedule a stop in a depot for 20 minutes even though no one is boarding. So although it's a safe mode of transportation, train travel can be frustrating.
Plane
If you want to take the safest mode of transportation, you want to book a flight to your destination. However, even with the likelihood of a fatal crash near zero percent, there are other reasons airline travel is one of the worst ways to travel today.
First, it's expensive. Fuel prices might be high, but airline tickets are even higher. You could drive the 13 hours to cover the 880 or so miles from Houston, Texas, to Albuquerque, New Mexico, and spend maybe $100-$150 on gas, depending on your vehicle. An airline ticket will cost anywhere from $200-$400 right now.
In addition to the high cost of flying, numerous cancellations and delays can ruin travel plans. If you get to the airport at 7 a.m. for an 8:30 a.m. flight, then have an hour delay, you've already spent two and a half hours just waiting. And if the airline cancels your flight, you have to go through the hassle of getting a new ticket for another flight that may or may not be convenient.
Pro Tip: Car, train, plane oh my! These modes of transportation all come with their pros and cons, but Is It Safe to RV in America? Find out!
What Is the Best Way to Travel in the USA?
If you're looking for the best way to travel the country, take your RV. You have control over your stops and access to your bed. You can save money by eating in your RV rather than eating in a train car, airport restaurant, or fast food joint.
It's like you're taking your own house with you. You have all of the conveniences of home at your fingertips.
Even more, you get to see the beautiful countryside. From the rolling hills of Pennsylvania to the plains of Kansas to the plateaus of Arizona, the landscapes in America are stunning. So enjoy the journey instead of hurrying to your destination. Pack up your RV and hit the road the next time you want to travel.
Which Transportation Is the Safest?
According to statistics, you're much more likely to be involved in a fatal passenger vehicle accident than in a bus, train, or plane crash. You certainly have more control over your journey, but it comes at a risk. Sometimes it's faster and cheaper than other modes of transportation, and sometimes it's worth parking in a garage and booking a flight.
If you've traveled recently, what was your mode of transportation? Did you experience any headaches? Tell us about your experience in the comments!
Discover the Best Free Camping Across the USA
To be honest with you, we hate paying for camping. There are so many free campsites in America (with complete privacy).
You should give it a try!
As a matter of fact, these free campsites are yours. Every time you pay federal taxes, you're contributing to these lands.
Become a FREE CAMPING INSIDER and join the 100,000 campers that love to score the best site!
We'll send you the 50 Best Free Campsites in the USA (one per state). Access the list by submitting your email below: