People who hate Walmart have good reasons. Many people just don't like supporting big box stores where the people at the top just make more and more money.
However, even though you may avoid Walmart like the plague, there are valid reasons why people shop there.
Let's take a closer look!
Do People Hate Walmart?
If you had to guess, what do you think Walmart's total yearly revenue is? Ten billion dollars? A hundred billion dollars? According to MoneyNation, "Walmart makes $14.7 billion yearly in profit and $482 billion yearly in total revenue." If Walmart were a country, it would be 12th in the world in income.
These numbers are reason enough for some people to avoid shopping at the retail giant's thousands of stores worldwide.
Many people don't like Walmart because the Walton family is wealthy beyond our imagination. On the other hand, many Walmart employees can barely pay their bills. The company also isn't known for its fair treatment of its employees.
In addition, when a Walmart moves into a neighborhood, many small businesses lose customers. Small companies can't lower prices like Walmart can. But people shopping on a budget usually choose lower prices. As a result, these mom-and-pop stores struggle to generate revenue.
What's Walmart's Biggest Weakness?
As mentioned above, Walmart has been publicly criticized for its low wages, inadequate healthcare, and poor working conditions. It's seen as a low-skill company and has come under fire for its unfair hiring practices.
In addition, Walmart doesn't offer quality healthcare options for employees. The cost is high, and the benefits are poor. As a result, many stores aren't staffed well, which can lead to negative customer satisfaction.
10 Reasons Not to Hate Walmart
Although some people have reasons not to shop at Walmart, there are good reasons to shop at the billion-dollar company. Especially if you're shopping on a budget or have limited time, these are ten perks to visiting the retail giant.
1. Good Prices
You can't deny that Walmart has low prices, and prices matter when you're shopping on a budget. Whether it's party supplies, groceries, or home goods, you can usually find the cheapest prices at Walmart compared to other stores like Target and Kohl's.
2. Wide Selection of Products
When you need a one-stop shop, Walmart has practically everything you need. Gardening equipment, hunting gear, toys, school supplies, clothes for the whole family, and more fill the aisles. You can shop for new school clothes for the kids and then head to the other end of the store to load up on groceries, saving you time and money.
PRO TIP: Here's the best medium-roast coffee at Walmart.
3. Organic Options
Even though Walmart has low prices, it doesn't mean it's full of unhealthy options. Name brands such as Cascadian Farm organic cereal, Bertolli organic pasta sauce, and Perdue organic chicken are available, as well as the Walmart brand organic produce and meats. You can choose healthy options even on a budget.
4. An Easy-to-Use App
Even with so many people who hate Walmart, the app is one of the best for retail stores, with 4.8/5 stars and almost seven million ratings. You can shop for groceries and browse items quickly.
The store map helps you easily locate the right aisle in the store, which saves you time. In addition, you can create wish lists or grocery lists as well as manage your prescriptions.
5. Curbside Pick-up and Delivery Options
Almost every big box store now offers curbside pick-up and delivery options. The easy-to-use app allows you to check in once you're ready to pick up your order.
Free same-day pick-up for groceries is available for orders over $35. Or, with Walmart+, you can get free shipping with no minimum order or free delivery on groceries for orders over $35.
6. Budget-Friendly Gas Stations
Not every Walmart location has a gas station, but the ones that do will save you money on fuel. Walmart+ can save you up to ten cents per gallon at more than 14,000 locations, including Exxon, Mobil, Walmart, and Murphy stations. If you save $3 every time you fill up and visit the pump four times a month, you're saving over $100 just on gas each year.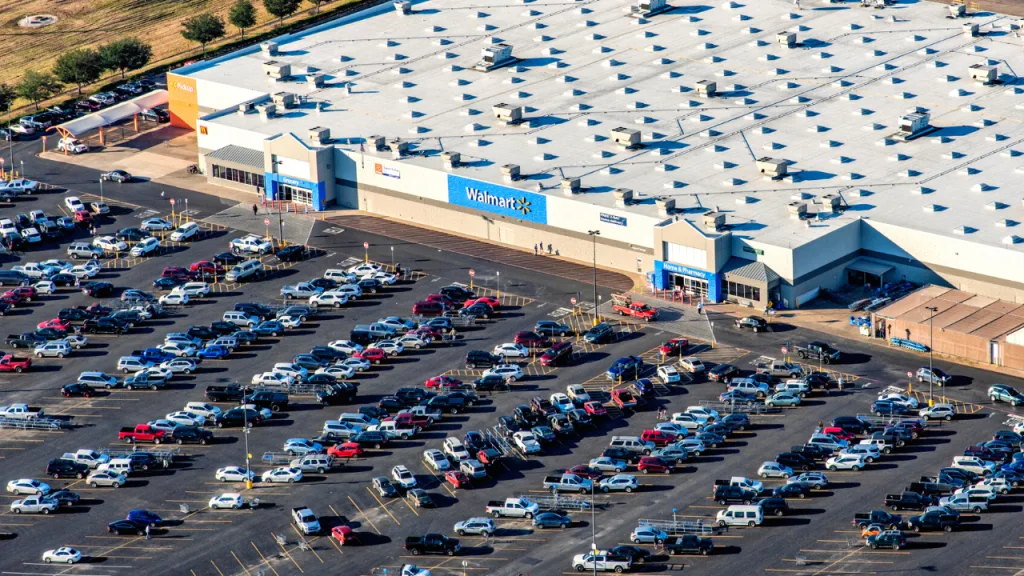 7. Coupons and Savings
Even without coupons and savings, Walmart has low prices. So when you add in rollback prices and additional coupons, you're saving even more money. You can search on the app for deals, flash picks, and yellow rollback stickers throughout the store. On the website, you can also easily search for clearance items.
8. Online Ordering and Free Delivery
When you order online, you can get your order delivered for free as long as it's over $35. With Walmart+, you can have your order delivered for free, no matter the cost. Walmart gives you easy shopping options via the app, website, or in person. Plus, the pick-up and delivery options make it even easier to save time and money.
9. The Company's Charitable Work
The Walmart Foundation gives money to a variety of charities since the organization allows store managers to choose grantees. However, there are four priority areas: creating opportunity, advancing sustainability, strengthening community, and promoting racial equity.
According to Walmart.org, "In FY2022 Walmart and the Walmart Foundation provided more than $1.5 billion annually in cash and in-kind to support programs that align with our philanthropic priorities."
10. You Can Park Overnight in Many Walmart Parking Lots
Walmart stores have always been popular overnight parking locations for weary travelers. These parking lots are generally close to major highways and interstates and offer easy-in and easy-out accessibility. Recently, some locations have started to deny overnight RV parking due to travelers abusing this privilege. But for the most part, Walmart stores still provide this service.
Is Shopping at Walmart Worth It?
If you're shopping on a budget and have limited time due to work obligations or family responsibilities, then Walmart is a great option. Many people don't like the idea of supporting a billion-dollar company. They don't like the way workers are treated and want to make a statement by not shopping at any Walmart store.
But many people can't make that choice because they're shopping on a tight budget. Plus, lots of rural towns don't have alternatives. So is shopping at Walmart worth it? Your wallet and your location will probably make that decision for you.
Discover the Best Free Camping Across the USA
To be honest with you, we hate paying for camping. There are so many free campsites in America (with complete privacy).
You should give it a try!
As a matter of fact, these free campsites are yours. Every time you pay federal taxes, you're contributing to these lands.
Become a FREE CAMPING INSIDER and join the 100,000 campers who love to score the best site!
We'll send you the 50 Best Free Campsites in the USA (one per state). Access the list by submitting your email below: