It's beyond frustrating to watch the behavior of a few RVers on the open road.
From not picking up the dog poop to using loud generators throughout the night, it's the type of things that make us hate RVing.
However, one action is beyond the pale: disrespecting places that allow free overnight parking.
Today we're sharing the info a Reddit user discovered at a notoriously RV-friendly Walmart.
Here's the scoop.
Trash in the Lot
The Redditor, u/centralnm, spotted an unsightly 5th-wheel in Albuquerque, New Mexico on March 20, 2023. His message reads simply, "Needs minor work."
But, what happened next was a mob of community feedback and comments.
Here's a visual of the RV.
We understand people fall on hard times and run out of options. A little grace can go a long way. Maybe they spoke with the manager, and perhaps they received permission.
But, if not, this is the behavior that ends overnight parking for the rest of us.
What Does the Community Think
Let us begin with our thoughts. We love overnighting at Walmart when we're in the middle of cross-country trips. It's an easy in and out.
Good Night. Good Morning. Good Bye.
Old, trashy rigs in the lots are not the norm. But, we have seen a few.
Each Walmart that ends an overnight parking privilege saddens our hearts.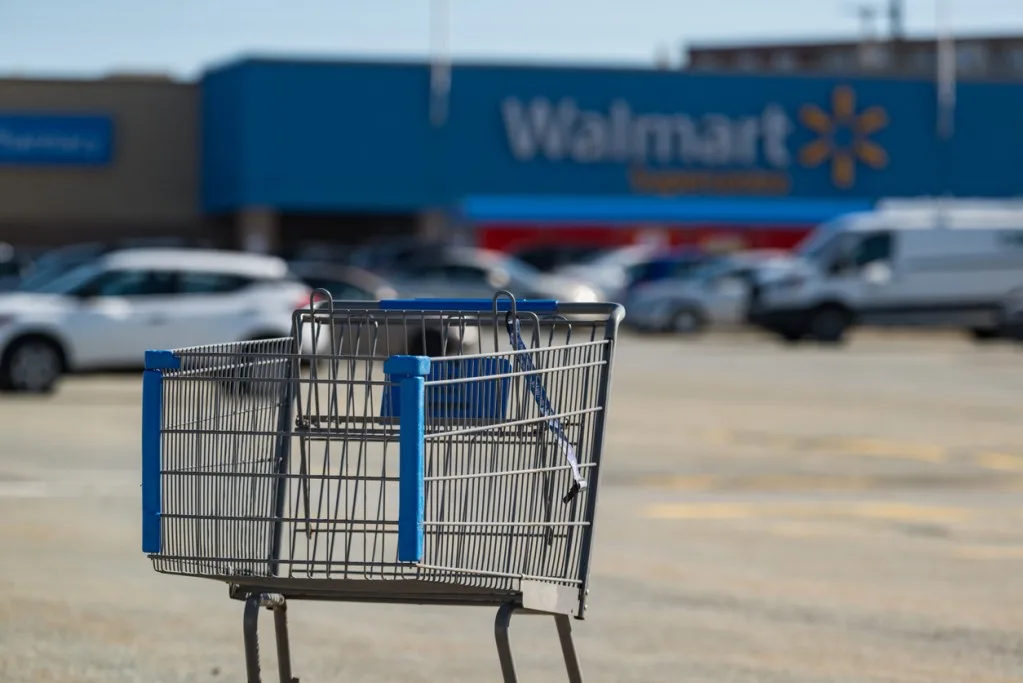 Reddit user LivingBehindBars says, "That right there is a perfect example of why Walmart / towns don't want RVs in their parking lots. If one in 10,000 units look like this, it ruins it for everyone else."
South_Lake_Garage quips, "Love the keep out sign. Like you'd have to pay me to enter that thing."
As to which the Original Poster follows up, "I (cautiously) looked inside because I wasn't sure if it was occupied. It's a wreck, as expected. Pretty much gutted. I suspected it might be a former…lab, but it did not have the characteristic smell. After looking inside, I, too, thought the Keep Out sign was a nice touch."
How to Know Which Walmarts Allow Overnight RV Parking
Finding out which Walmarts allow overnight RV parking is pretty straightforward.
With some stores, it will be undeniable because they have "No Overnight Parking" signs throughout the parking lot.
With others, it's hard to tell by looking!
Here are a few ways you can find out if a Walmart store allows overnight camping:
Call the store and ask for the manager. They'll even tell you which section of the parking lot to park in if it's allowed.
Use the Allstays "Walmart Overnight Parking" app, or download the paid version of the full Allstays app. Both apps show Walmart locations and are updated with real-time user reviews.
This way, you'll know if a store suddenly changes its policy, and you'll also see reviews about noise, parking, etc.
Check the map on Walmart Locator. This map isn't constantly updated by users like Allstays, so always call to verify.
Is It Safe to Camp at Walmart?
If you decide to camp at Walmart, you're (almost) no less safe than camping elsewhere. Because Walmart has security lights and cameras, you could make a case that you're safer than in many other camping spots.
However, safety is something that you should take seriously and will vary based on the location. The "safety wildcard" at Walmart is that you're a sitting duck for all the public to see during the wee hours of the night.
Using the apps we previously recommended can be a great way to research the safety of an area. Users on these apps are typically great about leaving detailed reviews, especially regarding protection.
Why Are Some Walmarts Saying "No" to Campers?
Sam Walton initially set the overnight parking policy for all his stores, but many actions have caused some Walmarts to rescind their allowance over the years. Here's why:
Long-Term Campers
Some RVers have ruined it for the rest of us by ignoring the rules and being discourteous to the host. They park their RV at Walmart, pull out their camp chairs, put down their levelers, which sink into the hot asphalt and leave dimples in the parking lot, open all the slides, fire up the outdoor grill and treat Walmart as if it's their long lost home.
In instances like this, it appears the party's going to be a nightly occurrence, and Wally World has become their permanent address. It's easy to see why many stores are cracking down on 'users' like these who are setting up a long-term campsite at the local big box store.
READ THIS: Van Camper admits Sleeping at Walmart for Two Years.
Trash and Vandalism
Some stores are located in high-crime areas and experience vandalism and criminal behavior. And sometimes, the infractions come from an RVer who has decided to use his free overnight parking spot while inciting violence or committing a crime.
And more often than not, some campers leave their trash, don't clean up after their pets, or leave remnants of their stay at Walmart, like oil leaks from their rigs and even RV parts that they have replaced while sitting in the parking lot.
None of these actions would be tolerated at a campground, yet some RVers think they're above the rules and limits of common decency.
Local Rules and Regulations
In many cases, because of local laws and regulations, Walmart has had to limit overnight parking in stores. This occurred with resident campground owners in towns where Walmart allowed RVers to stay overnight.
The campgrounds felt like store policy was taking away legitimate customers who would have paid for a campsite if they didn't have a place to park free. They lobbied for new rules to be passed that nixed overnight parking in business parking lots, and city law always trumps company policy.
Discover the Best Free Camping Across the USA
To be honest with you, we hate paying for camping. There are so many free campsites in America (with complete privacy).
You should give it a try!
As a matter of fact, these free campsites are yours. Every time you pay federal taxes, you're contributing to these lands.
Become a FREE CAMPING INSIDER and join the 100,000 campers that love to score the best site!
We'll send you the 50 Best Free Campsites in the USA (one per state). Access the list by submitting your email below: