If you want to see the South, branch out from Savannah to go on some epic day trips. While this cute Georgia city has plenty to do within its limits, its location makes it easy to add a few extra adventures to your itinerary.
Before you plan your trip to Savannah, take a look at the surrounding destinations to see which areas might pique your interest.
To make it easy, we've put together a list of the five best day trips in the area so you can experience more of the great American South.
Let's hit it!
About Savannah, Georgia
In 1733, James Oglethorpe's ship landed on the shores of the Savannah River. Eighteen years later, Georgia officially became the final of England's 13 colonies in North America. The city of Savannah was founded that same year and has proved to be exceptionally resilient.
During the Civil War in the 1860s, sea blockades caused Savannah's entire economy to crumble. Its citizens lived through a yellow fever epidemic at the beginning of the 20th century and two major fires around the same time. Despite these setbacks, this place managed to create a thriving cotton industry until the boll weevils ate their entire crop in 1915.
Then the great depression hit.
However, Savannah somehow survived these difficulties and has become a booming tourist destination.
What Makes Savannah Unique?
Beginning in the 1950s, a group of activists created the Historic Savannah Foundation to preserve the city's architectural beauty. Today, visitors love to gander at historic buildings like The Pirates' House, built in 1734. You can also see the third oldest synagogue in America, built in 1820, or Georgia's first bank, constructed in 1789.
Besides the unique architecture, tourists enjoy taking a stroll in Forsyth Park or along River Street. As you explore this walkable city, be sure to check out some of the local art.
You should try the regional cuisines, too. We suggest getting your hands on some fried chicken or Brunswick stew if you can.
What's the Best Time of Year to Visit Savannah?
Savannah earned the nickname "The Hostess City of the South" for its exceptional Southern hospitality, but you may want to plan your visit carefully. In the summer, temperatures average around 90 degrees which doesn't sound too bad. However, the humidity typically hovers near 80%, making it feel like well over 100 degrees.
You'll want to steer clear of Georgia in the summertime. Instead, consider planning your travels in the spring or fall, when Savannah and its many day trip destinations will be more pleasant.
In the spring, trees will bloom, and the city hosts several events like the Sidewalk Art Festival. While you won't see as many flowers in the fall, the temperature and weather can be ideal for sightseeing.
Pro Tip: Spend the night at one of these 7 Charming Savannah GA Campgrounds.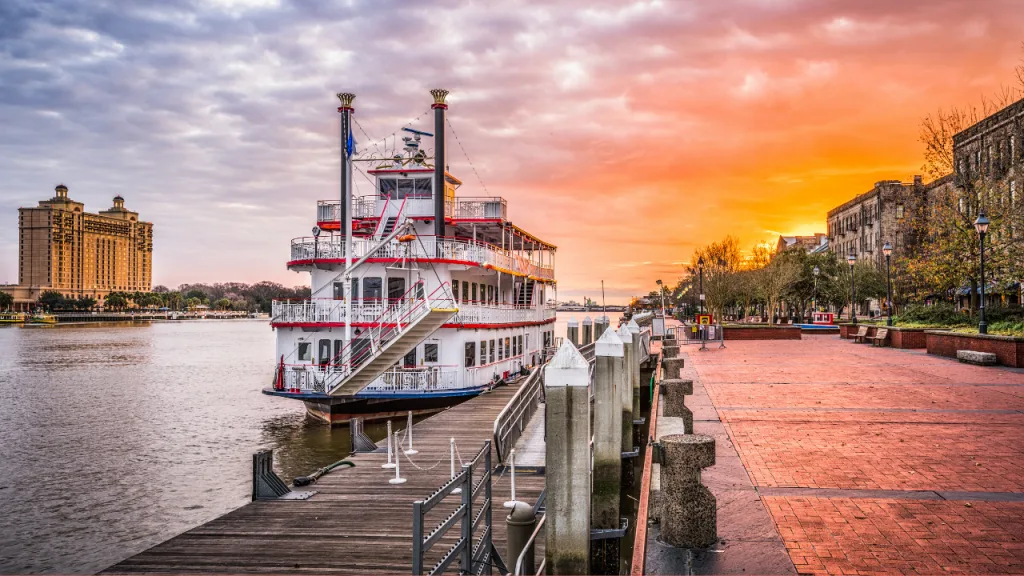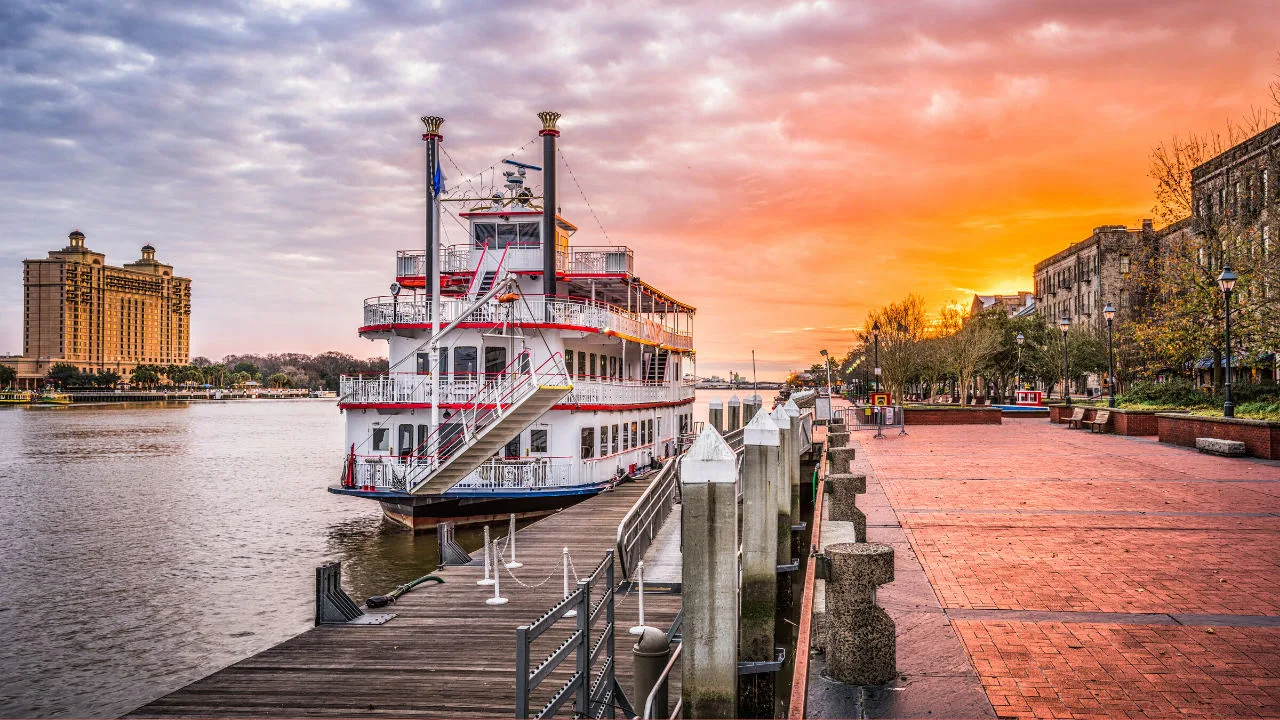 The 5 Best Day Trips Near Savannah, Georgia
No matter what you like to do, you'll likely find it in the city or the surrounding area. You may want to budget extra time to take a few day trips during your trip to Savannah, as its location makes it conducive to exploring the South.
#1 Charleston, South Carolina
When in Savannah, you may want to check out Charleston, and no, we don't mean the dance move. You can get to this seaside South Carolina town in under two hours by car. If leaving from Savannah for a day trip, you may not have time for a beach day, but there's still plenty you can do!
The historic town, founded in 1670, has no shortage of guided walking or boat tours that history buffs will love. If you've been enjoying the architecture in Savannah, you'll want to stop by Charleston's Rainbow Row to see more historic, colorful homes.
#2 Fort McAllister State Park
Fort McAllister State Park lies about 40 minutes outside Savannah on the banks of the Ogeechee River. It served as a Confederate camp during the Civil War. Today, you can check out the bunkers that soldiers build directly into the ground.
In addition to exploring the historical aspects of the park, you can spend some time outside. The 1,700-acre recreation area offers hiking, camping, and picnics. Depending on the season, you may also be able to rent a kayak or paddle board to spend time on the water.
#3 Tybee Island
Getting to Tybee Island from downtown Savannah takes about half an hour, meaning you'll a day trip will give you plenty of time to explore. This barrier island lies in the northeastern corner of the state. If you've been craving a beach day, you should add this to your itinerary.
Visitors to the island also enjoy checking out the Marine Science Center and watching live cannon firings at Fort Pulaski National Monument. Whether you want to stretch out on miles of sandy beaches or learn something new, Tybee Island has you covered.
#4 Hilton Head, South Carolina
Just north of Tybee Island, in the southeastern corner of South Carolina, you'll find Hilton Head Island. It takes about 45 minutes to drive to this barrier island from Savannah. It's been named Best Island in the Lower 48 several times by Time + Leisure.
Of course, you can find beaches to relax on, but visitors especially love Hilton Head for the shopping. It's also home to the iconic Harbour Town lighthouse and museum. You can bike along the coastline or grab brunch at one of the area's iconic restaurants.
#5 Jekyll Island
Jekyll Island is another great Savannah day trip about an hour and a half south of the city. This spot not only has beautiful beaches but activities for the whole family as well. You might even be tempted to stay for longer than a day.
Whether you want to hit the spa, play a round of golf, or go horseback riding on the beach, you'll find it on Jekyll Island. With miles of trails and endless options for water activities, you won't want to skip this spot.
Don't Miss These Savannah Day Trips!
Savannah has stunning architecture and delicious food. But once you've gotten your fill, you may want to branch out. Consider heading to one of several nearby barrier islands to spend some time at the beach. Or continue exploring historical locations with a quick trip to Charleston.
Make Savannah your home base, and then plan some day trips outside the city for the perfect vacation!
Discover the Best Free Camping Across the USA
To be honest with you, we hate paying for camping. There are so many free campsites in America (with complete privacy).
You should give it a try!
As a matter of fact, these free campsites are yours. Every time you pay federal taxes, you're contributing to these lands.
Become a FREE CAMPING INSIDER and join the 100,000 campers who love to score the best site!
We'll send you the 50 Best Free Campsites in the USA (one per state). Access the list by submitting your email below: