Subarus have become popular adventure cars, so we thought we'd tackle an important question. Can you sleep in your Outback?
You've probably seen these four-wheel drive vehicles at campsites and trailheads no matter where you live, and maybe you've been wondering what all the hype is about. Recently Subarus have become popular, partially for camping.
Today we'll look at these popular SUVs and discover where they can take you.
Let's hit the road!
What is a Subaru Outback?
The Subaru Outback has been one of the company's best-selling vehicles for nearly thirty years. What started as a station wagon in 1996 has evolved into one of the most popular crossover SUVs on the market. It comes standard with four-wheel drive and roof racks making it ready for adventure.
We see these crossover wagons on the road frequently, maybe because they average about 30 miles per gallon. Their gas mileage and optional driver assistance features make it a popular choice for road trips. The car's seats fold flat, creating 33 cubic feet of storage space, perfect for holding all your gear.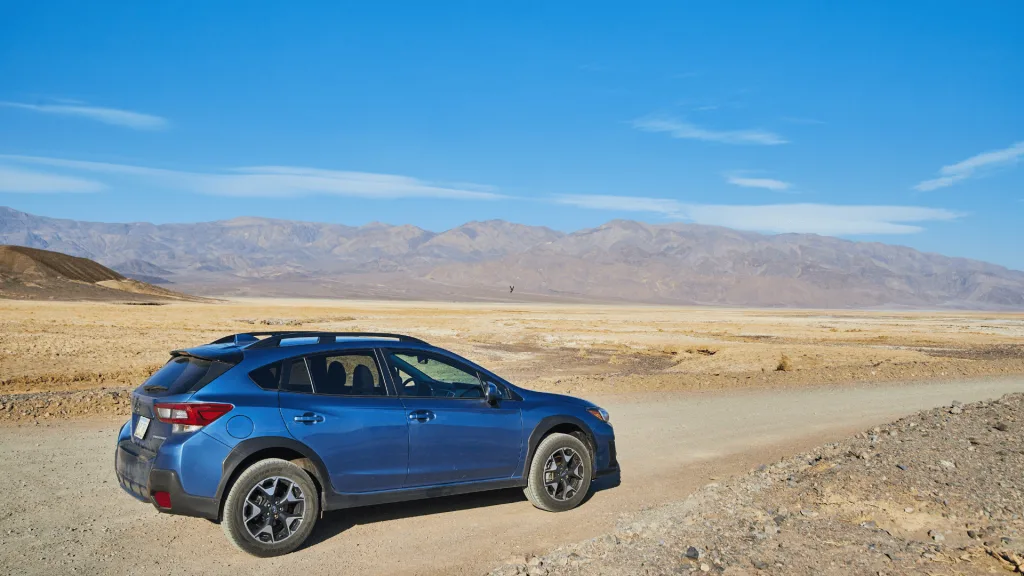 Is the Subaru Outback Good For Camping?
With all that storage space, you probably won't be surprised to hear that the Outback makes an excellent car for camping. This crossover also comes standard with roof racks, so you can easily strap a kayak or extra gear on top.
Don't let its size fool you. The powerful SUV can even tow up to 2,700 pounds. It has nine and a half inches of ground clearance and a front skid plate, meaning you can easily get it down dirt roads to remote spots. All Subarus also come standard with four-wheel drive.
This car can carry everything you need and get you to your site safely, no matter the road conditions making it the perfect choice for camping. Plus, there's even plenty of room in the Outback to sleep.
Pro Tip: Check out this story about a man who has lived in his Subaru Outback for 4 years!
Can I Sleep in the Back of My Subaru Outback?
You may also be wondering if you can sleep in your Outback. This vehicle's flat folding seats and ample space in the back may mean you can leave the tent at home or stealth camp at a Walmart.
With the right gear, you'll be able to get a good night of rest. Once you have the seats folded down, it'll be time to turn it into a cozy nest.
Adventurers Ashlee and Pablo from The Happiness Function tried sleeping in their car with a pad but found it uncomfortable. When they tried out an air mattress, it took up too much room, making it impossible to fit between the bed and the ceiling. The two of them eventually settled on a specialty car pad.
How to Turn Your Subaru Outback Into a Camper
We want to help you sleep in your Outback while staying comfortable. Nomads have been hitting the road for a while and have many suggestions. We've collected some of the best car camping tips.
Fold Down the Back Seats
First, fold down your rear seats. Don't try to sleep horizontally in the back row or just recline your front seat. The tailgate area of an Outback compares to the size of a full bed, and you'll even get to lay pretty flat.
Find an air mattress for your bed for the best night of rest. Look for one that's 72 inches long, 41 inches wide, and only four inches tall. Campers have been able to purchase one of these from REI or Amazon. Some bloggers recommend checking out Luno Life, a company that makes custom car sleeping pads.
Install a Bed Platform for Extra Storage
You might wonder where you should store your gear overnight if you'll be dozing in your primary storage space. Consider building a small platform for your bed to store your belongings under your mattress.
All you need is some plywood to make a platform about four inches above the car's floor and some bins to help you stay organized. For inspiration, just Google "DIY Outback platform bed," and you'll get a bundle of helpful tips for sleeping on your next road trip!
Use a Rooftop Tent
Rooftop tents may be quite the investment compared to building a DIY platform bed, but they offer serious off-roaders or extended travelers a comfortable option. You might need to upgrade your roof rails to support the weight of one of these tents.
We love rooftop tents because they give you more space. You won't have to be crammed in the car with your belongings, and you can usually fit a third person in one. Plus, your windows won't fog up overnight because you'll sleep outside your vehicle.
Utilize Window Shades and Screens
To avoid the dreaded window fogging, you can get screens for your car doors and hit the hay with your windows down. You can also find screens for your sunroof online or get more privacy by using window shades. You've probably seen these at many stores, or you can purchase a specialty one online.
If you plan to sleep in your Outback, these low-cost upgrades can make all the difference. Everyone rests better with good circulation and a little privacy.
Consider an Awning
Awnings can be beneficial if you stay in the same spot for several days. You definitely won't be rolling out this shade cover while stealth parking at Walmart, but it'll help you stay comfortable when you reach your final destination.
An awning will give you a comfortable and shaded spot to hang out while traveling. We think they're great for primitive camping in the desert or other sunny locations. You'll have a nice place to relax or cook your meals.
Pro Tip: We took a closer look to uncover Can the Subaru Outback Tow a Camper Trailer?
Is Sleeping in Your Subaru Outback Worth It?
If you want a car that can do it all, consider checking out the Subaru Outback. You can commute to work in it all week because of its excellent gas mileage and use its four-wheel drive to get you adventuring every weekend.
The ample space in the back makes this midsize SUV an excellent option for car camping. With so much room, you'll have plenty of opportunities to customize your setup and find the best one for you!
Discover the Best Free Camping Across the USA
To be honest with you, we hate paying for camping. There are so many free campsites in America (with complete privacy).
You should give it a try!
As a matter of fact, these free campsites are yours. Every time you pay federal taxes, you're contributing to these lands.
Become a FREE CAMPING INSIDER and join the 100,000 campers who love to score the best site!
We'll send you the 50 Best Free Campsites in the USA (one per state). Access the list by submitting your email below: