You may have wondered if RVing and camping are the same thing. After all, some people distinguish between the two terms, but many others don't.
Will people think you're a poser for calling your RV vacation a camping trip?
Buckle up, because today we're clearing the air about what it all really means.
Let's dive in!
The Different Types of Camping
Love for the outdoors comes in all shapes and sizes. Some folks enjoy hiking and biking, others like catching their own dinner on the water, and many simply want to take in the sights and sounds of Mother Nature. But when it comes to camping, the community is divided.
Many purists believe backcountry tent camping is the only authentic means of overnighting in the outdoors. They may see RVers as soft. However, for every diehard out there, someone is taking the pastime even further.
Folks keen on discovering new locations may try overlanding, which is taking a four-wheel-drive vehicle off-road and exploring new terrain.
Ultralight campers take the bare necessities with them into the wilderness. Sometimes packing only a tarp, a gallon of water, and a few ready-to-eat meals.
Survivalists push themselves even further to test their abilities in extreme environments. They may willfully enter remote forests with only a few tools and their own expertise. These types tend to hunt for their meals and build shelters out of what they find in the wilderness.
On the other end of the spectrum, plenty of people enjoy throwing a sleeping bag in their backyard and calling it a night. So who's to say where the line is drawn?
Pro Tip: You'll be glad you learned these 11 Valuable Lessons for RV Camping.
What is Camping in an RV Called?
Whether you're roughing it under the stars or getting cozy in a warm RV, the basic principle is the same. Camping is an opportunity to get away from home and immerse yourself in the great outdoors.
You don't have to forage for your dinner or start a fire with a flintstone to say you went camping. If you're closer to nature in your RV than you would be in your neighborhood, then congratulations, you did it!
The important thing is that you're able to enjoy your time in the outdoors and escape the daily grind. And that looks different for everyone. If your goal is to test your survival skills, that's great! But there's no shame in indulging in some of the comforts of home, either.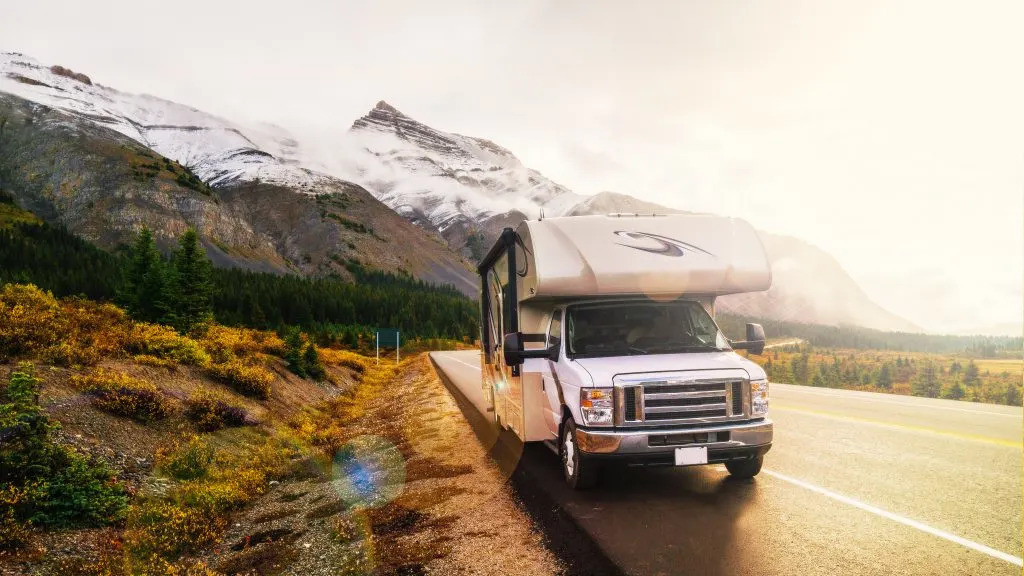 Glamping vs. Camping
Speaking of creature comforts, you've likely heard the term "glamping" before. But for those unfamiliar with the concept, it's "glamorous camping," and it's very trendy these days.
Although some consider RVing a type of luxurious camping, the latter often involves more permanent structures. Fancy cabins, yurts, and even treehouses contain everything you need for an indulgent yet rustic experience.
These places often have functional kitchens, real toilets, and even plush mattresses. Some even have heated swimming pools, saunas, and outdoor movie screens. They cater to a crowd that enjoys getting closer to nature but doesn't necessarily want to get their hands dirty.
Glampgrounds have steadily grown in popularity over the last decade. They can be found just about anywhere, as many traditional campgrounds have added these luxury assets to their business model.
What is Boondocking?
For many RVers, boondocking is as rustic as it gets. This means you're on your own without hookups for electricity, sewage, or water. Also called dispersed camping, it's often done on public lands or areas belonging to the Bureau of Land Management (BLM). Folks also boondock in parking lots when they need some shut-eye.
Boondocking is ideal in temperate climates where heating and air conditioning aren't necessary.
A little fresh water in the tank is usually all you need for quick overnight stay. But if you're planning a longer trip, you'll need to think about logistics.
Figure out in advance how and where you'll get fresh water and empty out grey and black water tanks. What'll you eat and how will you cook it? Generators, batteries, and solar panels can provide electricity, but you'll need charcoal or propane to grill. And remember that most public lands limit boondocking to 14 days at one site.
Pro Tip: Give boondocking a try with these 22 RV Boondocking Tips.
What's the Difference Between Boondocking and RV Camping?
You might hear RVers distinguish between boondocking and dry camping. They're essentially the same thing except for one factor.
Boondocking usually refers to RVing in more rustic environments without access to amenities. It's perfect for folks who really want to escape civilization. There's more planning involved to ensure you have everything you'll need for your adventure.
Dry camping takes place anywhere more populated, just without the use of hookups. This could be a Walmart parking lot or an established park. You'll have easy access to stores, bathrooms, and other facilities you won't find in the wild, even if they aren't hooked up to the grid.
While some people give this distinction more weight than others, the terms are interchangeable to many.
The Right Camping for You, With or Without the RV
The way you like to camp, RVing or not, shouldn't matter to anyone else. Getting out into nature is what's important. Whether you're testing your survival skills in the wilderness or glamping at a fancy resort, camping is camping.
Whatever you do, don't let the haters get you down. Some folks take their rugged outdoor skills seriously, and that's ok. Just enjoy the great outdoors and keep adventuring!
Discover the Best Free Camping Across the USA
To be honest with you, we hate paying for camping. There are so many free campsites in America (with complete privacy).
You should give it a try!
As a matter of fact, these free campsites are yours. Every time you pay federal taxes, you're contributing to these lands.
Become a FREE CAMPING INSIDER and join the 100,000 campers who love to score the best site!
We'll send you the 50 Best Free Campsites in the USA (one per state). Access the list by submitting your email below: