Maybe you've seen those old photos of someone driving their roadster through a gigantic Redwood tree. Have you wondered if you can still do that?
We'll answer that question and talk about where you can find these amazing trees.
Let's go!
About Redwood Trees
Redwood Trees, Sequoia sempervirens, grow along the Pacific Ocean in northern California. The overall forest is about 450 miles long by 15 miles wide. Redwoods are noted as the tallest trees in the world, compared to their cousins, the Giant Sequoia, which are the largest tree in the world by volume.
Sequoias grow on the slopes of the Sierra Nevada at much higher elevations.
At about 380 feet tall, the Redwood named Hyperion is the highest tree on record. However, tree growth changes over the years and trees may go unmeasured or even undiscovered. So, other trees may have topped Hyperion's height.
In addition, some say the Northwest's Douglas Fir trees would be the tallest trees, except that most of the old-growth trees were cut down during the initial logging boom. The massive trees you find in the Olympic Rainforest today are largely second growth.
You can find Hyperion and other trees that move up and down the list of tallest on record in the Redwood National Forest near Orick, California. However, you can't drive through these Redwood trees.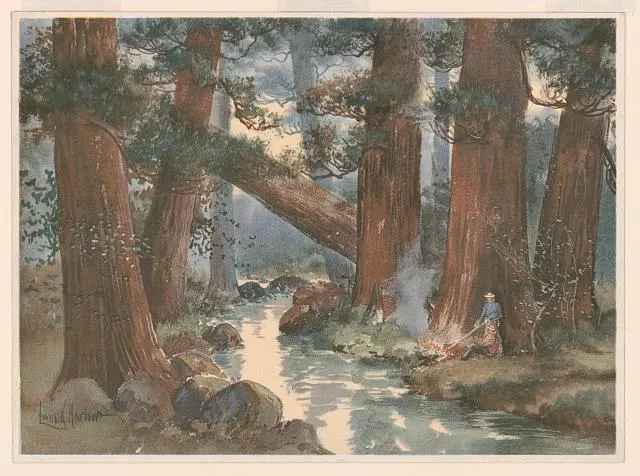 Can You Drive Your Car Through a Redwood Tree?
Yes. You can drive your car through a Redwood tree. In fact, there are three that are still alive and available for your driving pleasure – for a fee. And, fair warning, larger vehicles may not make it through any of these trees even with your mirrors in.
Shrine Drive-Thru Tree is about 50 miles south of Eureka on the Avenue of the Giants, likely the most famous of all the Redwood parks. The opening in this tree was initially created by a fire, probably lightning-created, about 100 years ago. The landowner eventually widened the hole to make it into the popular tourist attraction it is today.
The location also boasts a drive-on tree (a fallen tree that's partially paved) and some tree stumps made into playhouses for the kids.
The Chandelier Drive-Thru Tree is at the south end of the Redwoods in Leggett, California, nearly two hours south of Eureka. The hole, carved in 1937, is the largest of the three trees at just under 6 feet wide and about 7 feet tall.
The 200-acre park is open year-round, except Thanksgiving and Christmas, and includes restrooms, a gift shop with a historical film, and walking trails.
The Klamath Tour-Thru Tree is in Klamath, about 60 miles north of Eureka, near the Klamath River. It's open 24/7, and you just drop your money in a box if the ticket booth isn't open.
The ticket booth has souvenirs for sale, and restrooms are available. You can also grab a bite to eat at their picnic table if no one else has grabbed it first.
Tree Health
Perhaps the most iconic of the drive-thru trees was the Wawona Tree, a Giant Sequoia in Yosemite. The tree fell in 1969 during a snow storm due to its weakened trunk.
The Shrine Tree is also not doing well. It's been held up by cables since the 1940s and has a distinct lean, though its owners say it still safe.
These days, environmentalists have blocked additional drive-thru trees. In addition, many people understand that it damages the trees and isn't 'cool.' So these are the last of the drive-thru Redwood trees.
However, seeing these magnificent trees in their natural, uncut state is an even more amazing experience.
Top 3 Places to See Natural Redwoods
There are several places where you can explore the Redwoods, but these are our top three picks.
Avenue of the Giants, as mentioned above, holds the Shrine Drive-Thru Tree. However, this 31-mile drive also includes some of the largest and densest groves of old-growth Redwoods. You'll come across plenty of restaurants and tourist spots along the Old Highway 101, and there are several hotels and campgrounds. Keep in mind that many of the campgrounds are older and may not fit larger RVs.
Humboldt Redwoods State Park surrounds Avenue of the Giants. It contains the largest stand of virgin Redwoods in the world. Hike the many trails such as Founder's Grove or Gould Grove Nature Trail. Go fishing or swimming in the Eel River, or even horseback riding.
Redwoods National and State Parks are connected pieces of the same area. Here, you can visit 'Big Tree', which has a circumference of a whopping 68 feet. Or Corkscrew Tree, which is actually four trees that grew together. As mentioned above, Hyperion, the world's tallest recorded tree, lives near the Tall Tree Grove. As with the other locations, fishing, swimming, camping are all available here. You might even get to see an elk herd.
There's More to Driving Through a Redwood
We can't argue that driving through a Redwood tree is a unique experience. But there's so much more to the Redwoods than that. Walking through dense forests of the world's tallest trees is nothing short of awe-inspiring.
Have you been to the Redwoods? What was your favorite part?
Discover the Best Free Camping Across the USA
To be honest with you, we hate paying for camping. There are so many free campsites in America (with complete privacy).
You should give it a try!
As a matter of fact, these free campsites are yours. Every time you pay federal taxes, you're contributing to these lands.
Become a FREE CAMPING INSIDER and join the 100,000 campers who love to score the best site!
We'll send you the 50 Best Free Campsites in the USA (one per state). Access the list by submitting your email below: