It's time to get comfy on the road with one of the best camp chairs of 2023!
If you've been uncomfortable while lounging around the campsite, you probably need to upgrade your seat.
Luckily, we've done the hard work for you and scouted out the best options released this year.
Let's get cozy!
How to Choose the Best Camp Chair for 2023
You've probably seen the wide variety of camp chairs on the market in 2023. They come in various colors, shapes, and sizes, so you can find one that best suits your needs.
Lightweight options can be well suited to people who enjoy backcountry camping. If you'll carry your seat for miles along with all your other supplies, you'll want to make sure it weighs next to nothing. This can limit comfort, but at least you won't be sitting on the ground.
While you could use a backpacking chair to go car camping, we suggest picking something more comfortable. You could get a standard camp chair, one with arms and cup holders, or even one that rocks back and forth. They make stools, scoop chairs, and some that sit very close to the ground.
When selecting your new seat, you'll want to take some things into consideration, such as its capacity. If the chair breaks, you certainly won't be comfortable. Also, look for sturdy frame and seat materials to help you select a durable product. Beyond the basics, consider which extras you'd like to have.
You can get one with a footrest or lumbar support for the ultimate experience. The number of options may seem overwhelming, so we've compiled this list of favorites to help you get started.
Pro Tip: Use this Essential Camping Gear Guide to pack for your next adventure.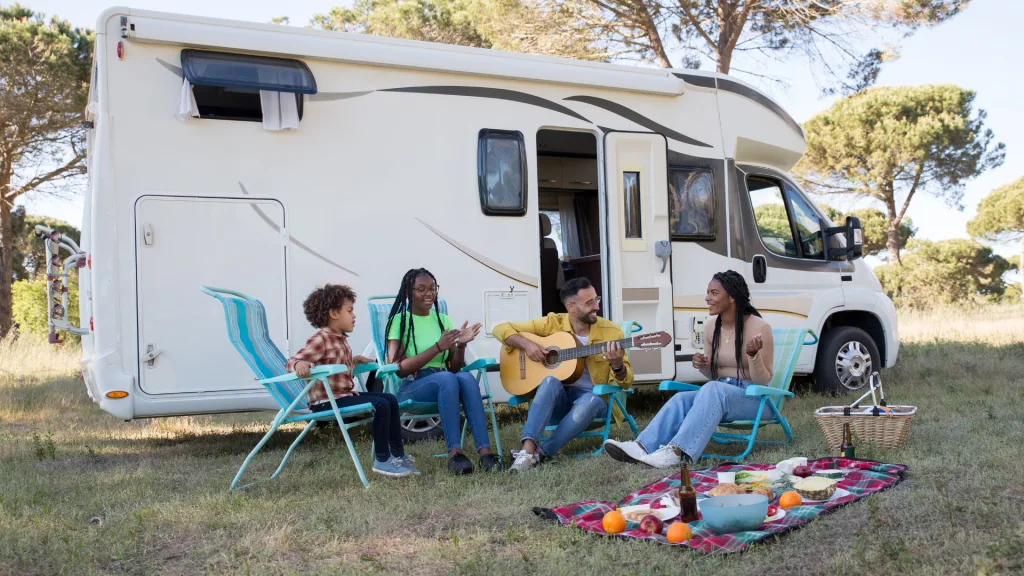 #1 REI Flexlite
This chair folds to be barely larger than a Nalgene water bottle, making it an excellent choice for anyone trying to save space. It weighs in at just over one and a half pounds. The compact size and low weight make it great for use in the backcountry.
Don't let its size fool you, though. This camp chair is durable. It features an aluminum frame and Ripstop polyester. Some reviewers mentioned its durability, saying it lasted years before it started to show signs of wear.
Campers find this chair light and comfortable but lacking in stability. If you need extra support, this may not be the best chair for you.
#2 Kelty Low Loveseat
This next one will be perfect for camping couples. This classic loveseat gives you and a friend a stable place to sit. It's heavy and a little bulky, so you won't be taking it out to the backcountry, but we think you'll love it when car camping.
The thick, durable fabric doesn't offer much ventilation, so leave this seat at home if you plan to be out in the hot weather. Users love the chair, however, for chilly nights. Not only do you get some body heat from your chair companion, but the seats feature thick padding.
This Kelly loveseat will serve you well if you want a stable and durable chair and don't mind toting around a little extra weight.
#3 Yeti Trailhead
Those looking to invest in a seriously solid camp chair in 2023 should look no further than the Yeti Trailhead. The legendary company also makes camp furniture, and it's just as well built (and expensive) as their coolers.
The chair weighs 13 pounds and has a capacity of 500 pounds. It may seem heavy, but its bag comes with backpack straps, making it easy to carry. It also has an adjustable cup holder so you can stay hydrated.
The seat's durable flex grid fabric will last a lifetime, and if you have any issues, you can take advantage of Yeti's generous warranty.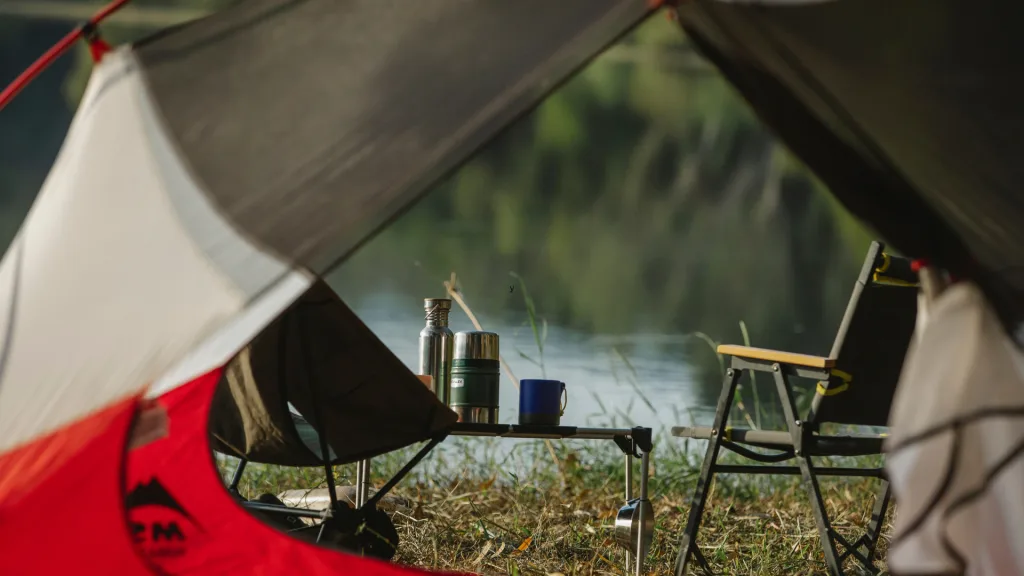 #4 REI Co-op Camp X
REI's Co-op Camp X provides a breathable and durable camp chair in 2023. It weighs a touch over seven pounds, making it easy to move around but too big for backpacking. Try bringing this seat along to your next beach adventure instead. It dries quickly because of its mesh construction.
This chair has a short back compared to others, so it may not be the chair for you if you need neck support. Reviewers did find it stable, versatile, and affordable, though.
We especially love the adjustable cup holders, perfect for holding any beverage. It also has a mesh pocket to stow a few miscellaneous items while you lounge.
#5 Alps Mountaineering King Kong
The Alps Mountaineering King Kong may look like your average camp chair, but it deserves high praise. The sturdy and roomy seat can support up to 800 pounds. The frame is made of steel, making it nearly indestructible.
Its thick, quilted material provides good insulation in the cold but does not provide any ventilation, and it dries slowly. The King Kong weighs 14 pounds, making it the heaviest option on our list. However, It comes with a carrying bag with backpack-style straps to make toting it around a breeze.
We think this chair would be perfect for someone who needs or wants a little extra room in a camp chair. Reviewers found it extremely comfortable.
Pro Tip: Don't know where to buy your new camping chair from? We did a RV Gear Price Check: Camping World vs Amazon vs Walmart.
Make Yourself Comfortable with a New Camp Chair in 2023
Everyone deserves to camp comfortably, and finding the best camp chair in 2023 can help you enjoy your time outside. Whether you plan to backpack deep into the woods or plop down right outside your rig, the perfect seat exists! Hopefully, this list helped you narrow down your seating options so you can find the best chair for your needs in no time.
Discover the Best Free Camping Across the USA
To be honest with you, we hate paying for camping. There are so many free campsites in America (with complete privacy).
You should give it a try!
As a matter of fact, these free campsites are yours. Every time you pay federal taxes, you're contributing to these lands.
Become a FREE CAMPING INSIDER and join the 100,000 campers who love to score the best site!
We'll send you the 50 Best Free Campsites in the USA (one per state). Access the list by submitting your email below: