If your future travel plans include Maine, you might want to avoid Acadia National Park.
Despite what you've heard, your dream adventure can quickly become a nightmare here. Many dangers and inconveniences are lurking nearly everywhere you look.
Today, we're sharing why you might want to reconsider your trip and avoid Acadia National Park.
Let's dive in!
About Acadia National Park
Acadia National Park is one of the premier outdoor locations on the East Coast. It's home to first-class experiences like the 1,500-foot Cadillac Mountain, crystal-clear Jordan Pond, and more than 45 miles of historic carriage roads. For those who enjoy being outdoors, it can be an outdoor playground for all ages.
During the late 1800s, word quickly spread regarding the beauty of Mount Desert Island. As a result, the area experienced tremendous tourism, especially during the summer. This had a significant impact on the location and its natural resources. Locals began pursuing options for protecting their precious island.
President Woodrow Wilson signed the necessary documents to create the Sieur de Monts National Monument in 1916. Locals continued to acquire land and pursue their goal of the ultimate designation.
President Wilson signed more paperwork three years later to upgrade the national monument to a national park. However, its name was Lafayette National Park. It wasn't until 1929 that it received its current name.
Where Is Acadia National Park?
Acadia sits mainly on Mount Desert Island on the Atlantic coast of Maine. The primary visitor entrance is near the famous town of Bar Harbor. It's approximately 160 miles northeast of Portland.
The Downeast and Acadia regions are ripe with sea and land adventures. You're sure to develop an appreciation for its beauty while exploring the islands and trails. With dense forests and rocky shores, it's easy to fill your itinerary.
If you're looking for retail therapy, you'll find many local shops to walk through. They offer a variety of souvenirs and handcrafted jewelry, and other locally-made goods for sale.
One of our favorite activities is finding a bite to eat at one of the many specialty stores offering products created in Maine. You can't beat the maple syrup, seafood, and gourmet treats served here.
Why Should You Avoid Acadia National Park?
While we may have painted a rather rosy picture of the area, there's a darker side. Let's look at some of the reasons to avoid Acadia National Park.
Ticks
Many of the most popular areas experience an incredible number of blood-sucking ticks. It's gotten so bad recently that the University of Maine began researching the phenomenon.
The most impacted areas are in the northeast sections of Mount Desert Island during late spring and early fall.
If you're unaware, tick bites can lead to severe health conditions, including Lyme disease. While you can take some safety precautions against these pesky critters, it's impossible to eliminate all risks. So make sure you wear the proper clothes, use repellent, and check yourself after being in nature.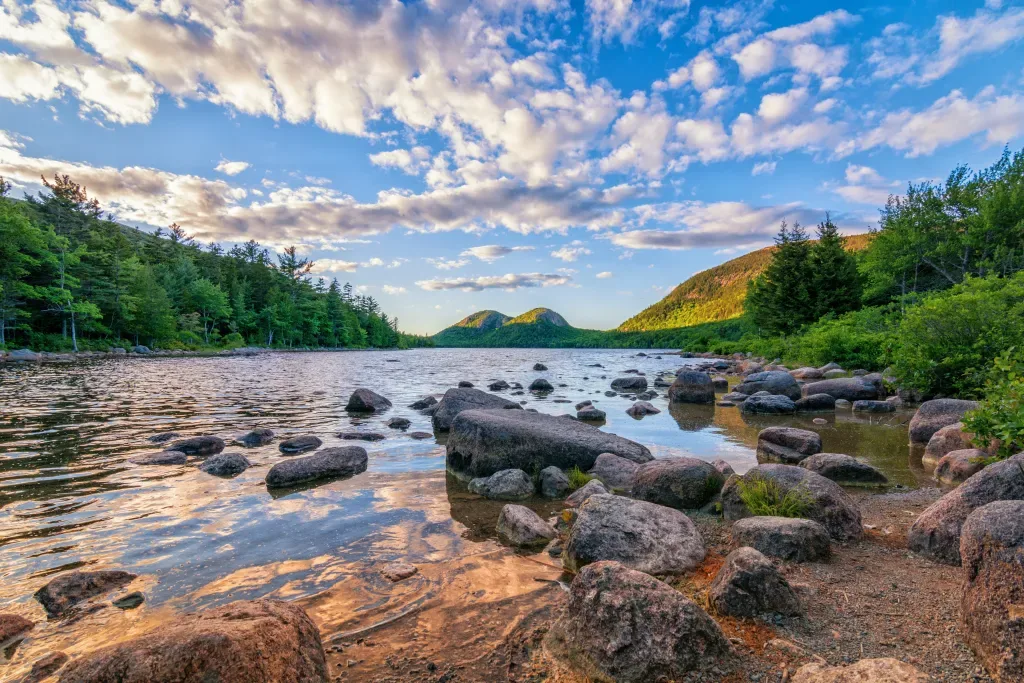 Black Flies and Mosquitoes
If ticks aren't enough to keep you away, the black flies and mosquitoes might. Decades ago, these annoying insects were the worst during May. Now they annoy and bother you from May through October.
Additionally, the entire state of Maine has a mosquito problem. More than 40 different types of mosquitoes exist throughout the state.
Trying to keep these insects off you while you enjoy the outdoors can be challenging. Some hikers bring an extra shirt or towel to wave around and keep them at bay.
Here's a list of the most dangerous creatures in Acadia National Park.
Crowds
You can use insect repellent to avoid ticks, mosquitoes, and flies while in Acadia National Park. Unfortunately, it'll do nothing about the massive crowds of people.
Over the last half-decade, approximately three and a half million people visit the park annually. This is an astonishing number considering the entire state of Maine's population is slightly more than one million.
The peak season for visiting is from June through September. You can expect long lines, packed parking lots, and crowded trails. You'll likely need a reservation if you plan to drive Cadillac Summit Road. Make sure you pack your patience and always have a backup plan.
Poison Ivy
It's a good idea to leave anything with "poison" in its name alone. Unfortunately, poison ivy is a native plant of Acadia National Park and throughout Maine. As a result, it's a protected species throughout the area. If your journey takes you along the coast or in dense forests, you'll likely encounter it at some point.
An easy phrase to help you identify poison ivy is, "Leaves of three, let it be." If you, a loved one, or a pet comes in contact with it, wash the area with soap and water. Washing your clothes as soon as possible is also a good idea. Watch for any signs of rash or irritation in the impacted area.
Air Pollution
Acadia's unique location places it downwind from major industrial and urban areas. Air pollution blows in occasionally and can cause health issues. As a result, officials have kept a close eye on trends and impacts since 1979.
While the views are rather incredible, they could be better at times. Air pollution causes visibility issues and creates negative impacts on some vegetation. During the summer months, it's not uncommon for the ozone levels to exceed the health standards set by the federal government.
How To Avoid the Negative Aspects of Acadia National Park
It's possible to still enjoy a visit to Acadia National Park while avoiding the negative aspects. The best way to bypass the problematic issues is to go during the winter. This allows you to evade crowds, insects, and poisonous plants. In addition, it becomes an incredible snowy wonderland full of exciting opportunities.
Unfortunately, a majority of the famous Park Loop Road closes during winter. Luckily, two sections remain open to vehicular traffic. The remaining portion of the loop becomes a designated snowmobile route. Talk about an exciting way to experience the natural beauty of the coast!
If you dress appropriately, you can stay warm and take advantage of the tremendous snowshoeing and cross-country skiing. Roughly 45 miles of carriage roads are open for exploring.
Not only will you have the place practically to yourself, but it's often layered in a blanket of snow. It can be a magical experience.
PRO TIP: 5 Best Campgrounds Near Acadia National Park
Plan Ahead Before Visiting Acadia National Park
Acadia National Park is a beautiful place to visit. However, the negative aspects of this popular vacation spot should be considered before planning a trip.
The area offers exciting adventures and opportunities to make unforgettable memories, but it's not for everyone. While we've made a case for you to avoid Acadia National Park, the decision is ultimately yours.
Discover the Best Free Camping Across the USA
To be honest with you, we hate paying for camping. There are so many free campsites in America (with complete privacy).
You should give it a try!
As a matter of fact, these free campsites are yours. Every time you pay federal taxes, you're contributing to these lands.
Become a FREE CAMPING INSIDER and join the 100,000 campers who love to score the best site!
We'll send you the 50 Best Free Campsites in the USA (one per state). Access the list by submitting your email below: