As the song says, if you ever plan to motor west, take the highway that's the best – Route 66.
For travelers, it's a road that almost needs no introduction. The so-called "Mother Road" is famous for its history, scenery, and of course, the unique roadside attractions of Route 66.
Let's hit the road and take a look at a few of the best!
The History of Route 66
Stretching from Chicago, to Santa Monica, the nearly 2,500-mile-long diagonal route known as "America's Main Street" was first designated in 1926. Over the next six decades, it played an integral part in the growth of American commerce and tourism.
The highway was a major trucking route due to its flat grade and path through the country.
This steady flow of tourists was a boon for small towns along Route 66. Roadside attractions of all sorts popped up along the road, often becoming unique waypoints and destinations in their own right.
These frequently quirky glimpses at American life remain one of the route's biggest draws.
Route 66 was officially decommissioned by the federal government in 1985, but that hasn't stopped road trippers.
You can still drive much of the highway's original course (often designed "Historic Route 66" by states).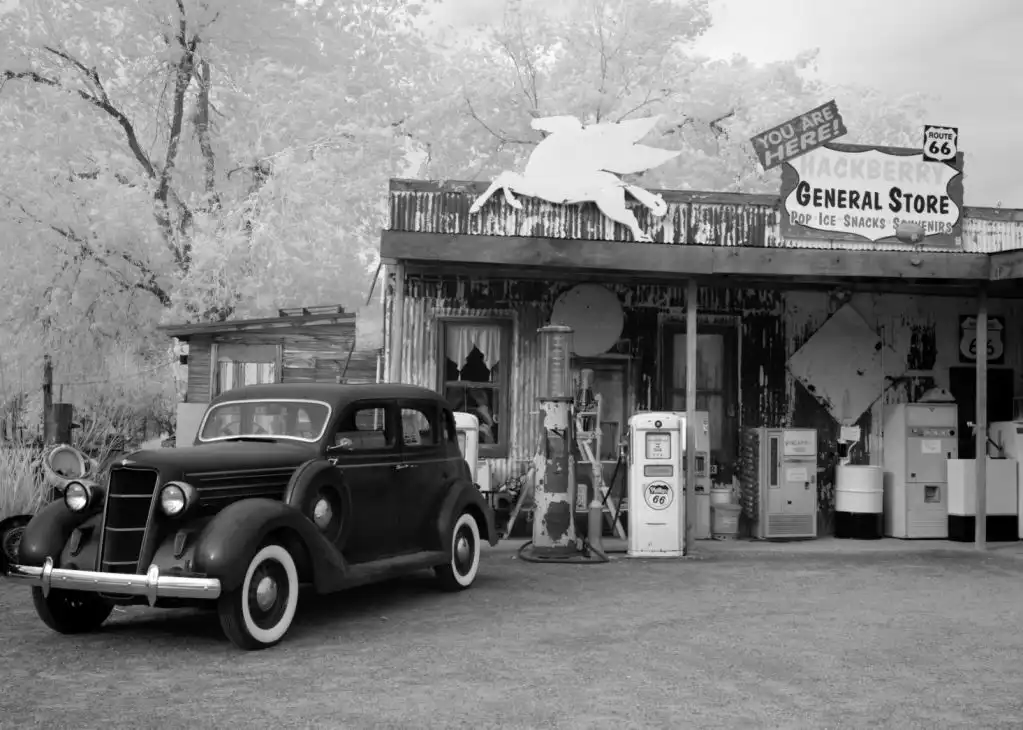 10 Amazing Roadside Attractions along Route 66
Many of the most famous roadside attractions of Route 66 are still alive and kicking! We're featuring some of the best.
1 Cadillac Ranch in Amarillo, TX
Location: 13651 I-40 Frontage Rd, Amarillo, TX 79124
The Cadillac is one of America's most iconic cars. It could often be seen traveling down Route 66 in its heyday. There's one part of the highway where you're still guaranteed to see them – but perhaps not in the way you're expecting.
Cadillac Ranch is a public art project consisting of 10 Cadillacs wedged nose-down in the dusty Texas ground. These classic cars were planted there in 1974 by members of the art group Ant Farm and quickly became one of the most striking roadside attractions in this stretch of Route 66.
Visitors are encouraged to use spray paint to leave their mark on the Cadillacs, which are heavily decorated with graffiti.
Route 66 Road Trip Vibe Score: 8. Its interactive nature makes Cadillac Ranch a can't-miss.
Pro Tip: If you're looking for more things to do on the Texas stretch of Route 66, here are our 9 favorites.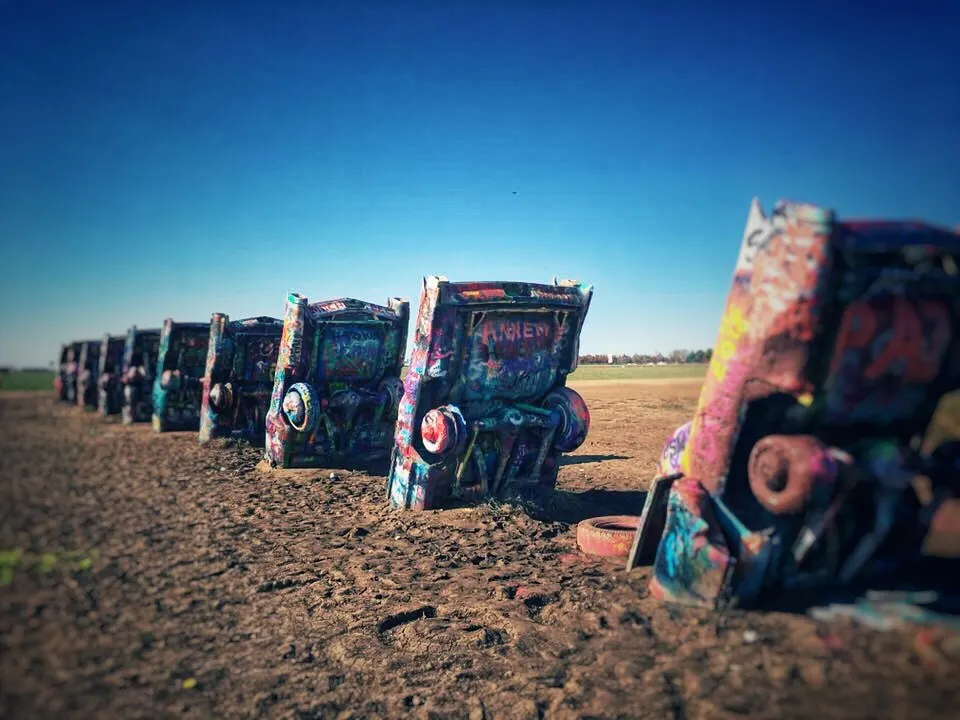 2 Amboy Crater in Amboy, CA
Location: National Trails Highway, between Amboy and Bagdad, AZ 92304
Amboy Crater is the remains of a strikingly symmetrical extinct volcano located just a mile or two off Route 66. The landscape of lava fields around it is otherworldly – so otherworldly that NASA tested its Mars Rover here!
Hikers can check out a 4.1-mile moderate rated trail to the crater. Just avoid this trail at midday or during hot weather.
Route 66 Road Trip Vibe Score: 7. Very cool to look at and a nice stop if you're an avid desert hiker.
3 The Blue Whale in Catoosa, OK
Location: 2600 U.S. Route 66, Catoosa, OK 74015
The Blue Whale sits at the edge of a pond along Route 66. It serves as one of the road's distinctive waymarkers.
The concrete structure – originally built for private use – includes a diving platform and slide right out of the whale's head. The Blue Whale eventually became part of the Nature's Acres attraction, which lured in Route 66 travelers with reptile exhibits and a Native American trading post.
Route 66 Road Trip Vibe Score: 6. It's a great example of the kind of quirky roadside attractions of Route 66 that defined the road's glory days. But these days, there's not much to do other than look and move along.
Keep in mind: Oklahoma has a lot to see on Route 66, here's the best of OK 66.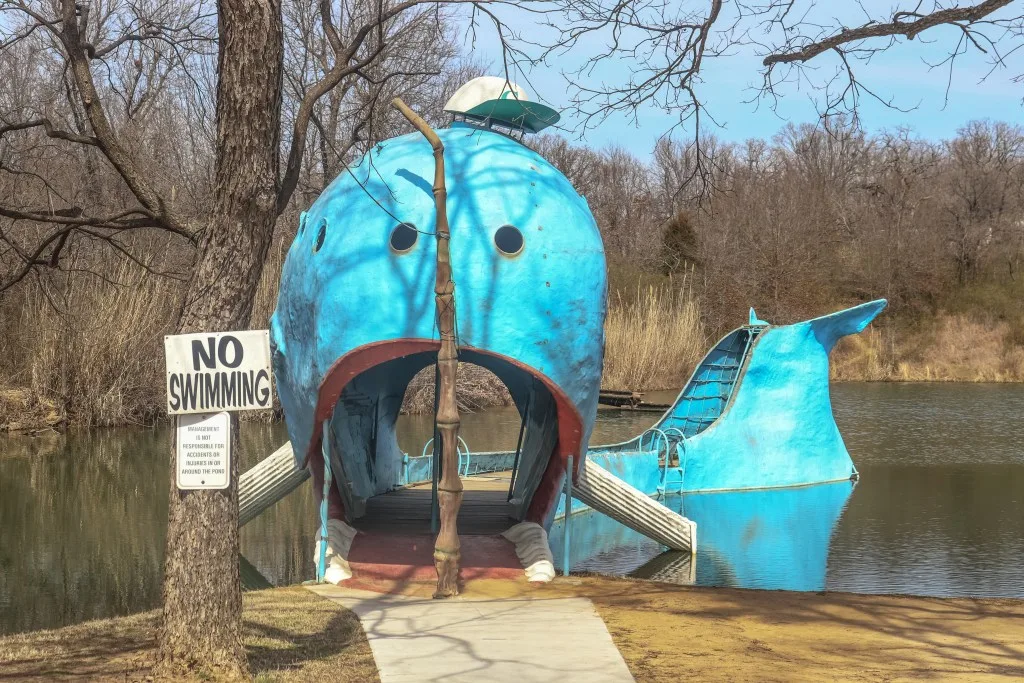 4 End of the Trail at the Santa Monica Pier, CA
Location: 330 Santa Monica Pier, Santa Monica, CA 90401 (just past the Bubba Gump Shrimp Co.)
While it may not have been the official end of Route 66, the End of the Trail sign is undoubtedly the spiritual one. After traveling through plains, mountains, deserts, and the city of Los Angeles, the Pacific Ocean opens up before you.
Relax on the beautiful beach, or take in the amusement park and other attractions on the Pier.
Route 66 Road Trip Vibe Score: 10. Maybe it's the thrill rides or the incredible scenery, but there's a celebratory vibe to Santa Monica Pier that feels fitting to completing a long journey.
If you've driven any significant portion of Route 66, it's worth checking out the end of the trail.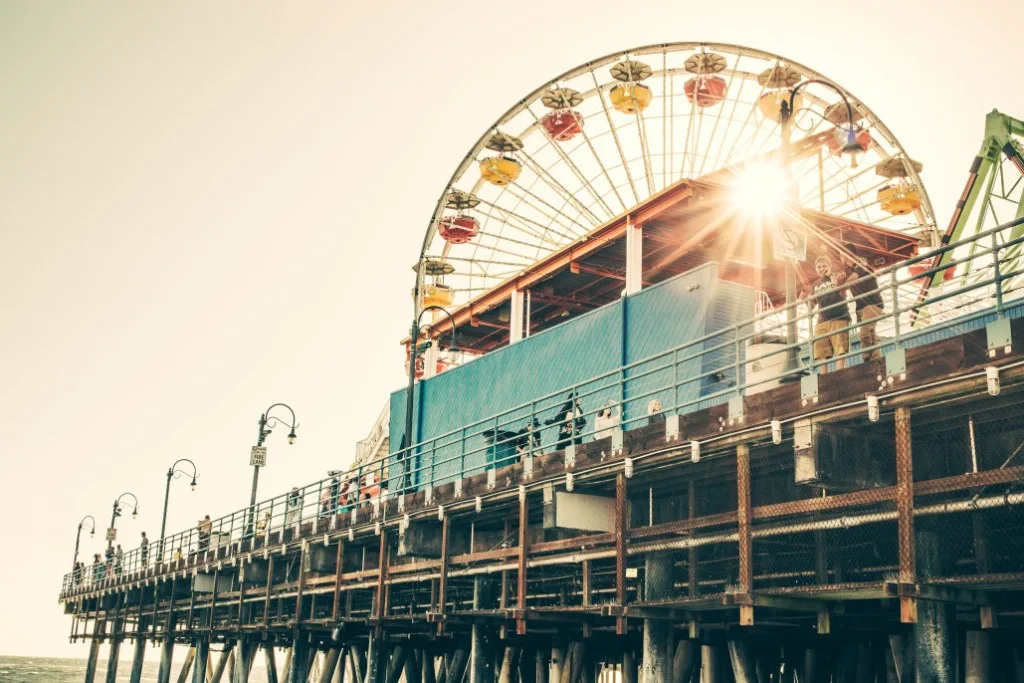 5 Downtown Oatman, AZ
Location: Main Street, Oatman, AZ 86433 (between Kingman and Needles)
Oatman was founded as one of many small mining towns in the Arizona mountains. Unlike so many others, it thrived instead of folded thanks to Route 66 snaking its way through the area.
The highway was rerouted in the 1950s, in no small part due to the harrowing curves that led some drivers to hire locals to drive the stretch for them!
Today Oatman may be best known for the wild burros (or donkeys) that roam the streets. These wild animals are the descendants of animals brought to the region by early miners.
If you want to spend an entire day in Oatman, we've created the essential 24-hour Oatman itinerary.
Route 66 Road Trip Vibe Score: 7. – A combination of history mixed with the experience of driving some of Route 66's most nail-biting turns.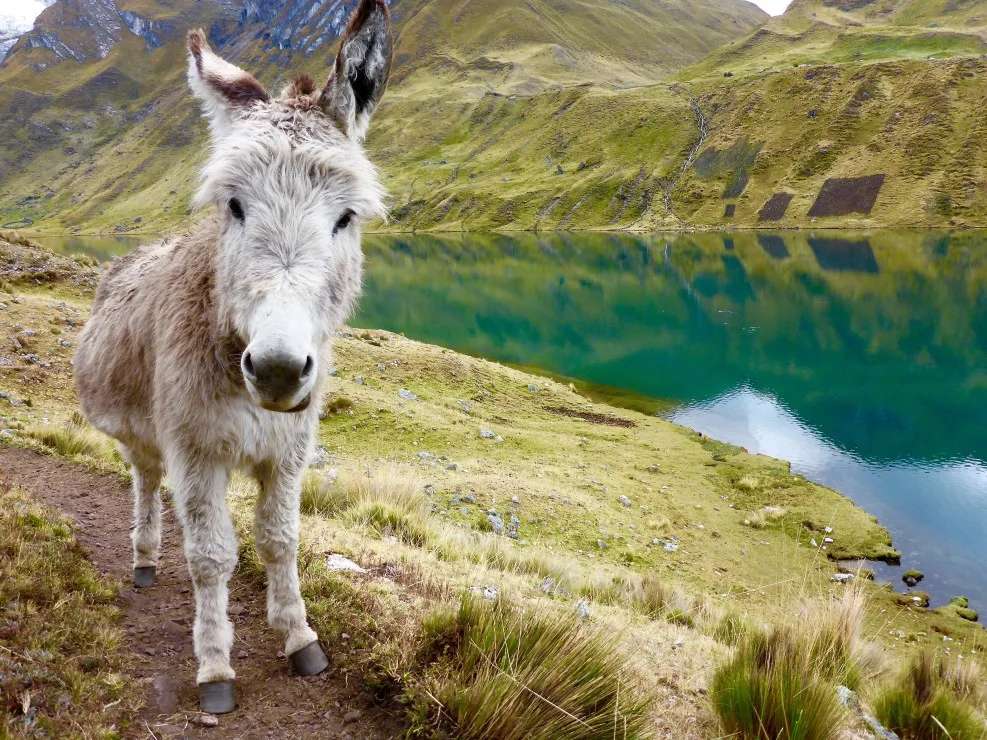 6 Tower Station and U-Drop Inn Cafe in Shamrock, TX
Location: 111 U.S. Route 66, Shamrock, TX 79079
It's hard to find a better symbol of the open road than the Tower Station and U-Drop Inn Cafe. First built in 1936, it's so much more than just a gas station and cafe.
For hungry travelers, the neon-lit art deco building must've looked like an oasis on the long road. These days, the Tower Station and U-Drop Inn functions as a visitor's center for the town of Shamrock.
Route 66 Road Trip Vibe Score: 6. A wonderful reminder of Route 66 architecture and style from the road's heyday.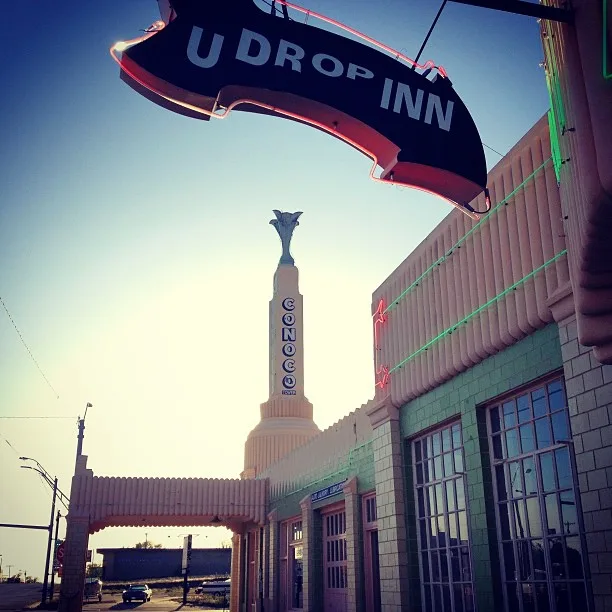 7 Elmer's Bottle Tree Ranch in Oro Grande, CA
Location: 24266 National Trails Hwy, Oro Grande, CA 92368
You'll see trees of all kinds on your trip down Route 66, but none quite like the ones at Elmer's Bottle Tree Ranch. This isn't one of those symbolic names given by early settlers – these are actual bottles, stuck onto limbs extending out from hat-rack shaped trunks.
The desert art installation came to be as a result of the death of Elmer Long's father, who'd spend a lifetime collecting glass bottles, and passed his collection on to his son. The more than 200 "trees" are also said to make unusual sounds when the wind blows through.
Route 66 Road Trip Vibe Score: 6. A forest unlike you'll see anywhere else in the world.
Pro Tip: Here are the 9 best stops on Route 66 in California.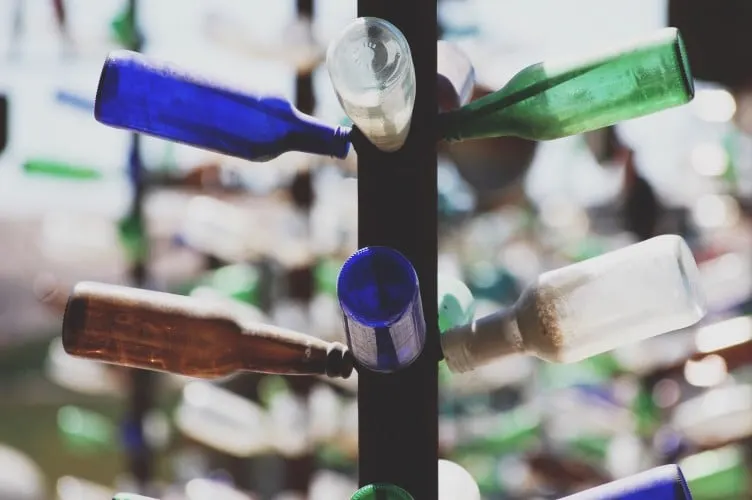 8 Standin' On The Corner in Winslow, AZ
Location: Corner of Kinsley & E 2nd St, Winslow, AZ 86047
On the ultimate road trip, take a page out of the lyrics of one of the best road trip songs. In the classic "Take It Easy," the Eagles sing about "standin' on a corner in Winslow, Arizona."
Here in this small town in the Arizona desert, this little park includes a life-sized bronze statue of a man (you guessed it) standing on the corner, with a flatbed Ford truck parked nearby, just like the song says.
Take a few moments to relax on the park's benches, and enjoy the mural artwork. Good luck getting the song out of your head as you drive off!
Route 66 Road Trip Vibe Score: 7. Fans of classic rock will love the chance to grab some photos and stroll around another of Route 66's famous small towns.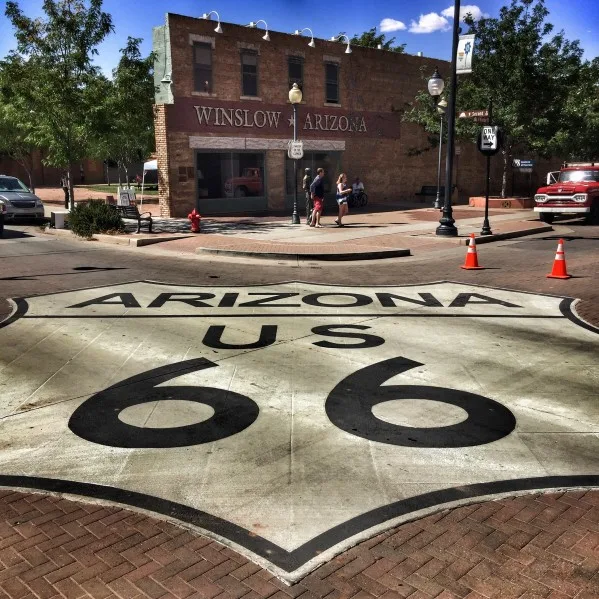 9 St Louis Arch in St Louis, MO
Location: Near 4th Street between Market & Chestnut, Saint Louis, MO 63102
Why You'll Love It: Route 66 was one of the first highways to allow easy travel to the western U.S., so it only makes sense to stop at the monument known as "the gateway to the west."
At 630 feet tall, it's the largest arch in the world and the largest manmade monument in the U.S. – even taller than the Washington Monument or Statue of Liberty! Take a ride to the top of this American icon and enjoy the sweeping views of Saint Louis and the surrounding area.
The Arch is the centerpiece of Gateway Arch National Park, which also includes a museum, historical sites, and green space.
Route 66 Road Trip Vibe Score: 10. This is a must-see for any traveler in Saint Louis, especially ones heading on an epic road trip.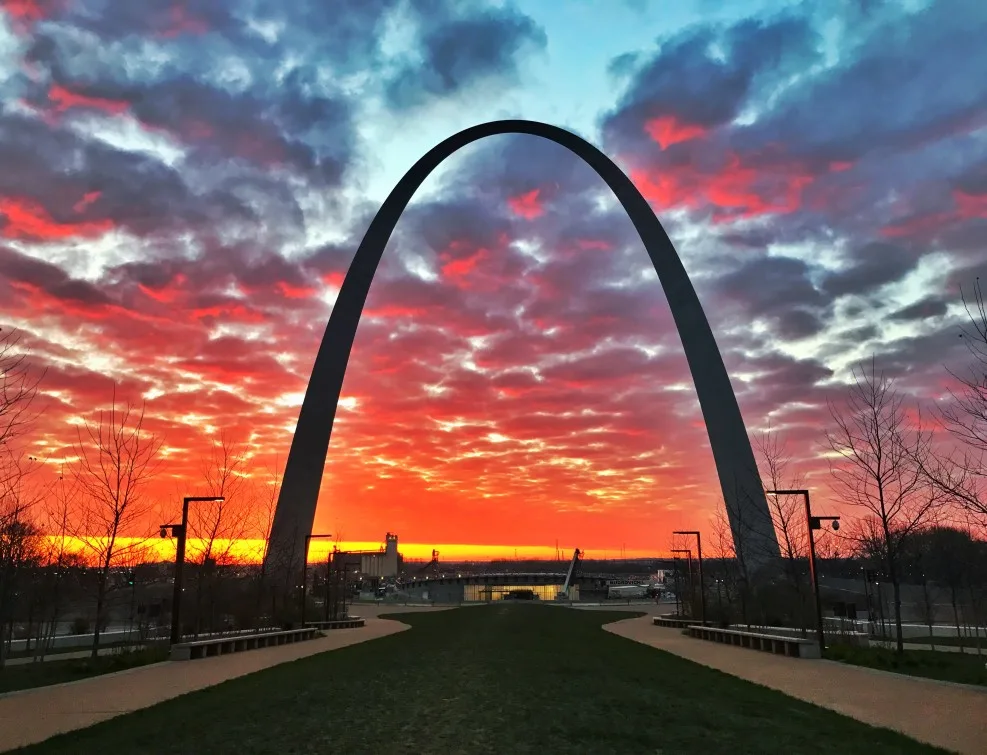 10 Blue Swallow Motel in Tucumcari, NM
Location: 815 E Route 66 Blvd, Tucumcari, NM 88401
The Blue Swallow Motel is one of the best living examples of the kinds of small, sometimes unusual motels that dotted Route 66. Now nearly 80 years old, the Blue Swallow Motel is still welcoming guests traveling down America's Main Street.
The distinctive architecture and retro sign (still advertising "100% refrigerated air") are worth a look.
Route 66 Road Trip Vibe Score: 7. Get some rest in a piece of living history, and see how travelers stayed before the era of the chain hotel.
Take a Trip on Route 66
The beautiful, quirky, historic, exhilarating roadside attractions of Route 66 are what make traveling the Mother Road a destination in its own right.
Even decades after modern superhighways shortened travel times and smoothed roads, Route 66 remains an example of the best of the road and the character of American small towns.
Discover the Best Free Camping Across the USA
To be honest with you, we hate paying for camping. There are so many free campsites in America (with complete privacy).
You should give it a try!
As a matter of fact, these free campsites are yours. Every time you pay federal taxes, you're contributing to these lands.
Become a FREE CAMPING INSIDER and join the 100,000 campers that love to score the best site!
We'll send you the 50 Best Free Campsites in the USA (one per state). Access the list by submitting your email below: