Signs are indicating that the RV industry is experiencing a massive decline. One famous RVing couple claims they're seeing droves of travelers throwing in the towel.
However, that may be hard to believe if you've tried making camping reservations lately. Most parks and resorts report full capacity throughout the summer.
Today, we're examining the couple's claims and some reasons people decide to quit the lifestyle.
Let's go!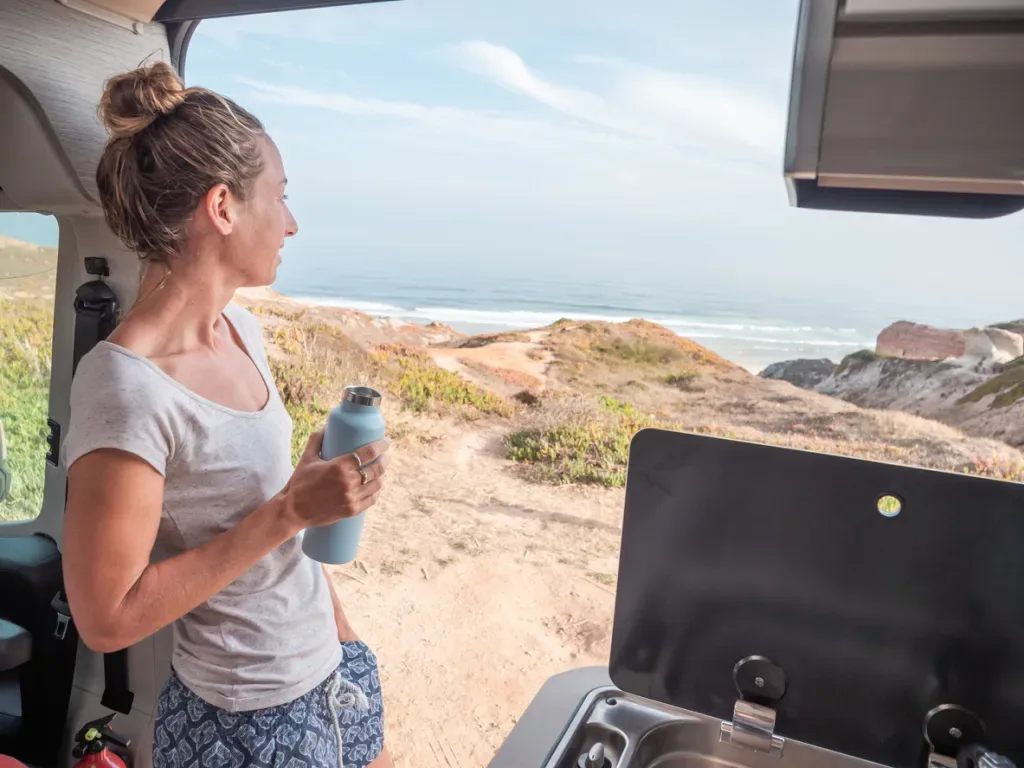 RV Popularity Declines as RVers Are Quitting the Lifestyle
John and Mercedes of the RV Odd Couple were full-time RVers for three years. They experienced the ups and downs of living life on the road. However, now they're building a community of like-minded people who share their values.
In a recent video, they share that "die-hard RVers are stepping away" from the lifestyle. They claim, "Never before have we seen so many people step away from the RV industry than we have in the last six months." The numbers aren't lying. Sales are slowing, and prices are dropping nationwide.
John and Mercedes explore the reasons individuals are giving up on full-time RVing. They state that people fail to prepare for what it takes financially and physically to enjoy the adventure. While they set out to live this way forever, they say 50% of full-timers fail in the first six months.
The RV Odd Couple shares some helpful insights into why the community is experiencing a decline. While some are still jumping into the lifestyle, many are giving up or adjusting how they travel. The time has come for those of you waiting for a massive change.
Top Reasons Why RV Popularity Is in Decline
Several reasons exist why RV popularity is declining across the country. We'll look at some of the most common causes creating a dramatic shift.
RVing Is Expensive
One of the biggest reasons for the RV decline has to do with overall costs. While the lifestyle can be cheaper than living in a sticks-and-bricks house, it's not exactly inexpensive. Due to increased demand and supply shortages, recreational and tow vehicle prices are through the roof.
In addition, individuals misjudge the costs of fuel and campsites. No matter what size rig you get, it'll require a tremendous amount of gas or diesel. These prices vary considerably throughout the year, depending on where you travel.
Many RVers also overlook budgeting for maintenance and repairs. Unfortunately, no matter how much you spend on your fancy rig, things will break during your adventures. If you don't plan financially for these situations, you may be in for a big surprise.
Ultimately, RVing is expensive, and it's easy to underestimate the costs. If your finances aren't in order, you'll be fighting an uphill battle, and there's a good chance you won't last long. This is likely one of the biggest factors for the decline in the RV lifestyle.
For tips on how to reduce costs: How to Start and Enjoy Living the RV Life on a Tight Budget.
RVers Have Unrealistic Expectations
Another reason RVers are stepping away is due to unrealistic expectations. It's easy to view posts on social media and think everything is picture-perfect and that the lifestyle is a constant vacation. However, reality can slap you in the face once you hit the road and discover it's not all butterflies and rainbows.
As we mentioned, components will break, and your travel days might not always go as planned. It's not uncommon to experience rude behavior in campgrounds or on the road. Dealing with inconsiderate people can take a toll on you.
Some couples begin RVing thinking that it'll solve all of their relationship problems. If you didn't get along with your partner while living in a house, a much smaller space could be a challenge. Unless you find a way to change something, it'll only be worse.
Some RVers Feel Regret as the Industry Bubble has Burst.
RVing Is Physically Demanding
You also will want to consider the physical demands of RVing. While auto-leveling and other non-manual features can make life easier, you'll still have to put in some effort. Setting up camp and packing everything to hit the road can be exhausting.
While younger RVers may have more spring in their step, it can be challenging for those who may be experiencing a physical decline due to injury or age. Is it possible? Absolutely.
In addition, some maintenance will require you to crawl on the ground or climb on the roof. Not everyone is physically able to complete these vital tasks to ensure a rig lasts as long as possible. While there can be plenty of time for relaxing, getting to those moments can require a lot of time and energy.
RV Driving Is Stressful
It can be stressful if you've never had the opportunity to sit behind the wheel of a large RV. You can't drive these massive vehicles like you would a passenger car. If you do, you may be filing an insurance claim soon.
These vehicles require a much wider turning radius. In addition, the stopping distance necessary is substantially more than most drivers are used to.
Being aware of your position on the road and that of other vehicles is crucial. You may have to adjust your speed to keep the proper distance between you and the car in front of you.
When driving an RV, it's a good idea to know the height and weight of your vehicle. Attempting to go under a low-clearance bridge might give your rig a haircut by trimming the air conditioner and other roof components. This is one costly mistake that can add stress to your life.
What Is an RV Exit Strategy and Why Do You Need One?
An exit strategy is your plan for when you stop full-time traveling. Unfortunately, it's often much harder to get out of the lifestyle than it is to enter into it. You'll have to think through several logistics to make the process as smooth as possible.
You'll want to plan for where life will lead you next. In addition, deciding on what to do with your RV is another consideration. Will you keep the rig for shorter trips, or do you need to sell it?
If you choose to rent or buy a home, you'll want to figure out whether you need to sell the RV before moving into your new house. And finally, knowing where you'll stay during the transition period is important.
An exit strategy ensures you and your loved ones are ready for almost anything. While many people have no intentions to stop traveling, medical conditions, employment, and various factors can quickly change that.
Read more about the bursting bubble: The Stats Finally Show RV Industry Tanking.
An RV Decline Doesn't Mean It's Going Away
Bob Dylan sang "The Times They Are a-Changin," and as John and Mercedes show, so is the travel community. The RV decline will likely continue for the foreseeable future.
Is RVing going away altogether? Not any time soon that we can tell. However, these vehicles are no longer selling themselves, and many are questioning whether full-time traveling is for them. So be ready for a big splash in the future!
Discover the Best Free Camping Across the USA
To be honest with you, we hate paying for camping. There are so many free campsites in America (with complete privacy).
You should give it a try!
As a matter of fact, these free campsites are yours. Every time you pay federal taxes, you're contributing to these lands.
Become a FREE CAMPING INSIDER and join the 100,000 campers who love to score the best site!
We'll send you the 50 Best Free Campsites in the USA (one per state). Access the list by submitting your email below: