Bleach helps kill bacteria but is it safe to put it in your RV's black tank?
If you're starting to smell some 'funk' near your RV's bathroom, it may be time to sanitize your black tank. We've researched to determine if bleach is the best answer and what other options are out there.
Let's take a look!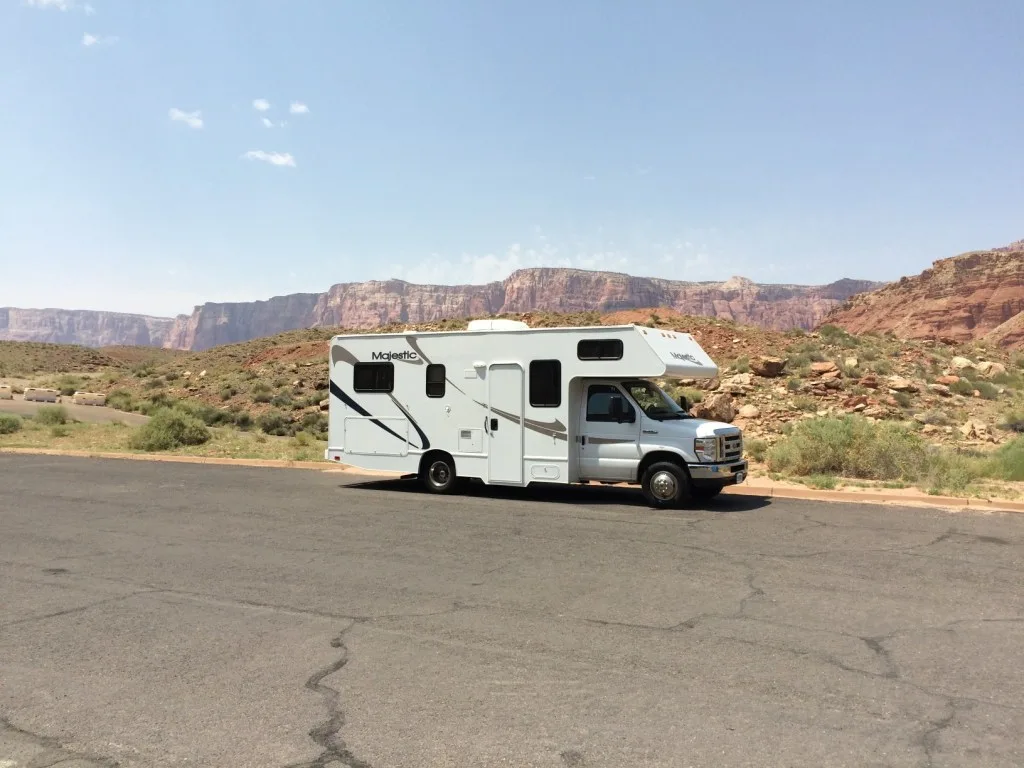 Diluted Bleach is Safe for Sanitizing Your Black Tank
Bleach is a strong chemical that kills the bacteria in your black tank, causing that lovely odor. However, too much of it can damage the seals and gaskets in your RV. Plus, it also kills the good bacteria that help break down the waste in your tank.
So most people say not to dump chlorine into your black tank and let it stay there.
That said, some people do use chlorine bleach to sanitize all of their tanks – black, gray, and freshwater. In this case, you use a diluted solution of bleach and water after cleaning your tanks with something like ice cubes or dish soap.
The diluted solution doesn't sit in your pipes or on your gaskets, so it shouldn't cause damage.
Pro Tip: Did you know that driving with a full black tank is not always a great idea. Here's why.
How to Sanitize Your RV Black Tank with Bleach
As mentioned above, sanitizing your black tank comes after cleaning it, which usually entails dumping the tank, then using a special sprayer or tank cleaner. Some people simply fill the tank with water and toss in a bunch of ice cubes before they head out on the road. Whatever your method, start with a clean and empty tank.
In addition, check with the RV park to ensure it's okay to dump chlorine bleach into the sewer. Some parks request you don't, and others are on sensitive lands that don't allow it.
Although sanitizing uses a bleach solution, you're still working with fecal waste and a strong chemical. So we suggest wearing gloves, protective eyewear, and even a facemask in case of splashing.
Mix a solution of about 1/4 cup of bleach with one gallon of water. With your black tank connected to the sewer hookup and the valve closed, pour the solution into your toilet. Let that sit for about 10 minutes. Now open the drain valve, but keep adding water through the toilet until the water coming out is clear.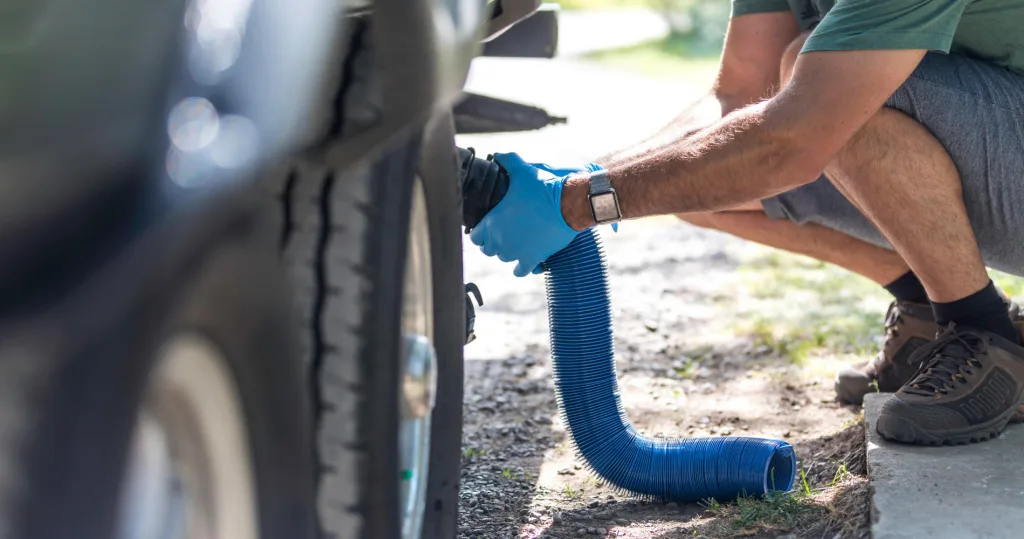 Alternatives to Using Bleach in Your Black Tank
If you have a consistent smell coming from your tank or bathroom, you may want to install a vent. There are numerous types and styles, but they all essentially allow the air from your black tank to move outside of your RV. These vents often help best when combined with regular use of an enzymatic cleaner, such as Happy Camper.
Even on the hottest days, the combo packs a one-two punch on black tank odors.
In addition, you may want to check your sink's p-trap. If you don't use that sink much and the p-trap becomes dry, odors can come up through the opening. Run some water in there every few days to keep the p-trap wet.
You may also want to check the gaskets or seals in and under your toilet. If they've become dry and brittle, or they forgot to use one when they installed your toilet, offensive odors can leak through those areas.
Conclusion
So, yes. You can use bleach in your RV's black tank. However, we recommend using a diluted solution and only when sanitizing. Other options are available to help keep the smell down on a daily basis.
How do you keep the smell from your RV's black tank under control?
Discover the Best Free Camping Across the USA
To be honest with you, we hate paying for camping. There are so many free campsites in America (with complete privacy).
You should give it a try!
As a matter of fact, these free campsites are yours. Every time you pay federal taxes, you're contributing to these lands.
Become a FREE CAMPING INSIDER and join the 100,000 campers who love to score the best site!
We'll send you the 50 Best Free Campsites in the USA (one per state). Access the list by submitting your email below: