Does your idea of camping involve getting away from civilization and into nature? Well, those picturesque views and solitude often don't have electric hookups conveniently located. You may need a camping generator.
Generators can run on propane or fuel (diesel or gas). They supply power to run most, if not all, of your camping amenities that you would typically run off shore power.
What you can run and for how long depends on your power draw, how big of a generator you have, and how much fuel you can carry.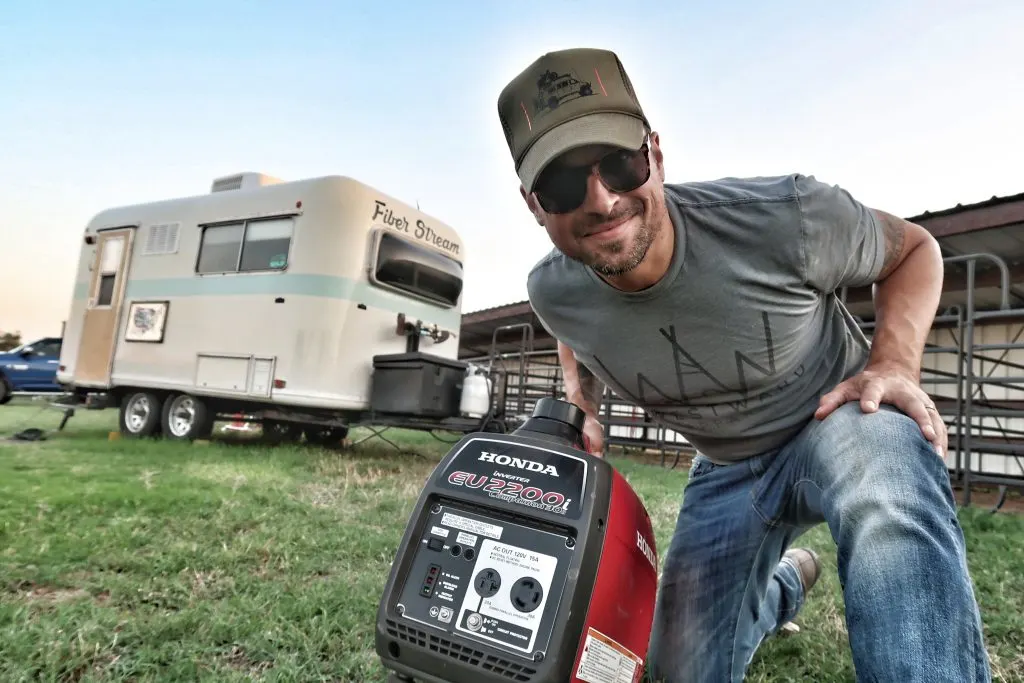 What should you consider when buying a generator?
The first consideration is the size/power of the generator. What do you need to run?
If you just need to run a few lights and recharge your cell phone, you can get by with a small generator and only run it for a short time.
Mid-range generators can run a fridge, lights, maybe a microwave or hairdryer and recharge your gadgets.
Large generators can run an entire rig including an air conditioner, which is usually the biggest power hog of all.
In order to decide what size you need, add up everything you MUST use at the same time, find the energy requirements, and go from there.
Here we are going to review the 2000 watt size generators, which is the mid-size and common for many RVers. Some of these can be "paralleled" or hooked onto another unit to double your energy while still keeping a convenient size.
Is a Camping Generator Too Loud?
Another consideration is noise. Not all generators are created the same.
Many campgrounds and national parks have quiet hours, which only allow generators to be used for a few hours morning and night. Most boondocking locations don't have rules per se, but it is considered bad camping etiquette to run noisy generators close to neighbors or in quiet wilderness areas.
Enclosed generators and inverter style generators are quieter than open frame models.
Other Camping Generator Considerations?
Moving a generator or hauling it on your rig means size is a consideration. Safety-wise, you need to keep the generator away from the rig to avoid carbon monoxide going into the camper, and depending if you are hauling it on the rig or in the bed of a truck, size and weight come into play on what generator will best suit your needs.
Even within the same power category, weight can vary by quite a bit.
The Best Camping Generators of 2020
Decent: Wen 56200
The Wen 56200 generator is a 2000 watt inverter generator (running 1600 watts) that is 18"x11"x18" and weighs 50 pounds.
The noise level is 53dB. Being an inverter, the power is cleaner and is better for electronics and other sensitive items as it cuts down on fluctuations in power.
It has two 3-prong 120V outlets, one 12V DC outlet, and one 5V USB outlet. The Wen can hold 1 gallon of fuel, which will run about 9.4 hours on a quarter load. It is easy to carry with a smooth outer case and an integrated carrying handle.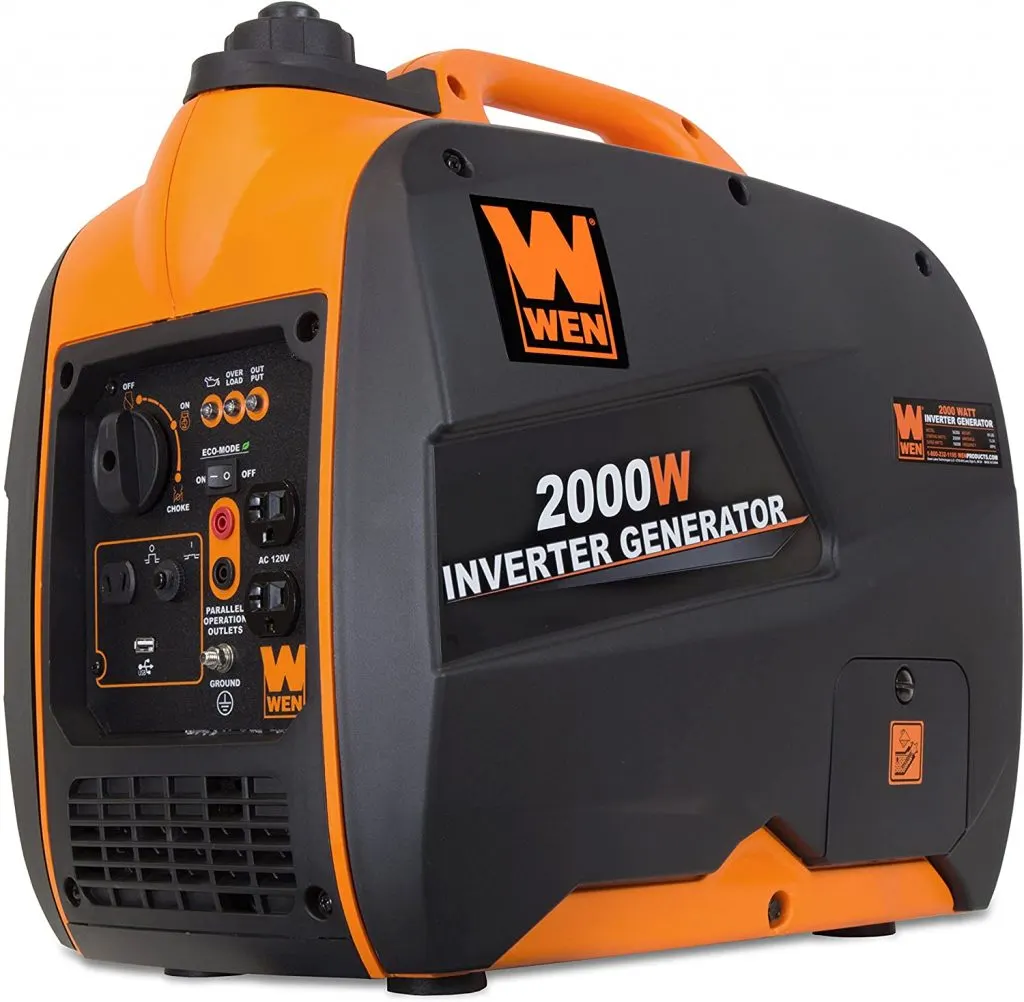 Better: Craftsman 2500
The Craftsman 2500 is 22.6" x 12.61" x 18.5"and weighs 47 pounds, and is also an inverter style generator with 2000 watts of power.
It runs at least 6.5 hours on 50% load, with capacity for one gallon of gasoline. Outlets include two 120V AC grounded outlets, and one dc-12v two Pin outlet. The reviews mention this unit is very quiet!
This unit is a little less sleek, but is also somewhat easy to carry.
See Price for Craftsman 2500 Generator
Best: Honda EU2200
The Honda EU2200i is also a 2200 watt inverter generator, so this one adds 10% power to the previous units. This option is 16" x 20" x 11", so it is quite a bit smaller than the previous generators, and only weighs 40 pounds.
With two 120V AC outlets and one 12V outlet, the Honda has plug options! Honda brand generators are also known for being extremely quiet, only running 48-57 dB. On one tank of fuel, the Honda can run for 4-9.6 hours depending on load.
This generator has the Honda name behind it, as well as adding additional power and run time with a quieter motor and less weight.
See Price for Honda EU2200 Generator
Avoid Like Hell: Any Non-Inverter Style Generator
We're talking about the generators you see at construction sites. These are way too loud for camping. They are also heavy and bulky.
Please don't take a construction generator on your camping trip!
Energize Your Camping Experience
If you are going to camp off-grid, do some extreme tailgating, or want to be prepared for any adventure, look into adding a generator to your RV setup.
Taking control of your own power is the next step to ensure you can enjoy the best view while still having your amenities!
We use the Honda 22000. With a few mods, we're able to easily run our RV air conditioner.
Best of all, it lets us explore the best free camping spots in America!
Discover the Best Free Camping Across the USA
To be honest with you, we hate paying for camping. There are so many free campsites in America (with complete privacy).
You should give it a try!
As a matter of fact, these free campsites are yours. Every time you pay federal taxes, you're contributing to these lands.
Become a FREE CAMPING INSIDER and join the 100,000 campers that love to score the best site!
We'll send you the 50 Best Free Campsites in the USA (one per state). Access the list by submitting your email below: