Baking a deep-dish pizza in an oven is a no-brainer, but not everyone knows you can also use a grill. You may never want to go the traditional route again once you try this method.
Whether at home or on a camping trip, cooking a deep-dish pie is easier than you might think. Imagine sitting around a campfire enjoying a delicious slice of stuffed pizza grilled on-site.
Today, we'll share the simple steps for enjoying this delicacy anywhere you happen to be.
Let's dig in!
What Is Deep-Dish Pizza?
The quickest way to start a hot pizza debate is to say deep dish is superior to a thin-crust pie. While that may be your opinion, especially if Chicago is your hometown, the two styles are very different and hard to compare.
Deep-dish pizza has a thick outer crust, often two to three inches high. It's usually made from white flour but sometimes includes semolina or cornmeal. You can think of the outside area as walls for containing the goodness within.
The bottom part of the crust is much thinner but provides a solid foundation for the ingredients. Typical deep-dish pizza consists of a good helping of cheese, sauce, and whatever your favorite toppings might be. Some common components might include sausage, green pepper, onions, and mushrooms.
Since the pizza requires something to hold it together, it cooks in a high-walled metal baking pan coated in oil. This method creates a delicious crispy exterior.
This isn't the type of pizza you can eat on the go. Instead, it requires a plate and fork to enjoy. While one piece is usually enough to fill your belly, it's hard to say no to a second helping. It's that good!
The History of Chicago Deep-Dish Pizza
Beginning in the late 1800s, Chicago became home to many Italian immigrants. By the early 20th century, it was a thriving city of first and second-generation descendants and offered many factory jobs.
Here, two entrepreneurs, Ike Sewell and Ric Riccardo, met in the early 1940s. At the time, Riccardo was running a successful Italian steakhouse he opened in 1934. Sewell, originally from Texas, had settled in Chicago to work as a sales executive for a distillery.
In 1943, Sewell and Riccardo opened Pizzeria Uno. They decided to enhance the thin-crust pizza by making a much thicker version to satisfy the hunger of factory workers. But were they the ones who made this style originally?
This is where the history becomes a little murky. Exactly who created the original deep-dish pizza recipe is unclear.
However, an employee of Pizzeria Uno, Adolpho "Rudy" Malnati, Sr., claimed it was his idea. And this might be true, as no records exist proving Sewell or Riccardo participated in any kitchen activities.
When Riccardo died in 1954, Rudy and his son, Lou, took over as co-managers of Pizzeria Uno. They continued serving the now-famous deep-dish pizza from the popular restaurant. After his dad passed away, Lou eventually opened his own restaurant in 1971, naming it Lou Malnati's Pizzeria.
Both Pizzeria Uno and Lou Malnati's still serve up delicious deep-dish pizza. They also make a great thin-crust pie.
You can now find both of these restaurants far beyond the Chicago limits. In addition to locations across the country, you can also order pies online. If you can't pick one up in person, this may be your best option for trying out pizza on the grill.
Great pizza in Arkansas? You better believe it! This is the Best Pizza in Arkansas.
How to Bake Deep-Dish Pizza on Your Grill
If you're a pizza fanatic, you might already know you can use a grill to cook the pie at home or while camping. But if this is a new concept, we're about to blow your mind!
Prepare Your Grill
You can use a gas, charcoal, or pellet grill to make your pizza. Regardless of the type you have, you'll want to preheat the unit to 375 or 400 degrees for about ten to fifteen minutes.
Each style requires slightly different methods for reaching the target temperature range. Pellet and gas grills are relatively easy to preheat as they're easier to control.
However, with charcoal, you'll want to create an outer circle of heated coals. But regular users of this type of grilling unit will know precisely how to get to the correct heat range.
Grill Your Pizza
Once at the proper temperature, set the pie on the inside rack. Be sure to keep it in the metal cooking pan. If using a charcoal or pellet grill, place the pizza in the center of the unit. For gas grills, you'll want to utilize the outer burners while leaving the middle one off. This allows for indirect cooking so the pizza bakes evenly.
It should take about 40 to 45 minutes to grill your pizza properly. Around the forty-minute mark, use a meat thermometer to check for doneness. When the internal temperature reaches 165 degrees, it's ready to take off the heat.
Pizza geeks, these are The Best and Worst Portable Pizza Ovens.
Cut and Serve Your Grilled Pizza
Once you remove the pizza from the grill, let it sit for five to ten minutes. It might be too hot to serve right away. Use a sharp knife to cut into your desired slices. You'll want to use a sturdy plate to put the pizza on. Otherwise, you might end up with a mess.
And as we mentioned earlier, this is the kind of pizza you'll eat with a fork. Sure, you can try to pick it up with your hands but don't blame us when it ends up in your lap.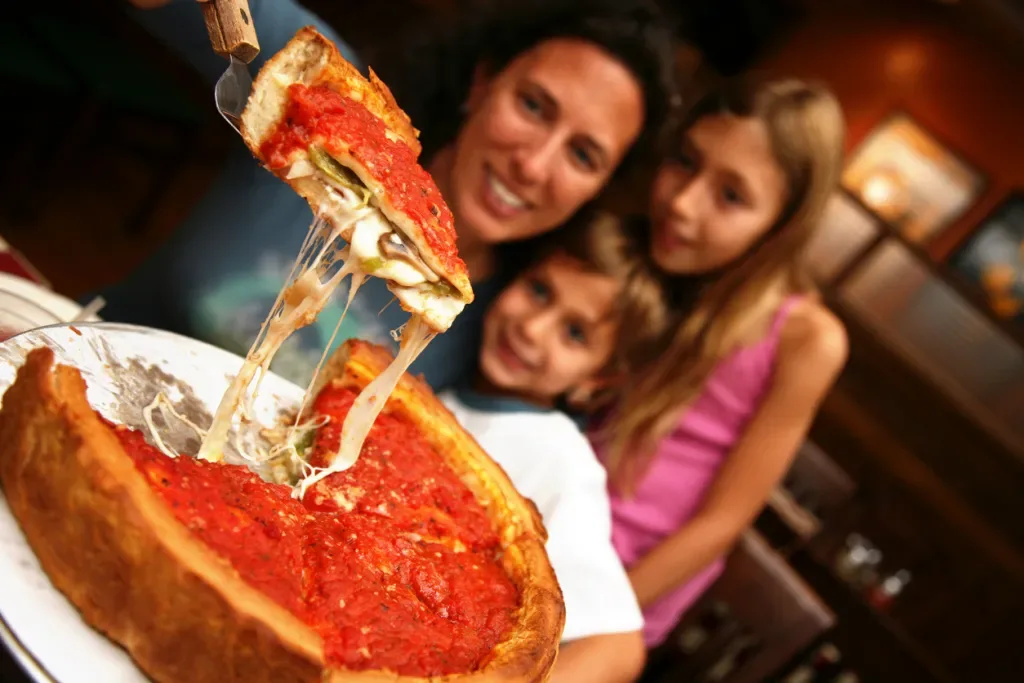 Where to Get a Deep-Dish Pizza to Grill at Home
Fortunately, we have several options for enjoying deep-dish pizza anywhere, anytime. If you live near one of these restaurants, you can pick up a par-baked pie to finish on the grill. Or, order online for home delivery.
Lou Malnati's
Deep-dish pizza from Lou Malnati's includes California vine-ripened tomatoes and mozzarella cheese from a small Wisconsin dairy farm. And the secret recipe for their unique flakey, buttery crust is generations-old.
You can order directly from their website or through the Taste of Chicago website. In addition to deep-dish, you can choose any number of their famous thin-crust pizzas. And if you prefer a gluten-free crust, they have that too.
Giordano's
While Pizzeria Uno and Lou Malnati's often get the spotlight, many Chicagoans consider Giordano's the best pizza in town. Even some national media outlets tout it as such. You might want to try pies from all three restaurants to make your informed decision.
This pizzeria opened in 1974. Brothers Efren and Joseph Boglio, originally from Torino, Italy, used their mom's recipe for stuffed pizza, known as "Italian Easter Pie." It became an instant hit in Chicago.
You can order multi-packs of their deep-dish pizzas in various ingredient combinations. In addition, they also make cute heart-shaped pies available for online ordering.
Pizzeria Uno
Still using their original 1943 recipe, Pizzeria Uno offers their pizzas to enjoy at home. Choose from two, four, or six-packs of their legendary pies to order online. And you can even mix and match from among their five styles, including the unique Spinoccoli. As you might guess, this one includes a blend of spinach and broccoli. It's perfect for vegetarians!
Order directly from Pizzeria Uno's website to create an authentic Chicago-style pizza experience no matter where you live.
Amp up your game with Pizza on the Grill: 100+ Feisty Fire-Roasted Recipes for Pizza & More.
Grill Your Deep Dish Pizza for an Unforgettable Meal
If you're craving deep-dish pizza or want to try it for the first time, you don't have to travel to Chicago. But, of course, visiting the Windy City is a great bucket list trip for several reasons.
Impressing your friends on your next camping trip is as easy as ordering a pizza online and grilling it at your campsite. They'll be singing your praises for years to come!
Discover the Best Free Camping Across the USA
To be honest with you, we hate paying for camping. There are so many free campsites in America (with complete privacy).
You should give it a try!
As a matter of fact, these free campsites are yours. Every time you pay federal taxes, you're contributing to these lands.
Become a FREE CAMPING INSIDER and join the 100,000 campers who love to score the best site!
We'll send you the 50 Best Free Campsites in the USA (one per state). Access the list by submitting your email below: