A YouTuber shared the aftermath of an RV blown over during a storm. Unfortunately, this happens more often than many of us realize.
As we'll see, being inside an RV isn't the best place to be when intense winds start whipping up.
Today, we're sharing details about this unfortunate incident to see how you can avoid a similar situation.
Let's get into it!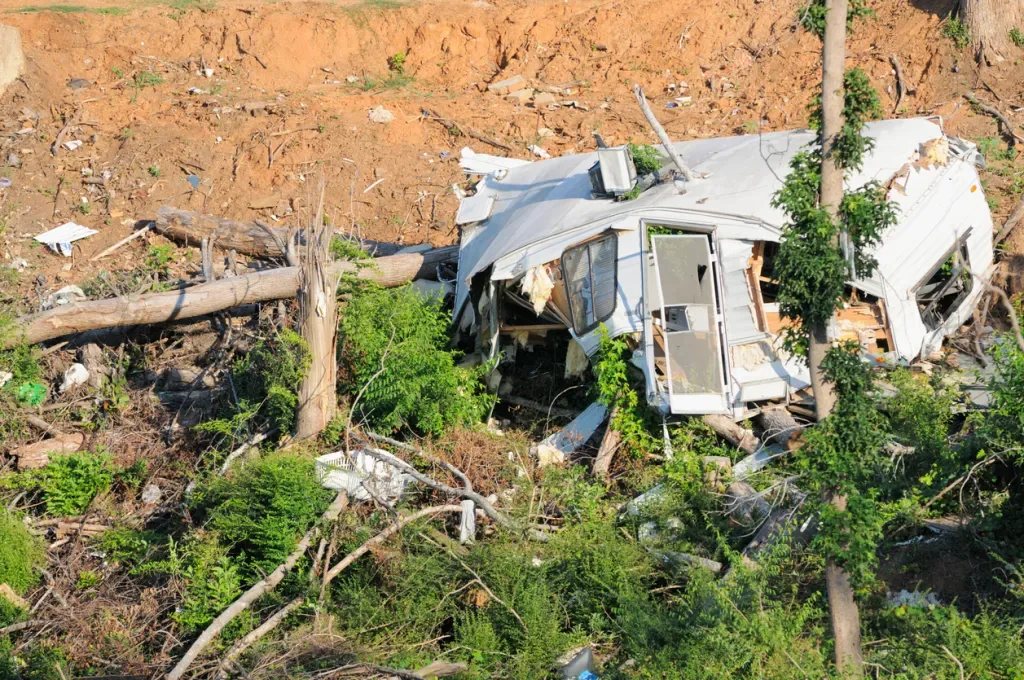 Tow Truck Winches RV Up After It Is Blown Over in High Wind
The popular YouTube channel Wandering Weekends captured damage from a storm. At the time, they were camping at Old Federal Campground in Flowery Branch, Georgia. They didn't share details regarding the weather that caused it, but the effects were evident.
In the video, a Grand Design Imagine travel trailer was lying on its side. A crew arrived with a winch to get all four wheels back on the ground. They had it right-side up and back in place in no time. However, Wandering Weekends reported a few other owners experienced the same tragedy. So the helpful crew had more work to do.
Thankfully, while the trailer wasn't in great shape, no one was injured. This encounter is a reminder of the dangers of traveling in high winds. You could be in trouble if you don't take warnings seriously.
The Dangers of RVing in High Wind
Mother Nature is a powerful force and can cause severe damage. It doesn't take much for an RV to get blown over. In addition, if you're driving, these extreme conditions can blow you all over the road. An unexpected gust at the right time could send you over the edge. However, the winds aren't the only cause for concern.
Strong gusts can uproot trees, break off branches, and bring down power lines. Unfortunately, many campgrounds have plenty of these potentially hazardous objects.
A tree branch crashing onto and through your recreational vehicle could be deadly. Your home on wheels offers minimal protection from these events and is one of the worst places you can be during a storm.
The weather doesn't even have to be bad to cause damage to your rig. Awnings and other exterior components built from lightweight and weak materials are often the first things destroyed. If left out during strong gusts, you can kiss them goodbye. In addition, the siding or roof might need repair from objects blowing into them.
Dive into your local weather: Wireless Weather Station with Outdoor Sensor, 8-in-1 Weather Station.
What Wind Speed Will Flip an RV?
Throughout the year, we'll see multiple reports of RVs blown over by intense winds. It certainly takes far more than a gentle breeze for this to happen. It typically involves extreme situations that are anything but ordinary.
Several factors determine the intensity of wind needed to flip a recreational vehicle. Many experts state that speeds exceeding 90 mph will turn over almost any camper. However, it can occur with gusts as low as 50 to 55 mph depending on the rig's size and conditions.
While motorhomes can travel down the highway at speeds exceeding 55 mph, that's not the concern. An RV can get blown over when severe gusts hit it from the side. It's possible for the wind to get under the rig to lift it up. If it continues, the structure could end up on its side, whether you're inside or not.
Learn more: Can the Wind Flip an RV?
When Should You Avoid Driving Your RV in High Wind?
Safety while driving is one thing that you can never take too seriously. Err on the side of caution if the weather isn't cooperating. Rain, snow, ice, and especially wind can be tricky.
You can start to feel the effects around 15 mph. But, by 20 to 30 mph, it won't matter what automobile you're driving. You'll know pulling over might be safer than continuing down the road.
These conditions can cause drivers to lose control, tip over, or get into an accident. Ignoring the dangers creates an unsafe situation for you, your passengers, and others on the road. No matter how much you enjoy gambling, this is one risk we strongly discourage you from taking.
Some areas, especially in western states, are vast open plains with a reputation for strong crosswinds. The gusts often cause dust storms, which limit visibility and can be hazardous.
It's a good idea to check the traffic and weather before hitting the road. You may need to delay your departure if conditions appear less than optimal.
How Can You Protect Your RV During High Wind?
Keep an eye on the skies and check the forecasts frequently. Doing so gives you the ability to adjust your plans. The more time you give yourself, the more options you'll have to choose from.
Luckily, RVs have wheels and are usually easy to move. If you have enough notice, your best bet may be to move to a safer location. It might mean traveling hundreds of miles to escape a hurricane or finding a sturdy structure to serve as a windblock. Park in such a way as to avoid bursts of air hitting you from the side.
Additionally, bring in your slides, which can serve as leverage points. If you're in a towable, consider hitching up to give the rig additional support, especially against rocking motions. As it gains momentum, the odds of it toppling over significantly increase.
Finally, you want to get your unit as heavy as possible. The more weight your rig carries, the better chance it has against getting blown over.
Filling up your freshwater and wastewater tanks is an easy way to weigh it down. Depending on the size of your rig, you can fill them up and add several hundred pounds to your RV.
Dig into the details of How to Park Your RV in Heavy Winds.
Better Safe Than Sorry
The purpose of us sharing this story isn't to scare you. We hope it serves as a reminder of how easy it is for an RV to blow over.
Keep yourself, your family, and your camper safe by acting immediately when circumstances turn dangerous. While challenging, this may mean leaving your rig behind to seek shelter. After all, your safety is most important!
Discover the Best Free Camping Across the USA
To be honest with you, we hate paying for camping. There are so many free campsites in America (with complete privacy).
You should give it a try!
As a matter of fact, these free campsites are yours. Every time you pay federal taxes, you're contributing to these lands.
Become a FREE CAMPING INSIDER and join the 100,000 campers who love to score the best site!
We'll send you the 50 Best Free Campsites in the USA (one per state). Access the list by submitting your email below: