Pop-Up Campers are currently all the rage with camping. But should you be considering this type of camper when it comes time to head out onto the open road?
For some (the adventurous ones), this answer is a resounding yes.
However, for most seeking to get closer to nature through camping in an RV, pop-up campers aren't the ideal fit.
What is a Pop-Up Camper?
A pop-up camper is an RV trailer towed by a vehicle. While in transit or in storage, the camper is folded into a condensed package. The only thing exposed is the exterior coverings, allowing for easy transport.
When parked and ready to be inhabited, it "pops up" usually from a hand crank.
Both ends pull out to allow access to the bedroom space. In some deluxe models, pop-ups will even have pull-outs on the sides, increasing the interior living space.
These pull-outs aren't quite the same as slide-outs in other campers, as most of them literally have to be pulled out by hand and set up with base supports.
The canvas that makes up the pull-outs (or pop-ups) then has to be wrapped securely around the exterior. While many newer models may have battery-operated controls, your camper still has to "pop up" to function as a camper.
How Much Do Pop-Up Campers Cost?
Pop-Up campers range drastically in price depending on their age, style, size, amenities, and brands. They have been a popular way to go camping comfortably for over 70 years.
You'll find prices all over the board.
The pricing diversity makes it difficult to put one price on these.
However, to help give you an idea and get you started, 2021 models sleeping six will run you from around $10,000 for a basic setup to one with all the bells and whistles for around $25,000.
Pro Tip: Here are the 5 Best Pop Campers on the market.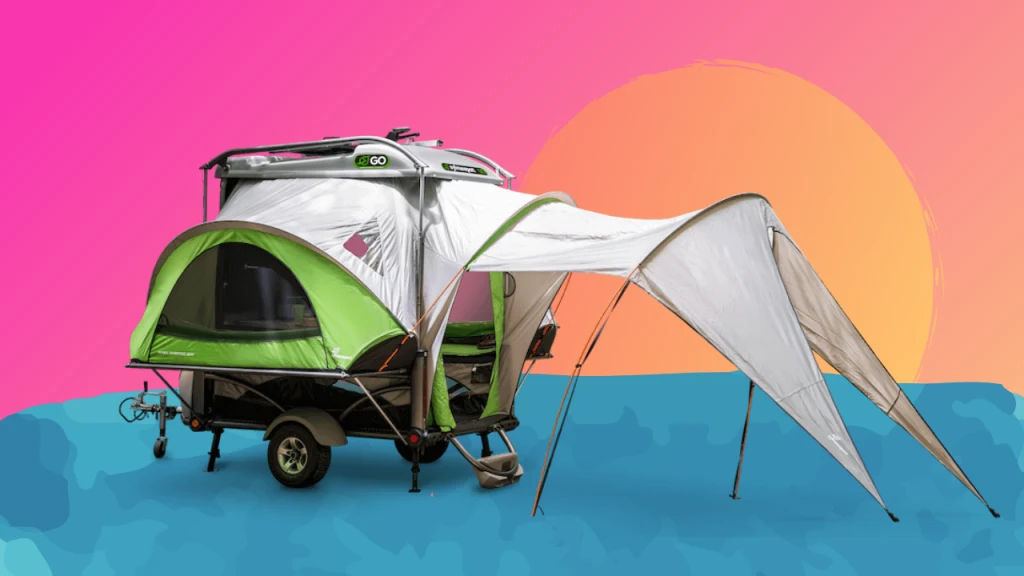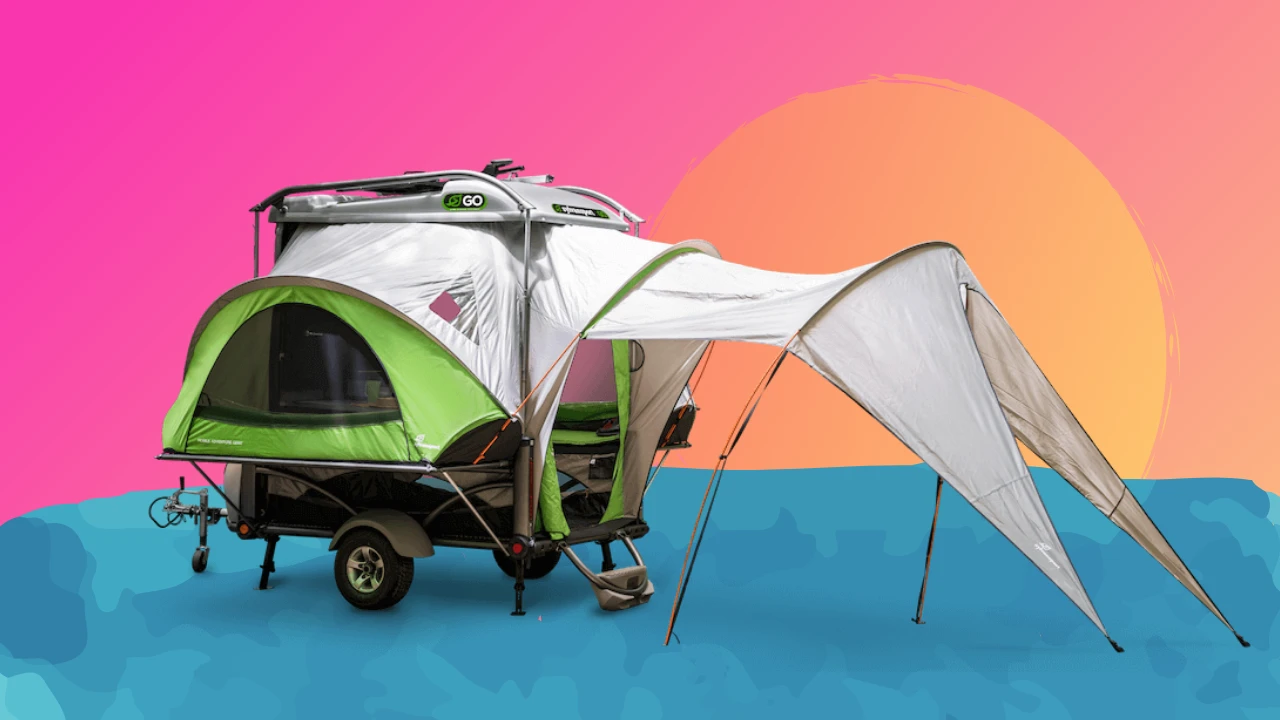 Reasons to Avoid Pop-Up Campers:
Before you decide to purchase a pop-up camper, you need to be aware of a few of their downfalls. Of course, you may choose to purchase one in spite of these. And for that, we applaud your adventurous endeavor.
#1 Climate control is difficult and they are prone to leaks.
Weather is as constant as change. And pop-ups often don't handle inclement weather very well. While some newer models may be equipped with AC and heating capabilities, the general make-up of pop-up campers are not conducive to intense cold, heat, or water due to the lack of insulation from the canvas covering. Frozen water in the morning makes your morning cup of joe difficult to enjoy when there's icicles in it.
Pop-up campers are also prone to leaks in the same way tents can be.
Not actually having a hard cover, water can pool in areas of the canvas and seep in through minuscule openings, possibly leaving you with unwanted waterfalls.
#2 There's not a lot of room for storage.
While there is ample sleeping space – most pop-up campers sleep a minimum of six people, there is limited storage space for all the things that come with those six people.
This is great if you don't need a change of clothes or if you plan on surviving on canned goods for the weekend. But we all like our clean clothes and gourmet food, so storage could be an issue.
Unless you're a minimalist, then you'll need nothing, and storage won't be an issue.
Again, there are exceptions to the rules, being that some pop-ups can have added space for all the toys such as ATVs, bikes, and more, most do not. So those toys that generally come with both children and adults when camping will either need to be stored creatively or left at home.
#3 Many pop-up campers lack a bathroom.
There are a few people still in this technologically advanced world of portable toilets that still enjoy a good view with their morning bathroom ritual. But most of us, while appreciating a good view, find much more comfort in the views of the four walls that surround a toilet.
Many pop-up campers do not have these four walls with a toilet in the midst of them.
So unless you are willing to pee anywhere, then you might want to reconsider the idea of a pop-up camper.
#4 There is little-to-no sound insulation.
While the canvas walls make for ease of set-up, tear-down and transport, they do not make for great sound barriers. Yes, making a lot of noise on the inside increases your chances of keeping the unwanted wildlife out of your camper, but once you're all sleeping soundly, those outside noises will creep inside.
Yipping coyotes and scurrying raccoons may well interrupt your dreams. Those outside noises generally won't bring you much comfort.
#5 Pop-up campers have very limited interior space
We all value family time. That's usually why we go out camping in the first place. But we also value alone time just as much.
Pop-up campers make alone time very challenging.
Plus, we all have that one family member that just doesn't know when to stop talking. There are no doors in pop-up campers. Curtains, yes. Doors, no.
So while there is ample space for six people to sleep, the actual living space in a pop-up camper can be quite limited due to the lack of actual floor space in the bedroom areas.
If you're entertaining your kids on a chilly night, be prepared for all of them to be in bed with you…where it's warmer and cozier.
Leave the Pop-Up Campers to the Adventurous Ones
There are worse things than your kids snuggling with you in bed on a chilly night. However, when this happens every night of your seven night camping trip, you might be regretting that pop-up camper purchase.
So, before you decide on a pop-up camper, just remember your last night in a tent. Where the rainwater kept you entertained as it slid down your nose. Your clothes were strategically tucked away in the corners to save space, and now they are also as wet as your nose.
The closest bathroom was as far away as crawling out of your now-soaked sleeping bag into the forested swamp of the outdoors. The coyotes have been entertaining you all night and this unknown growl has been accompanying them, yet there is no more center space in the tent for you to hide in.
A bit dramatic, yes. But, maybe leave the pop-up campers to the adventurous ones that love to go free-camping in the boonies!
We're Not Biased – All RVs Have Reasons to Avoid Them
There are RVs for everyone, no matter your camping style. We know that pop-up campers will be perfect for some travelers.
If you want to discover the reasons why you may want to avoid other RV types, you can access the information below.
Reasons to avoid…
Discover the Best Free Camping Across the USA
To be honest with you, we hate paying for camping. There are so many free campsites in America (with complete privacy).
You should give it a try!
As a matter of fact, these free campsites are yours. Every time you pay federal taxes, you're contributing to these lands.
Become a FREE CAMPING INSIDER and join the 100,000 campers that love to score the best site!
We'll send you the 50 Best Free Campsites in the USA (one per state). Access the list by submitting your email below: