If your upcoming road trip out West includes driving on interstates, we have the best to travel and some to avoid.
While many of us prefer peaceful country roads, sometimes we can't avoid busier routes. But knowing ahead of time what to expect on certain interstates can help us navigate to our destinations safely.
Join us as we discover a few of the best roads in the West and which ones to avoid.
Let's roll!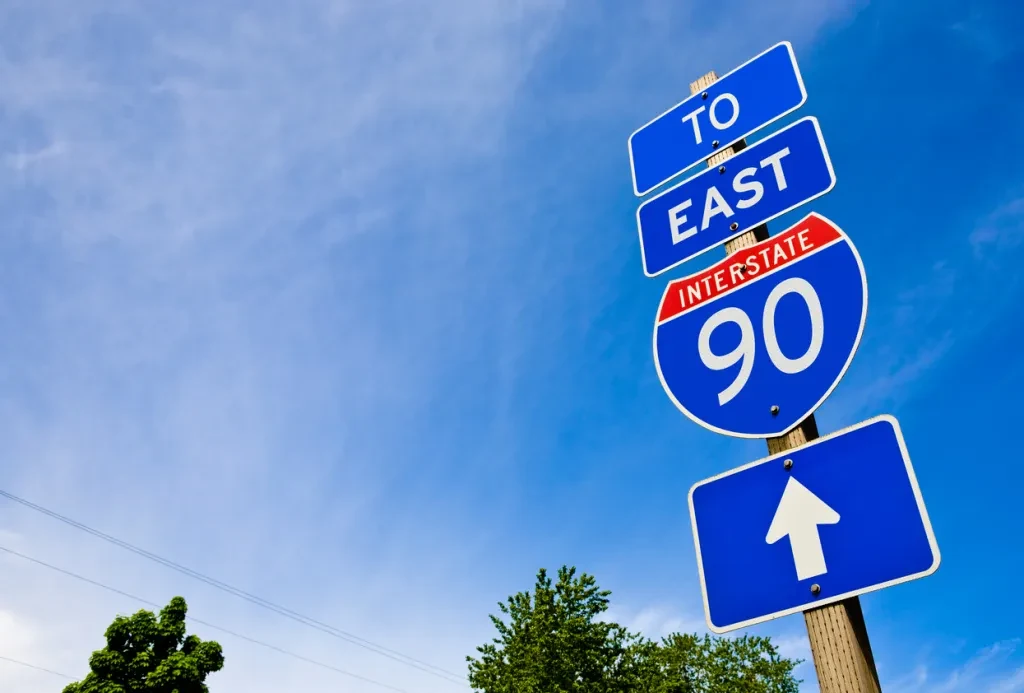 About the Interstate System
The Interstate System we all know and travel on frequently got its start on June 29, 1956. That's when President Dwight D. Eisenhower signed the Federal-Aid Highway Act. Known as the greatest public works project in history, billions of drivers use it daily.
Originally, the intent was for defense purposes, with roads and bridges constructed to handle heavy military equipment like tanks. Of course, it didn't take long for the average citizen to find them useful.
Covering nearly 47,000 miles, interstates provide some of the quickest ways to travel the country from east to west and north to south. Many of us are intimately familiar with these roadways. You may even travel on one of them daily between home and work.
However, not everyone knows the significance of the numbering system. Even-numbered interstates indicate routes stretching from east to west, while the odd ones are for the roads running north and south. For example, I-5 parallels the Pacific coast from the Mexican to Canadian borders. And I-10 starts in Los Angeles, CA, and ends in Jacksonville, FL.
So now that you know a little more about our beloved interstates, we'll cover the best and worst ones in the West. Get ready to start planning your next road trip.
The Best Interstates Out West
If your travels include one of these sections of interstates in the West, you're in for a treat. From mountain ranges to flowing rivers, the scenic views seem endless.
Interstate 90
Interstate 90 runs from Seattle, WA, to Boston, MA. A road trip on this route is full of fun and educational attractions. Along the way, you can visit the Rock and Roll Hall of Fame in Cleveland, OH, and Chicago's Art Institute.
But for amazing scenery, the section of Interstate 90 from Montana to Washington has some of the best in the West. Plus, you won't be far from Yellowstone and Glacier National Park, two places with jaw-dropping panoramas.
And since this road ends in Seattle, you'll have plenty of attractions to choose from. You may want to spend a few days here before continuing on the rest of your journey.
We answered: Is Interstate Towing Harder or Easier?
Interstate 84
This interstate contains two unconnected sections, one in the East and another in the West. The western route runs from Salt Lake City, UT, to Portland, OR.
Driving along the Columbia River Gorge on I-84 is a treat for the eyes. While traveling this section of road in Oregon, you can look across the river to Washington. And a short detour to the historic Vista House offers an unforgettable view.
If you like chasing waterfalls, you'll want to stop at the 212-foot Shoshone Falls in Idaho. Measuring higher than Niagara Falls, it's an impressive sight. Enjoy the time off the interstate while taking in one of the best natural wonders in the West.
Interstate 70
Majestic mountains, lakes, and red sandstone cliffs are all within sight while driving this road. From Utah to Baltimore, MD, it stretches over 2,000 miles.
One of the best parts of Interstate 70 has to be its western section running through the Colorado Rockies. However, you won't find many places to pull over and take photos safely. But a few short side trips will provide perfect viewing of the landscape.
The scenery along the Utah portion is also incredible. You'll see impressive red rock mountains and formations spread across the high desert.
In addition, Arches and Canyonland National Parks are less than an hour off the interstate. Located near Moab, UT, you might want to book a night at a campground or hotel to enjoy exploring the area.
We researched: Are Interstate Rest Stops Safe?
The Worst Interstates Out West
Since we shared the best interstates in the West, we'll also let you know a few of the worst. Fortunately, alternative routes exist in some areas, so you don't have to travel these roads unless absolutely necessary.
Interstate 5
Interstate 5 may be the fastest way to drive through California, but it's certainly not the best, especially in the southern part of the state. This section of I-5 runs through heavily congested metro areas like Los Angeles and San Diego.
The portion of I-5 stretching across The Golden State was recently named the most dangerous road in America. Between 2015 and 2019, nearly 600 people died on this interstate. It's not too surprising when you consider drivers traveling at high speeds along steep grades are likely to cause accidents.
If you're not in a rush, taking the more scenic route along the coast might be better for your nerves. Highway 101 offers incredible ocean views with plenty of places to pull over, stretch, and snap a few photos.
Interstate 15
Driving the 181-mile stretch of Interstate 15 between Las Vegas and Los Angeles is one of the worst roads in the West. We're not just talking about potholes here. Drivers often seem in a hurry to get across the stark Mojave Desert. And if they're leaving Sin City after a weekend bender, you better watch out!
Sadly, fatal car crashes are common. Intoxicated drivers not paying attention or speeding while traveling across the flat, open desert often cause accidents.
If you must travel this route, be cautious and aware of others around you. While it can get sweltering during the day on I-15, it seems safer than driving at night. So crank up the AC and do your best to arrive at your destination safely.
Interstate 10
California isn't the only place with dangerous stretches of highway. The portion of I-10 through Arizona is another place to proceed with caution. Specifically, driving between Phoenix and Tucson can feel like you're on a raceway. It's not uncommon for drivers to reach speeds of 100 miles per hour.
In a six-year period, about 500 deaths occurred on this part of Interstate 10, making it one of the worst roads in the West. Again, use caution if you have to drive this route. The alternative options may take longer but offer more scenic views and much less stress.
Map out some scenic drives away from these worst interstates with the National Geographic Road Atlas 2023: Scenic Drives Edition.
How To Stay Safe While Driving on the Interstates Out West
Traveling on interstates in the West, or anywhere else, requires you to use your best and safest driving techniques. Paying attention to speed limits and other signs along the road indicating things like lane changes or construction zones is important.
It's a good idea to drive when you're most alert and awake. For many people, that means traveling during daytime hours. Avoid being behind the wheel when you're tired or feel "road weary." If this happens while you're driving, pull over at the next rest stop to give yourself a break.
Additionally, pay attention to other drivers. You can't count on them doing their part to keep everyone else safe. And leave plenty of space between yourself and the car in front of you.
Finally, scan the road as far ahead as possible. Doing this gives you time to avoid dangerous drivers, debris, or other hazardous obstacles.
East or West, Stay Safe on the Interstate
Many roads in the western part of the country offer incredible views. Be sure to enjoy them by making plenty of stops along the way. We all want to arrive at our destinations able to share stories of our exciting travels with family and friends.
The best way to drive on interstates, whether in the West or elsewhere, is safely. When you're behind the wheel, stay alert, aware, and awake!
Discover the Best Free Camping Across the USA
To be honest with you, we hate paying for camping. There are so many free campsites in America (with complete privacy).
You should give it a try!
As a matter of fact, these free campsites are yours. Every time you pay federal taxes, you're contributing to these lands.
Become a FREE CAMPING INSIDER and join the 100,000 campers who love to score the best site!
We'll send you the 50 Best Free Campsites in the USA (one per state). Access the list by submitting your email below: