A Sunray Camper may be the way to go for an easy, quick getaway.
These vintage-looking little travel trailers are a fun way to downsize without having to rough it too much.
Let's take a look inside these cool compact campers.
What Is a Sunray Camper?
Tiny trailers are a big RV trend right now because they're easy to tow and easy to stow. The best ones are smartly designed and offer efficient use of their limited space. Sunray Campers recall the so-called Canned Ham trailers of yesteryear but have many modern conveniences.
They're well built from solid materials and have some features that their lightweight counterparts don't. They last longer, too, and strike a balance between affordability and durability.
Sunray Camper Floor Plans: Mini to Full Size
How small is a Sunray camper? Well, it depends. There are nine different Sunray models, and the smallest is the mini 109. It's 12 feet long and seven feet wide and has a dry weight of 1,280 pounds. The largest Sunray is the full-sized 199 at 21.5 feet. It weighs in at 3,280 pounds straight from the factory.
All Sunrays have a distinctive and aerodynamic curved front, and some have a squared-off back. It's not just a contrasting design element. The upright rear wall is actually the door that opens up to reveal an exterior kitchen. Other models have a side kitchen instead.
Some Sunray Campers come with a wet bath, air conditioning and heat, a TV, and powered awnings.
The popular little Sunray 109 camper can sleep two on its 54 X 74 sofa bed. It has a full outdoor kitchen in the rear, with a two-burner stove and microwave. It also includes a 16,000-BTU furnace, a six-cubic-foot fridge, and a Bluetooth radio with indoor and outdoor speakers.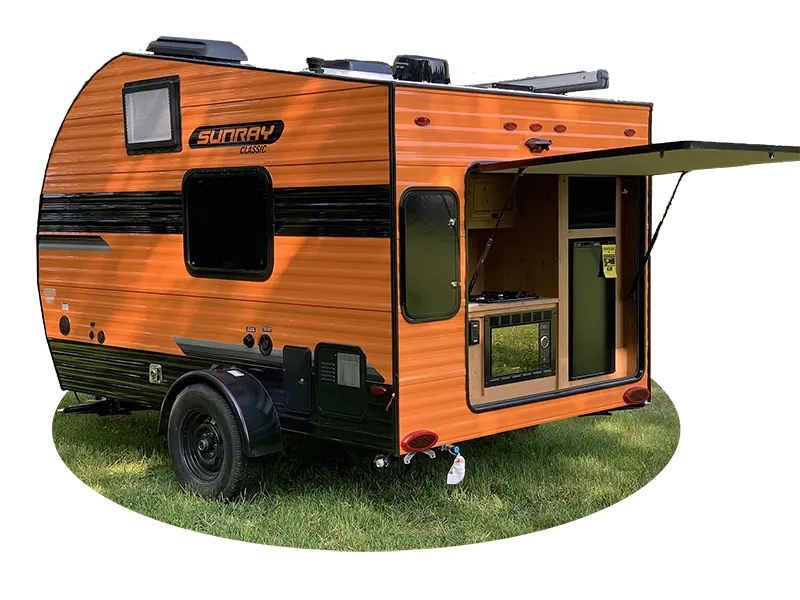 A Sports Model, the 109E has all-terrain tires and a cargo deck in the front. The 15.5-foot Sunray 129 adds a U-shaped dinette, private toilet, and skylight to the mix. The 149, longer by almost a foot, also has a wet bath.
Two other larger models, both of which are 19.5 feet, have rear bedrooms.
The Sunray 169QB has a queen-sized bed, while the 169TB has two twins. They also have standard showers. So does the Sunray's largest camper, the 199, which is the only model with two axles instead of one.
The metal-shelled campers come in a range of retro colors. Some are in solid shades like black, red, orange, and seafoam. Others are white with accented trims. Inside, they use knotty pine or ash for the cabinetry.
Pro Tip: Want to make the best choice when investing in an RV? Check out The Best Travel Trailers for Holding Value.
Can You Stand in a Sunray Camper?
With many compact trailers, a shortage of headroom is a major drawback. Not so with most of the Sunray models, for most people. The smallest mini models are a bit lacking in this regard, with an interior height of only 53 inches.
The Sunray 129 and 139 stand a little taller at just over six feet (73.5 inches), and the 199, 169QB, and 169TB have six feet six inches of inside height. You may not be able to jump up and down inside the larger Sunrays, but you won't have to stoop.
The exterior extends a little higher, of course. This means that some Sunray camper models may not fit inside a standard garage or carport. The roofs on the 109s are either seven or 7.5 feet. The 129 and the 139 have an outside height of eight feet eight inches.
The three biggest Sunrays are an inch shy of 10 feet tall.
How Much Do Sunray Travel Trailers Cost?
If you're not a careful shopper, you can expect to shell out more than $20,000 for a brand-new Sunray. The list price for the 109 is $21,900, but we've seen some sale prices that were a bit lower.
We even found a 2021 Sunray 109 listed at $12,969. Shop around enough, and you might be able to find a good-condition used Sunray for less than $10,000.
Who Makes Sunray Campers?
The company that makes the Sunray Camper is Sunset Park RV Manufacturing. Sunset Park has a few other RV lines, too. They also produce Liberty Independence and Sun-Lite travel trailers as well as RUSH toy haulers.
Pro Tip: Nervous to start driving an RV? Take the stress out of learning by going to RV Driving School.
About Sunset Park RV
Sunset Park resides in Shipshewana in northeastern Indiana, which is largely an Amish and Mennonite community. Company president Merle Schmucker started the company in 2007 after a few years as a high-end home builder in Florida.
He uses his experience from constructing million-dollar homes in crafting some of the architectural features of Sunray Campers. He relies on the expert labor and conscientious work ethic he gets from his Amish neighbors for his workforce.
You Can Be Stylin' in Sunray Campers
Sunray Campers are stylish in a retro sort of way, but they offer some up-to-date comforts, too. For many RVers, they're also very practical. With their smaller sizes and lighter weights, they're easy to move and maneuver.
You won't need a huge tow vehicle to get you to a remote hideaway. Have you ever encountered a Sunray? What did you think?
Discover the Best Free Camping Across the USA
To be honest with you, we hate paying for camping. There are so many free campsites in America (with complete privacy).
You should give it a try!
As a matter of fact, these free campsites are yours. Every time you pay federal taxes, you're contributing to these lands.
Become a FREE CAMPING INSIDER and join the 100,000 campers who love to score the best site!
We'll send you the 50 Best Free Campsites in the USA (one per state). Access the list by submitting your email below: