When temperatures start to drop for winter, birds head south in search of warmer weather.
RVers do the same.
This phenomenon gave rise to the nickname "snowbirds." Snowbirds are tourists who flock to southern parts of the United States during the colder winter months.
Many of the communities that are popular winter destinations truly appreciate snowbirding RVers during the winter. This is because it helps bring tourism dollars during what's otherwise considered to be the 'off-season'. In some places, the winter brings the biggest business of the year.
Not all winter campers are snowbirds; many of us simply love a good chill in the air.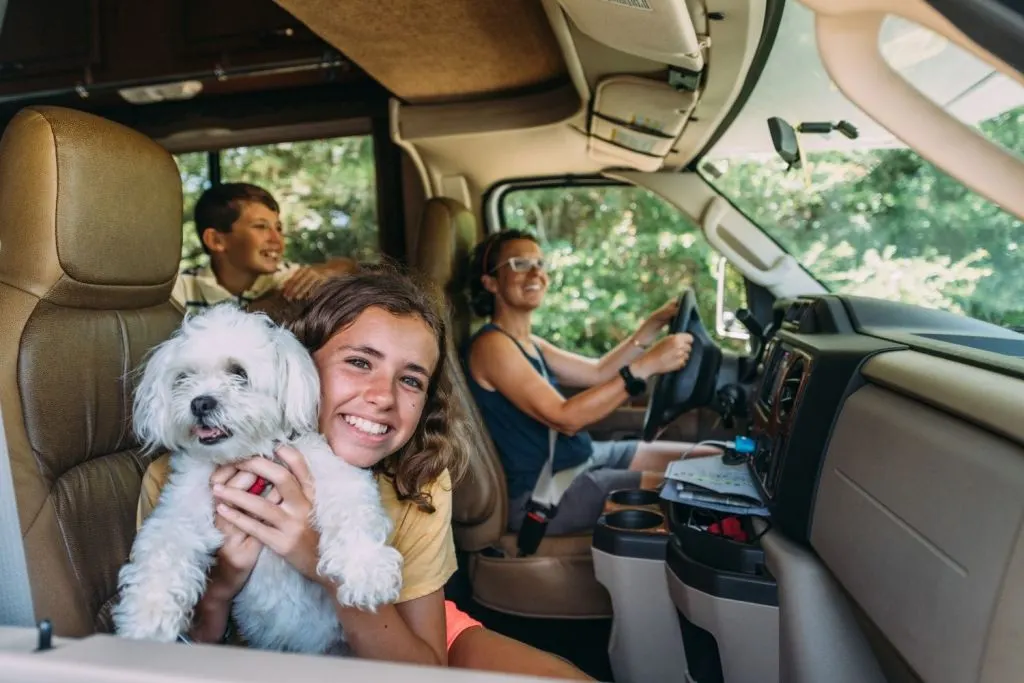 How RVers Stay Warm In Winter
If you are planning to brave the cold weather, there are a few things you can do to make it more comfortable.
A big one is making sure your RV is properly insulated. You can also line your windows with heavy thermal curtains.
Also, make sure your weather stripping is in good shape. And, reinforce your windows and doors with a layer of caulk or sealant if they need it.
Best Winter Destinations for RVers
But the best way to stay warm is to follow the sun. Here are some of our favorite destinations for the winter months.
These are all beautiful areas with plenty of cool attractions! Also, they're accustomed to having us as visitors. So, they know how to cater to the RV crowd and make us feel welcome.
South Texas
Texas is a big state with lots of different regions, and South Texas is home to some fantastic beach communities.
Toward the east end, south of Houston, lies Galveston on the Gulf of Mexico. It's literally an island, and has tropical temperatures, too, as well as small-town Southern charm.
Some 200 miles to the west is the small town of Port Aransas. Port Aransas, or Port A, offers a more remote and rustic beach experience. You'll find great fishing and some secluded stretches of sand. It's a short drive from the well-maintained Mustang Island State Park outside Corpus Christi.
Farther to the west is South Padre Island, which is famous as a Spring Break getaway. Expect mild days and breezy nights here! As you explore 34 miles of white sands and do some bird watching, enjoy a dolphin cruise or charter a fishing boat.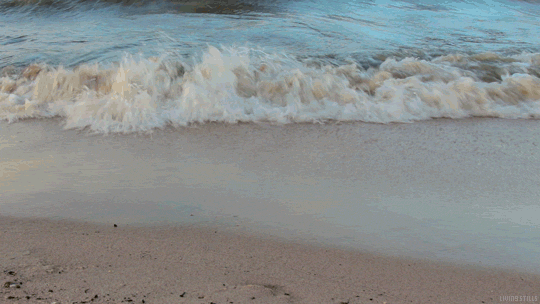 Arizona Desert
The forecast here almost always calls for plenty of sun and hardly any chance of rain. Arizona is always a safe bet for a great escape from frigid temps.
The city of Yuma offers a true Southwestern experience on the Colorado River. It's just across the border from Mexico over the California line. You'll find plenty of fellow travelers here – Yuma's population of around 100,000 nearly doubles in the winter! Art galleries, shops, wineries and museums are just a few of the offerings.
An even bigger transformation happens in Quartzsite, a bit to the north. This sleepy desert town wakes up from months of hibernation to become what some call "the boondocking capital of the world". Tens of thousands of RVers migrate here year after year. They enjoy the spectacular scenery, and take part in the massive Quartzsite RV show, usually held each January.
It's a fun, one-of-kind destination that's kind of a rite of passage for RVers. At Quartzite, you can take advantage of free or cheap camping spots while taking in lots of unusual attractions, including flea markets and mineral shows.
Florida
Climate is one of the many things that make Florida such a popular destination. Along with what's considered to be the mildest climate in the country, it's almost surrounded by water.
The eastern part of Florida is on the Atlantic Ocean and is called the Space Coast because it's where NASA launches its rockets. It also has the closest beaches to bustling metro Orlando. In places like Cocoa Beach, Melbourne, Titusville and Palm Bay, eco tours are popular, and there's offshore gaming, too.
Across the state are the emerald waters of the Gulf of Mexico, and the city of Destin has been a favorite vacation area spot for decades and continues to hang onto its claim as "the world's luckiest fishing village. It's also a top spot for golf.
At the tip of Florida are the legendary and unique Florida Keys, an area that includes Key West as well as other slices of paradise like Key Largo, Marathon and Islamorada. Wanting to head south? This is as far as you can go and still be in the continental U.S.!
Alabama
Alabama has a beach? It sure does, and it's one that regularly lands on those "best-kept secret" lists. The town of Gulf Shores, directly on the Gulf of Mexico, offers a few miles of natural white-sand beauty and a family-friendly vibe that's served up alongside its locally-owned seafood restaurants.
Pro Tip: Here are 29 family friendly things to do in Gulf Shores, Alabama.
Thirty miles inland is the quaint and charming Fairhope, along the Mobile Bay, with a big artistic presence and dozens of small shops and eateries. Across the bay is the historic city of Mobile, with its inviting ancient oak trees, lots of live music and a growing restaurant scene. You might catch a Mardi Gras parade, too!
Along the Alabama coast, it might dip below freezing a few times in December or January, but it's not uncommon to spend the holidays in shorts or shirt-sleeves. Be sure to pack your flip flops along with a fleece jacket.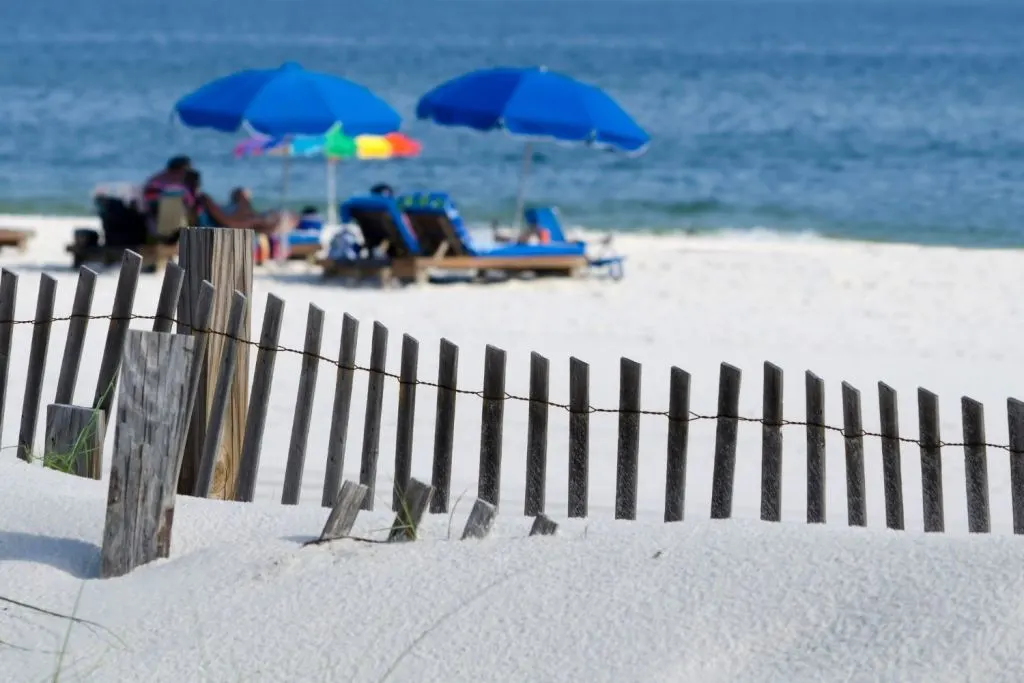 Southern California
San Diego is famous for its near-perfect climate. It stays in the upper 70s most of the time, and the last time they saw snow flurries was in 2008! The city boasts a world-famous zoo as well, and there's a great food scene, beautiful parks and beaches.
For a big city adventure, Los Angeles awaits, as does the resort getaway community of Palm Springs, which counts numerous RV parks along with its picturesque mountain scenes, golf courses and celebrity sightings.
A drive into Mojave Desert to Joshua Tree National Park gives you an opportunity to experience California's wild side. The area's distinctive landscape is marked with rugged mountains, ruins of gold mines and the unusual trees that are its namesake.
Stargazing is popular there, and there are museums and galleries and farmers markets to visit, too.
As the weather gets colder, a great way to beat the winter blues is to hit the road and head for the Sun Belt. Pack a sweater just in case, and bring your swimsuit, too.
But you can leave the snow boots and long underwear at home. By heading south for the winter you might find a community of fellow RVers to hang out with and you won't have to compete with the crowds of warm-weather tourists seeking summer fun.
Discover the Best Free Camping Across the USA
To be honest with you, we hate paying for camping. There are so many free campsites in America (with complete privacy).
You should give it a try!
As a matter of fact, these free campsites are yours. Every time you pay federal taxes, you're contributing to these lands.
Become a FREE CAMPING INSIDER and join the 100,000 campers who love to score the best site!
We'll send you the 50 Best Free Campsites in the USA (one per state). Access the list by submitting your email below: