7 Reasons Escapees RV Club is for You
Are you wondering if the Escapees RV Club will be a good addition to your RV travels? Look no further! Today we're sharing 7 reasons why this RV club is a huge asset when you're traveling across the USA.
The Escapees RV Club was established in 1978 with the mission to grow a community of RVers. The founders, Joe & Kay Peterson, held the first Escapees gathering later that year in Bakersfield, California.
Today the community is larger than ever, with thousands of members. The basic membership rate is $39.95; we see it as a great value.
Let's jump into the 7 reasons the Escapees RV Club is for you!
The Escapees RV Club Community
If you're a full-time or extended-trip RVer, you know that community can be hard to find. During our first five months on the road, we were so busy sightseeing that we barely met other travelers.
This all changed when we joined the Escapees RV Club – especially after our first meetup!
Meet Ups & Rallies
The Escapees host many meet ups across the USA. Their flagship rally, The Escapade, is an enormous gathering with community building events and live entertainment. The 2020 Escapade Rally will take place in Rock Springs, Wyoming on June 21-26.
Escapees "Hangouts" are more casual meetups that happen at cool spots. Here's a few upcoming Hangout locations: Smoky Mountains, Baja Mexico and Fredericksburg, Texas.
Regional Chapters
There are 57 regional chapters of the Escapees RV Club. These chapters make it easy to build RV community relationships close to your home base. Escapees expands on the regional events by saying:
The RV outings range from planned visits to area attractions and sporting events, to holiday get-togethers. They are like family reunions with good food shared with good friends. Whether you attend a luncheon or an outing, you'll have the opportunity to have your questions answered, share RV tips, and make new friends who RV and live in your area. Nonmember visitors are welcome guests. – Escapees RV Club Website
BOFs (Birds of a Feather)
Birds of a Feather groups connect Escapees members through common interests. Here are a few examples of BOFs: Amateur Radio, Boomers, Friends of Bill W., Metal Detecting, Wood Carvers, and many more!
RV Education
Are you an RV newbie? We've all been there and know it can be terrifying to operate a huge motorhome. The Escapees RV Club is there to help with multiple resources both in person and online. Of all the RV Memberships we recommend, none provide education like Escapees.
RVers Boot Camp
The RVers Boot Camp is an in-person, multi-day course led by fellow RVers with years of experience. The curriculum is split into three sections: operation, maintenance, and safety.
Some of our favorite individual classes are "Staying Connected on the Road (RV Internet)", "Batteries" and "RV Tire Safety".
The Boot Camp costs members $250 for one person or $400 for a couple. Non members can attend, but they will pay a premium price $300 and $450.
RVers Online University
The online university is helpful for anyone who can't attend a boot camp. With enrollment, students get access to online courses and direct connection to instructors.
There are 24 individual corses . The topics hit on all the boot camp curriculum and add subjects like, "Creating a Business", "Gas vs Diesel", "Choosing an RV" and "Domicile".
For $79, Escapees RV Club members can access all the university corses for 90 days.
Escapees Magazine
For a more casual RV eduction experience, the club publishes an 88 page, bi-monthly magazine (digital & physical). The Escapees RV Club describes it like this:
You will find technical tips, RV maintenance information, safety education, advice from full-time RVers, unique boondocking, and off-the-beaten-path locations, products reviews, and much more. -Escapees RV Club Website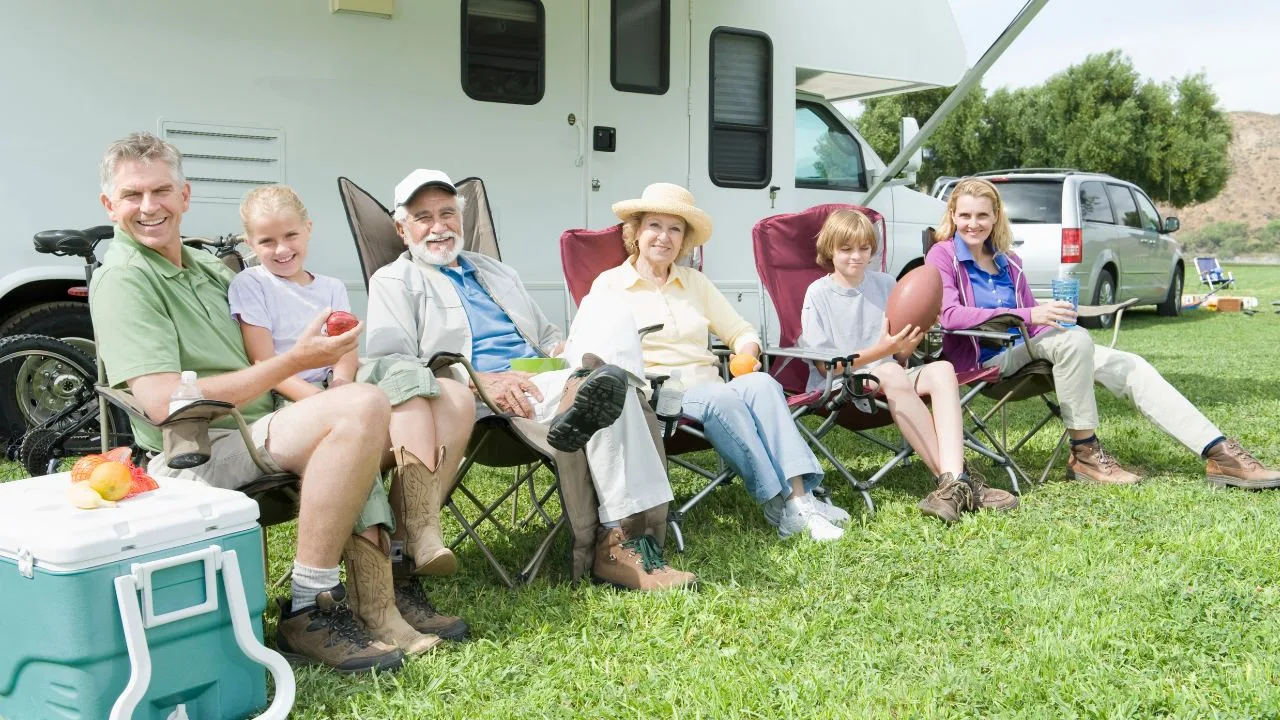 Mail Service
The Escapees RV Club Mail Service is a cornerstone feature of the club. If you RV for extended periods of time, getting mail forwarded to you can be a huge challenge.
Here's how it works:
The service provides a physical address where you can receive packages and letters. You can call daily to see if mail arrived. They can also scan letters and forward those images to you as it's delivered.
Once you want your physical mail, simply request a forward and it will be sent out next day with a tracking number.
This unique Escapees RV Club service costs between $95 and $135 annually.
Roadside Assistance
Roadside assistance is a necessity when RVing. However, many of the most popular providers have notoriously bad online reviews.
We like the Escapees Roadside Assistance because they have a high level of commitment to provide club members with great service. Additionally, there is no cap on the numbers of claims per year. So, your service can't be dropped like we've seen so often from other providers.
The Escapees Roadside program includes: towing service, mobile mechanic service, lockout service, battery jumps, hotel discounts and more.
The yearly fee is $99.
RV Parking Discounts & Options
The Escapees RV Club offers four unique ways to save on RV Parking. We've used all of the options and have to admit, this is one of our favorite club perks.
Escapees Rainbow Parks
From Arizona to Florida, the seven Rainbow Parks give you a variety of discount RV parking options. You can stay short term, long term, leases or deeded lots.
In fact, as we write this, we're parked at a beautiful Rainbow Park location. The vibe here is wonderful and the community is kind.
SKP Co-ops Parks
The SKP Co-op Parks are much like Rainbow Parks, except they are run by club members rather than the club itself. You must be an Escapees member to stay at these parks. You may also buy lots. Here's how Escapees describe the co-ops:
We helped form 11 co-op parks, RV parks available exclusively to Escapees members but managed and maintained by individual members of the co-ops. Escapees members may purchase an SKP Co-Op membership, when available, which entitles the use of a specified lot until sold back to the cooperative. – Escapees RV Club Website
Nation Wide Discounts
The Escapees have a network of RV parks throughout the country that offer club members a discount on parking. From 15 to 50% off, choose from 100s of parks across the US to save on nightly rates.
Days End Directory
The Days End Directory is a compilation of driveways and private boondocking sites that members offer fellow traveling Escapees. It consists of over 1,000 sites in the USA.
RV Advocacy
RV advocacy may sound frivolous, but it's an essential function of the Escapees RV Club. To give you an idea of the importance of advocacy, here's a list of projects the Escapees have assisted with:
RVers Right to Vote
Protecting Overnight Parking
Battling Un-Fair RV Specific Taxes

Industry Coalitions Established to Safeguard RVers
As you can see, these are important issues – specifically if you're a full time RVer. The Escapees RV Club provides monthly updates on the progress of their current advocacy missions.
Partner Discounts
Last, but not least, club membership grants valuable partner discounts. Here's a complete list of the current partners:
ASPCA Pet Insurance
Boondockers Welcome
Costco
Dish
Fulltime Families
Goodyear
Harvest Hosts
Passport America
Premier Tires
RV Mobile Internet
RV Trader
Wholesale Warranties
Battle Born Batteries
Wifi Ranger
Escapees RV Club – Conclusion
We might be biased (we've been members for 3 years), but we really like the Escapees RV Club. It has helped us build wonderful relationships and enjoy great club RV parks.
For $39.95 (that's only 11 cents a day), we think its a very useful membership at a great price.
Check out the membership yourself right here!
The Best FREE Camping in the USA
We love camping across this amazing country. And, we really love it when its free. Here's our list of the 20 Best Free Campsites in the USA.
If you haven't tried free camping before, also known as boondocking, take a look at our beginners guide to boondocking filled with everything you need to know to get started.
Become a FREE CAMPING INSIDER and join the 100,000 campers that love to score the best site! Simply enter your email below.