RV Water Filters: Good, Better & Best
If you're anything like us, drinking clean water while traveling is very important and it can be a challenge to know if what your drinking is from a safe source.
Living and traveling full time in an RV, means our water source is constantly changing, so we want the peace of mind that our water is free of any harmful bacteria, heavy metals, sediment and that it tastes good too!
Today we'll be reviewing three RV water filtration systems at three different price points.
We'll dive deep into the features, installation, benefits, and limitations of each filtration system.
Let's get to it!
The Good: Camco Taste Pure Water Filter
Price: Under $20
Filter Features: Uses Granular Activated Carbon and a 20 micron sediment filter to reduce bad taste, odors, chlorine and sediment in drinking water. Filter lasts "one camping season."
Installation: Simple hose attachments installed on the exterior of an RV
Pros: Price, easy install, offered at many online retailers and big box stores
Cons: Short lifespan (one camping season), parts leak with lots of usage, doesn't filter fluoride, water still flows through many potentially dirty pipes after filtration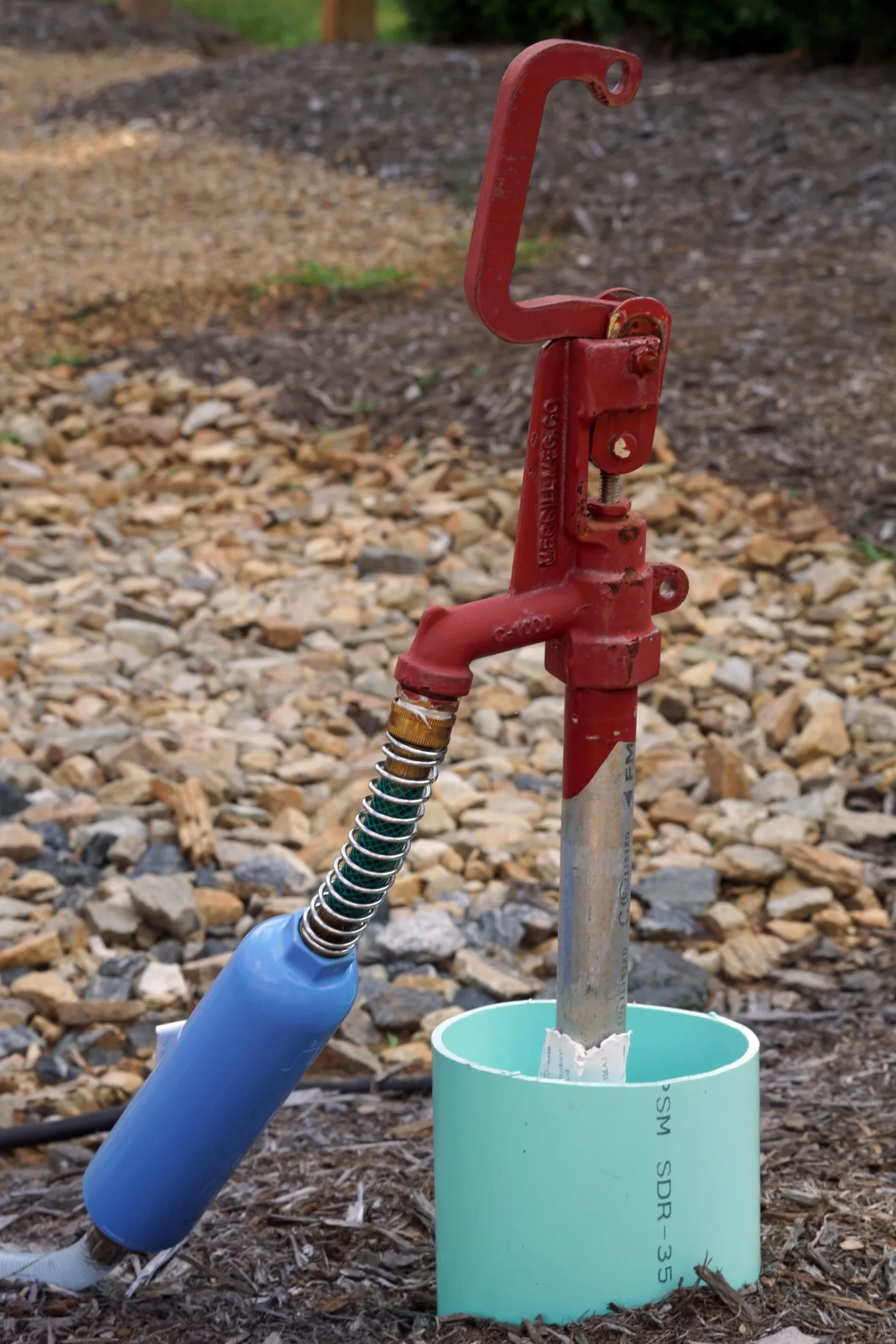 Ideal for: Weekend camping trips
Product Links: Filter with hose attachment: https://amzn.to/2L8lp6n Filter without hose attachment: https://amzn.to/2N4LC6y Metal elbow to extend life of hose: https://amzn.to/2N1oeH8
Our Hot Take: If you're a full time RVer, this filter is only for you if its your first stage of water filtration. We don't recommend this as your only method of filtration. It's a great tool and easy to store – but step up your game!
Getting Better: Big Berkey Water Filter System
Price: Starts at $258
Filter Features: 2.25 gallon capacity, filters out fluoride (optional), viruses, pathogenic bacteria, lead, arsenic, chlorine and more. No electricity or water pressure needed. Filters last 1000s of gallons – needed changing about once a year
Installation: The installation takes about thirty minutes and involves screwing filters into the top and bottom chambers.
Pros: Water is thoroughly filtered, has the option to remove fluoride, no water pressure or electric needed – great in case of emergency. The stainless steel design is beautiful and will last for many years. The water tastes amazing, too
Cons: Takes up precious counter space & needs to be secured when traveling.
Ideal for: Travelers in large rigs & RVers that want a higher quality filtering system
Product Links: Big Berkey – https://goo.gl/ZsJCeJ Fluoride Filter – https://goo.gl/XQ4Ccc
Our Hot Take: This is a great filtration system. We love that is can filter out fluoride. The Berkey doesn't travel well in our 16 foot Fiber Stream, but the Airstream will have more space for it. Also, this filter is awesome for weekend or seasonal campers who want filtered water in their sticks & bricks home, too!
The Best: Acuva UV LED Water Filtration System
Price: Starts at $649
Filter Features: Uses a unique LED UV ray technology to disrupt the DNA of viruses and bacteria. This is used in conjunction with an activated carbon filter.
Installation: You may need help. Acuva sends all the parts needed for install, but if you're not handy, we recommend getting a helping hand. The unit is very compact. It mounts with great stability and comes with its own spout with a built in LED light to indicate performance.
Pros: Filtration happens right before you receive the water – giving you the cleanest water possible. The LED UV system uses very little electricity. We feel safe drinking out of our water tanks now.
Cons: Price – at $600+ this is a steep initial investment. The flow rate is relatively slow, it takes over a minute to fill a gallon jug – filling up a small glass in no problem.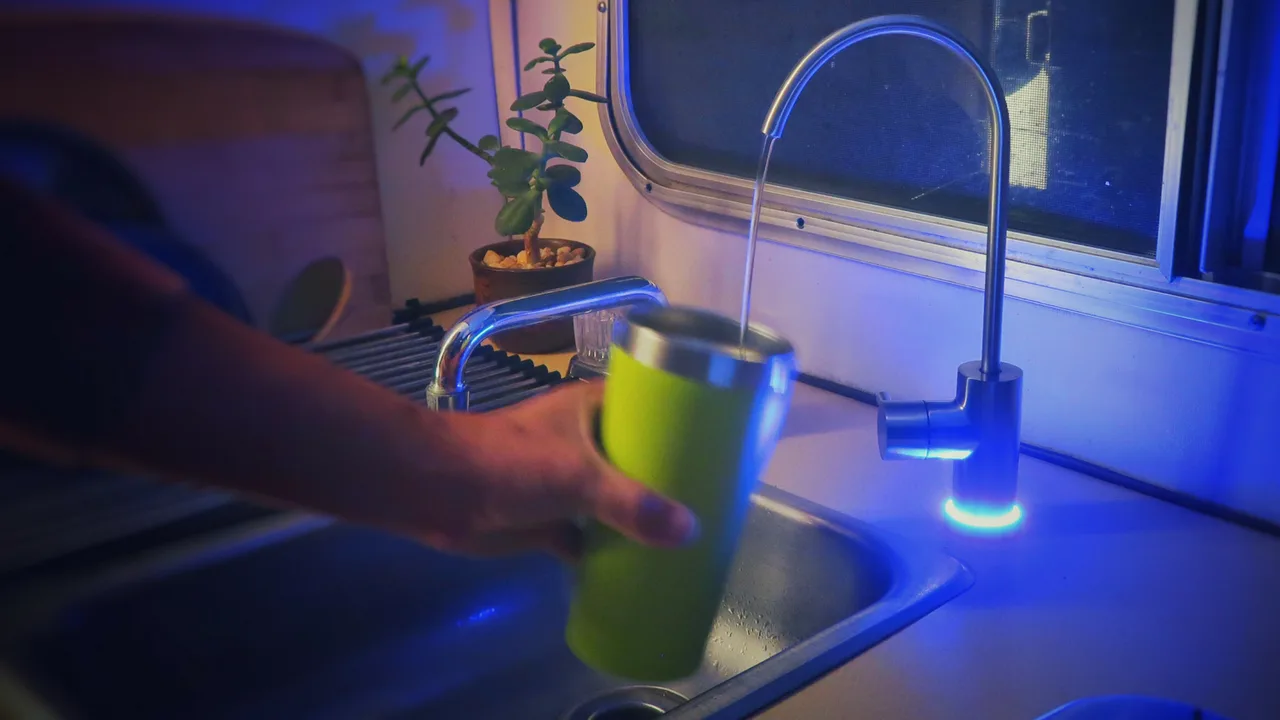 Ideal for: Travelers in all size rigs & RVers that want a higher quality filtering system.
Product Links: Vibe Tribe Exclusive – use discount code "DRIVINVIBIN" for a whopping $100 off any purchase – Acuva Filter: https://goo.gl/55rnxS
Our Hot Take: This filtration system is da bomb (do people still say that?). We love that its that last point of contact before water hits our glass. This filter made us drink out of our vintage water tanks with confidence and peace of mind!
BONUS TIP
Now that we have clean, filtered water – let's make it fancy! We love soda water, sparkling water, bubbly water, fizzy water…whatever you call that stuff, it's amazing 😍
BUT, when we buy the canned water, it creates soooo much waste to haul off to recycling.
The Soda Stream has changed our soda-water-lovin' lives. It's small enough to fit on our tiny counter and produces bottles of sparkling water on demand. The unit requires no electricity, just a simple CO2 canister.
A single CO2 canister can sparkle around 90 litres of water. Once the canister is empty, it can be exchanged at any Target or Bed, Bath & Beyond.
Let us know how you filter water…and if you love sparkling water! 😍
The Best FREE Camping in the USA
We love camping across this amazing country. And, we really love it when its free. Here's our list of the 20 Best Free Campsites in the USA.
If you haven't tried free camping before, also known as boondocking, take a look at our beginners guide to boondocking filled with everything you need to know to get started.
Become a FREE CAMPING INSIDER and join the 100,000 campers that love to score the best site! Simply enter your email below.