5 Best Small 5th Wheel RV Trailers
5th Wheel RV trailers are known for being big! They have fantastic storage space, multiple rooms, and tall ceilings.
Small isn't the first thing that comes to mind when thinking about 5th wheels.
Today, however, we're sharing precisely that! These five small 5th wheel RVs are maneuverable and luxurious.
What is a 5th wheel trailer?
They are the trailers that connect inside the truck bed instead of a hitch on the bumper.
Anyone who has towed a 5th wheel will tell you that they pull much more smoothly and safely, with less sway (compared to a traditional trailer). It's even a more comfortable ride in the tow vehicle, since they put the weight over the drive wheels instead of the tail.
They also offer more room in a shorter trailer, often feel very spacious compared, and are usually easier to maneuver and back in tight spaces.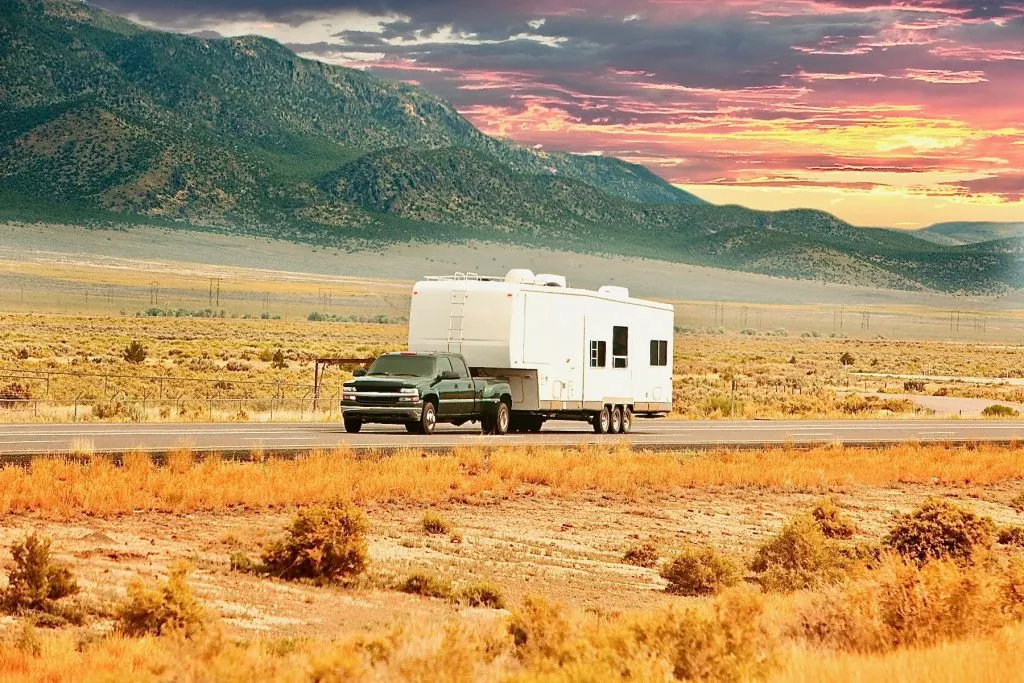 We recently wrote an article titled, 5 Reasons to Avoid 5th Wheels. Many of the issues in that piece were size related. These smaller 5th wheels solve that problem immediately!
Here are our favorite small 5th wheel RV trailers:
Scamp 5th Wheel
The Scamp 19′ 5th wheel is a fiberglass trailer, making it extra lightweight and aerodynamic, helping your towing and gas mileage!
This 5th wheel has a queen size bed in the loft area, and can sleep up to 6 people.
The bathroom separates the loft from the lower part of the trailer, making it a more private area. A Scamp fiberglass 5th wheel only weighs 2000-2900 pounds dry depending on trim level and added features.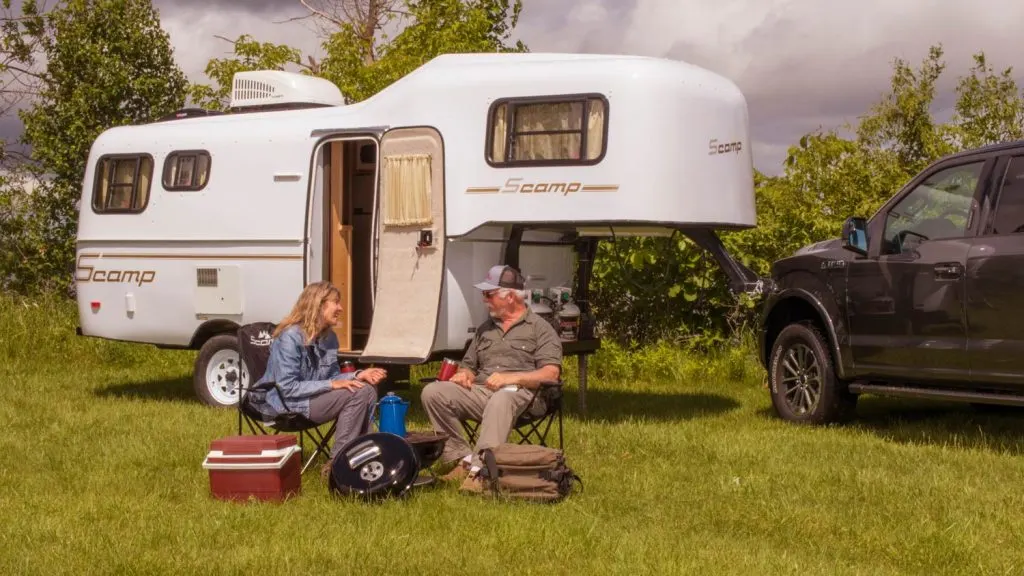 Winnebago Minnie Plus 5th Wheel
The Winnebago Minnie Plus is a more standard looking 5th wheel, ranging from 27'3″ to 33'9″ and can sleep up to 7 people.
With weights from just under 7,220 ranging up to 9,700 pounds dry, the Minnie Plus offers four floor plans to suit any consumer.
It has different options in features and trims depending on family size. Optional equipment can include a fireplace, theater seating, residential refrigerator, and more.
Northwood Fox Mountain 235 RLS
The Northwood Fox Mountain 235 RLS is another small 5th wheel trailer option. With a dry weight around 8,761 pounds, and sleeping up to 6, the Northwood showcases it's own built and certified off-road chassis with EZ Lube axles.
Inside, a cathedral arch ceiling and extra insulation offers roominess and temperature control. Residential appliances and porcelain bathroom fixtures are standard. These units come ready for solar and generator power for your boondocking in luxury.
Coachmen Chaparral 5th wheel
Coachmen Chaparral 5th wheels have residential features and elegant interiors, just like your home.
Their smallest offering is the 27RKS weighs in at 9803 pounds. It has a queen bed in a slide, and an oversized shower.
Open Range 284 RLS
Open Range 284 RLS is a contender in the small 5th wheel category as well.
Dry weight of 10,005, and a pin weight (on the truck bed) of 1,665, puts this unit on the heavier end of the 5th wheels reviewed here due to the upgrades in construction and extra standard features.
This 5th wheel offers comforts of home. It features an outdoor kitchen, LP quick connect, and frameless windows. Optional unique features like nitrogen-filled tires, and a built-in pet bed give it flare!
When Choosing Your 5th Wheel
Don't discount 5th wheels. It's possible to buy a small-ish unit! There are numerous options with the spaciousness and ease of towing that can be compatible with ¾ ton or smaller pickups (Scamp)!
If a 5th Wheel Isn't Your Vibe, Try These Small RVs
Discover the Best Free Camping in America
To be honest with you, we hate paying for camping. There are so many free campsites in America (with complete privacy).
You should give it a try!
As a matter of fact, these free campsites are yours. Every time you pay federal taxes, you're contributing to these lands.
Become a FREE CAMPING INSIDER and join the 100,000 campers that love to score the best site!
We'll send you the 50 Best Free Campsites in the USA (one per state). Access the list by submitting your email below: