5 Ways Around the RV 10 Year Rule
Today, there are more RV's on the road than ever before.
Better access to the internet has made it easier to travel, especially for remote workers.
Because of the influx of new travelers, the diversity of RV's on the road is much broader. The range can vary from vintage RVs to brand new rigs, and everything in between.
Because of this diversity, some RV campgrounds have enforced a 10-year rule making it harder for certain RV's to visit their parks. While this rule is well intentioned, it can cause a lot of headaches on the road… so here are 5 ways around it!
What is the RV 10-Year Rule?
If a campground has a 10-year rule, it means that if your RV model is older than 10 years, you cannot stay at that campground.
It sounds harsh but the campgrounds have their reasons. Some campgrounds have a certain reputation of being clean and well-maintained so they can charge a premium.
Because of this, they want to keep up with appearances by not allowing a dilapidated RV in their park. Some older and un-maintained RVs will break down and not be able to leave the park. Alternatively, some older and un-maintained RVs will leak or just be an eyesore in general.
While this might seem like an unfair, weird rule – think of it like an HOA. A homeowners association has rules for how your home and yard should look. These campgrounds are similar.
However, there are ways around the RV park 10 year rule! It's not a hard and fast rule, so here are some tips to get around it.
5 Ways Around the 10-Year Rule
Keep Your RV Well Maintained (and send a picture)
The first way around it is to keep your RV well maintained. What the parks really are concerned about is the RV breaking down and looking bad.
So, if this is the concern, call ahead and let them know. You can even send them pictures to assure them you have a well-maintained vehicle.
Travel in a Renovated Vintage Camper (These are often allowed)
Another option is call and let them know you are in a renovated vintage RV. More often than not these will be allowed.
Again, it's about looks and if the vehicle can run. People often love vintage anything, especially in good condition.
Pro Top: These are the best vintage trailer brands if you want to avoid the rule.
Travel in an RV That Has A Classic Design
You could also consider a classic design RV. Ones that haven't changed designs for years and no one could tell if it's new or old unless it's not maintained. A 1990 looks the same as a 2020.
Here are a few examples: Airstream, Scamp, and Casita.
Buy a New RV to Get Around the 10 Year Rule
Or you could just buy a new RV. This isn't necessarily recommended because it could be expensive and you don't want to put yourself in the hole financially just to stay at one RV park.
But if you're looking to get into a newer RV already this could be a bonus.
Pro Tip: If you go this route, these are reasons to avoid an RV dealer.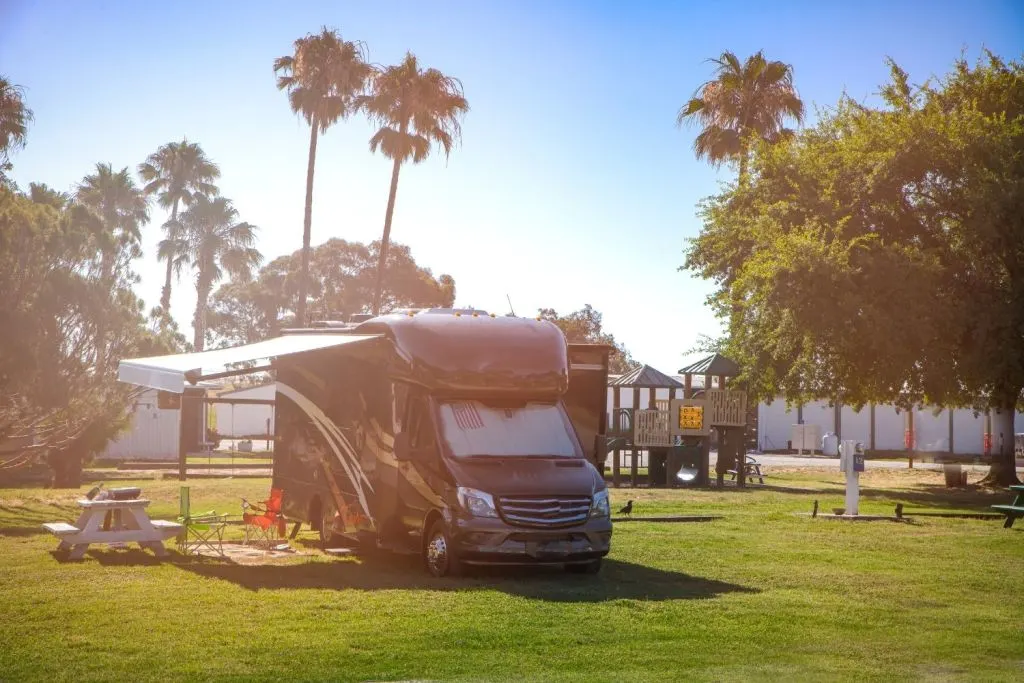 Or, You Can Just Avoid These Parks
The last thing is to just avoid these RV parks. There are a lot of campgrounds out there and most of them don't have a 10-year rule.
Typically, the parks with the 10-year rule are more expensive anyway.
Whatever your desire, there is a place for everyone and there are ways around the 10-year rule. As long as you keep your RV in good condition and you are nice to people they don't always care. But always call ahead before assuming so that you don't have the issue of being turned away.
And, just because your RV may be younger than 10, if you're younger than 55 you'll be denied at these parks.
Why Do RV Park Owners Use the 10 Year Rule?
RV park owners use the 10 year rule as a safe guard. We've spoken with many owners and have discovered there's no good way of weeding out unkept RVs.
The 10 year rule is a baseline for RVs on the decline. It's not feasible for RV park managers to inspect every rig that arrives. Yet, they must safe guard their park and guests.
Unkept RVs are apt to leak, become an eyesore and cause potential hazards to the RV park community.
This seems to be the overall sentiment from most RV park owners that implement the rule.
Discover the Best Free Camping Across the USA
To be honest with you, we hate paying for camping. There are so many free campsites in America (with complete privacy).
You should give it a try!
As a matter of fact, these free campsites are yours. Every time you pay federal taxes, you're contributing to these lands.
Become a FREE CAMPING INSIDER and join the 100,000 campers that love to score the best site!
We'll send you the 50 Best Free Campsites in the USA (one per state). Access the list by submitting your email below: