The Don'ts of Free Camping
They say the best things in life are free, and that sometimes includes camping.
It's a privilege, not a right, however, and it's one we shouldn't abuse. It makes good sense to follow some fairly simple guidelines so we don't spoil what's such a great thing.
Let's dive in!
What is Free Camping?
Many RVers love staying at campgrounds or resorts with electricity, hot showers and other comforts. Others prefer a more primitive style of camping.
Free camping is setting up an RV or a tent in a designated area without paying a fee. Other names for it are dispersed camping and dry camping. It's all about being self-contained and supplying your own water or power.
It's also different from stealth camping in the sense that you're not undercover. You're camping with permission from the owner of the property.
What You Need for Free Camping
You're going to be self-reliant, so put some thought into what you're packing. Our quick checklist starts with food and lots of water. Make sure you have bottles or jugs of water plus a full tank of freshwater.
You'll need electricity, too. Whether it's solar power or a generator (or a solar-powered generator), make sure you've got enough juice for your stay.
Toilet paper is a must, and a shovel might be needed too. Camp chairs and a table are always a good idea.
Don't leave home without trash bags, either. Bring some extras, too (see Rule #4 below).
Finally, come with a plan. It's never a good idea to "wing it." Make sure you do plenty of research before you set out for your next destination.
Benefits of Free Camping
First of all, it's free, which really pays off if you're watching your budget carefully.
Free camping has other rewards, too. Often the sites themselves are incredibly beautiful.
Fresh air and breathing room are worth a lot, too. Many free camping sites can be quite crowded – especially these days. Others, however, provide that sense of isolation that we sometimes crave.
5 Don'ts of Free Camping
Don't Go Free Camping Wherever You Want
Free camping doesn't mean that you can camp just anywhere. Thankfully, there are many places around the country that are set up for it.
Our favorite kind of free camping is boondocking in natural areas, some of them quite remote. Many of these areas are in national forests while others are on lands owned by the federal Bureau of Land Management.
In addition, some state and local parks have areas for free camping.
Sometimes, to save money or to make up some time, we'll do some lot-docking. This is staying overnight outside an outdoors store or travel center.
Just keep in mind, every location has specific rules. It's your responsibility to verify the legality of each spot before camping.
Don't Park Close to Other Campers
Don't be a "close parker." If there's room to spread out from your fellow camper, please do so.
What distance is appropriate? As far away as possible is a good rule of thumb. If you are in wide open space, give your neighbor 200 feet or so. When quarters are crowded, do your best to stay at least 30 feet away.
If you arrive at a camp and there's just one other RV, don't pull up right next to them.
Don't Be Loud All Night
It's not a party. People go camping for lots of different reasons, and a big one is solitude. You might be really excited about being on your own adventure, but doesn't mean you should run someone else's.
As a general rule, night time means quiet time, and that includes your generator. As a common practice, it's right to remain silent between 8 at night and 8 in the morning. If your neighbors aren't making any noise, then there's a good chance you should follow their lead.
If there's no one else around to hear you – within a mile, say – then it might be OK to make some noise.
Pro Tip: Here are five 30 amp generators that have proven reliability.
Don't Trash The Place
We shouldn't even have to mention this one, but it's a sad fact that many campers love to litter. Don't do it. It's an easy way to get a good free camping site shut down for good.
If you bring it in, take it out. If someone else brought it in, take it out if you can.
It bears repeating – leave no trace.
Pro Tip: Free campsites are being closed due to trashing, here's the latest closure.
Don't Create a New Campsite or Fire Ring
Campsites have designated areas for a reason. Often it's because the surrounding lands are environmentally sensitive.
This extends to fire rings. Use the one that's already there so the rest of the area can remain in its natural state as much as possible.
Think of it as being kind to the plants and animals. After all, they were there first.
Staying within designated sites can also help with management. It's easier for the property owners to keep track of those who are camping.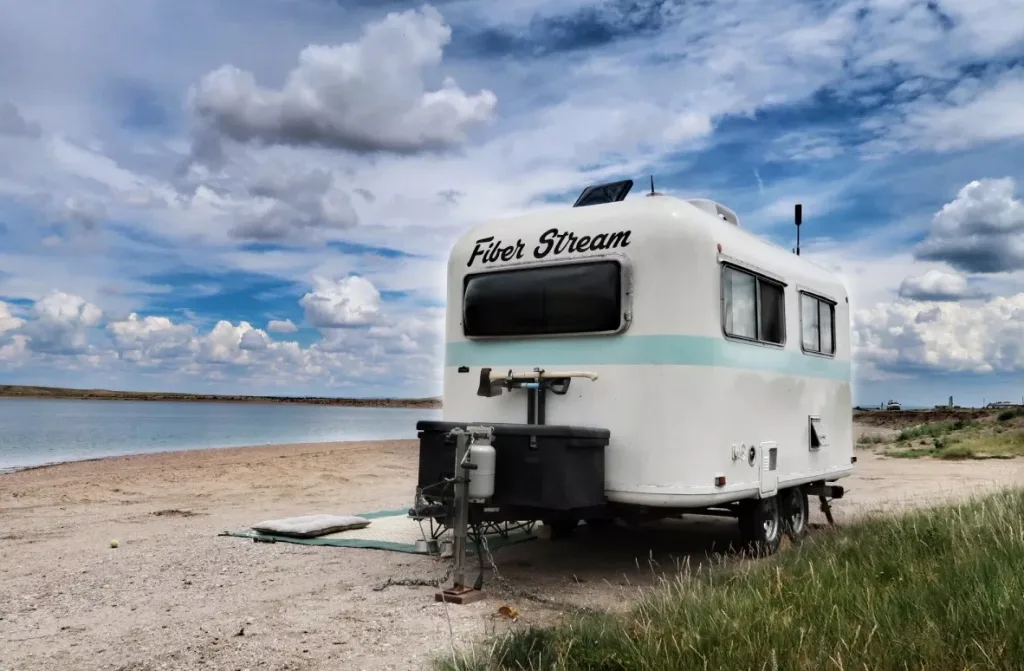 Get Out There and Explore
We're always looking for ways to save money when we are traveling, and free camping is one of the best ways to do it. In fact, we hate paying for camping, as we've said before.
There are definite do's and don'ts when it comes to free camping, and none of the could be called extreme.
Every game has rules, and we can keep on playing if everyone follows them. Otherwise it might just be "game over" for all of us.
Discover the Best Free Camping Across the USA
To be honest with you, we hate paying for camping. There are so many free campsites in America (with complete privacy).
You should give it a try!
As a matter of fact, these free campsites are yours. Every time you pay federal taxes, you're contributing to these lands.
Become a FREE CAMPING INSIDER and join the 100,000 campers that love to score the best site!
We'll send you the 50 Best Free Campsites in the USA (one per state). Access the list by submitting your email below: