Can the Toyota RAV4 Tow a Camper Trailer?
Are you looking to buy a Toyota RAV4? Are you also an avid camper wondering if the RAV4 can tow your favorite camper?
You've come to the right place! We're about to dive in and take a look at how well the RAV4 might serve the camping enthusiasts among us.
Let's go!
Toyota RAV4 Towing Capacity
The 2021 Toyota RAV4 can tow between 1,500 to 3,500 pounds, depending on the trim level.
The entry-level Toyota RAV4 LE will tow up to 1,500 pounds. And the Toyota RAV4 LE Hybrid is capable of towing a maximum of 1,750 pounds of cargo. The RAV4 Prime Plug-In Hybrid will tow only 1,295 pounds.
But move up to the Toyota RAV4 Adventure or TRD Off-Road trim levels, and you'll have an SUV capable of towing 3,500 pounds.
We're most interested in the RAV4's ability to tow a camper trailer, so we'll focus on the Adventure and TRD Off-Road. Let's see if they have the grit to take you camping!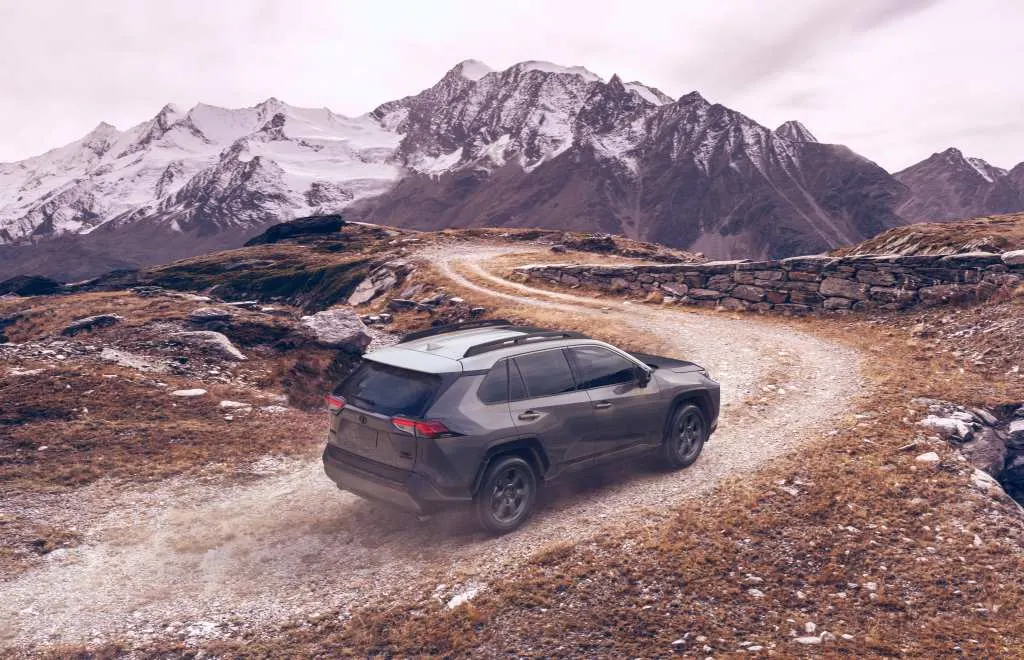 Other RAV4 Specs & Features
The most rugged RAV4 platforms, the Adventure and TRD Off-Road, have a maximum payload of 1,050 pounds and ground clearance of 8.6 inches.
These all-wheel-drive vehicles have 2.5-liter inline 4-cylinder engines (203-horsepower) and a torque of 184 @ 5000 RPMs. They see 25 mpg in the city and around 33 mpg on the highway. And each offers seating for five people.
With a luggage capacity of 37.6 cubic feet behind the rear seats and a maximum cargo capacity of 69.8 cubic feet, both vehicles offer a considerable amount of cargo space for an SUV.
Toyota's Adventure and TRD RAV4 vehicles are decked out with dozens of features that include satellite radio, WiFi hotspot, Apple CarPlay, and Android Auto, as well as a backup camera and tire pressure monitoring system.
These all-wheel-drive sport utility vehicles have a lot to offer. But how do they measure up in terms of towing a camper trailer?
Can the Toyota RAV4 Tow a Camper Trailer?
The answer to the question as to whether the Toyota RAV4 can tow a camper trailer is yes – but with important cautions.
The Toyota RAV4 Adventure and the Toyota RAV4 TRD are the only two RAV4 trim levels that should be towing a camper trailer. Although, even that trailer needs to be chosen with care.
To review, the Adventure and the TRD have the greatest towing capacity of all RAV4 trim levels. However, that towing capacity is limited to 3,500 pounds. What this means is that you'd want to choose a camper that falls well under that weight. In addition, you want to keep in mind the maximum payload of both vehicles (1,050). Let's look at why this is important:
While towing capacity and payload are very different, they're related. When vehicle manufacturers determine tow capacity, they assume that the person driving the vehicle is 150 pounds. There is no one else in the vehicle, and there's no cargo in the vehicle either.
You have to factor extra weight such as passengers, gear, luggage, food, et cetera into your payload. And again, the payload capacity of these RAV4's is limited to 1,050 pounds. If you're considering carrying a kayak on your roof, you've got even more to think about.
Always bear in mind that if you exceed your maximum payload, you'll be putting extra weight on the suspension. Not only will your brakes wear out faster, but you'll also risk cracking the frame of your vehicle.
So with tow capacity and payload capacity in mind, let's have a look at what type of trailer camper the 2021 Toyota RAV4 Adventure and TRD can safely tow.
What Kind of Campers Can the RAV4 Tow?
Before we jump into examples of what we can tow with a Toyota RAV4, let's look at an example of what not to do. We'll use the Forest River RPOD as an example.
Technically the RPOD weighs in at around 3,046 lbs, which is well under the 3,500 towing capacity. But does that mean you should tow an RPOD with a RAV4? Probably not. This is where you'd be cutting it too close.
Now, let's look at a few options for types of campers that fall reasonably under the 3,500 maximum to see what we can find.
Pop-up camper trailers are an easy option to consider. You'd have no problem towing these with confidence. Many of these campers fall under the 1,000-pound mark and most under 2,000.
Casita is another option, but you'd have to choose the model carefully as several Casita models are overweight for the RAV4. That said, the Casita M-16s weigh under 2,000 pounds, and the M-17s are under 2,500 pounds. Therefore, the smallest Casitas would be worth a look.
Scamp is another great option for towing with a Toyota RAV4 Adventure or TRD. The Scamp 13-foot models weigh around 1,200 pounds, and the Scamp 16's are all under 2200 pounds. As with the Casitas, though, sticking with the smallest campers in the family might be a good idea.
And finally, teardrops! There are many options within the Adventure and TRD's limits in the teardrop camper category. Any of these would be worth considering if a teardrop trailer fits your lifestyle.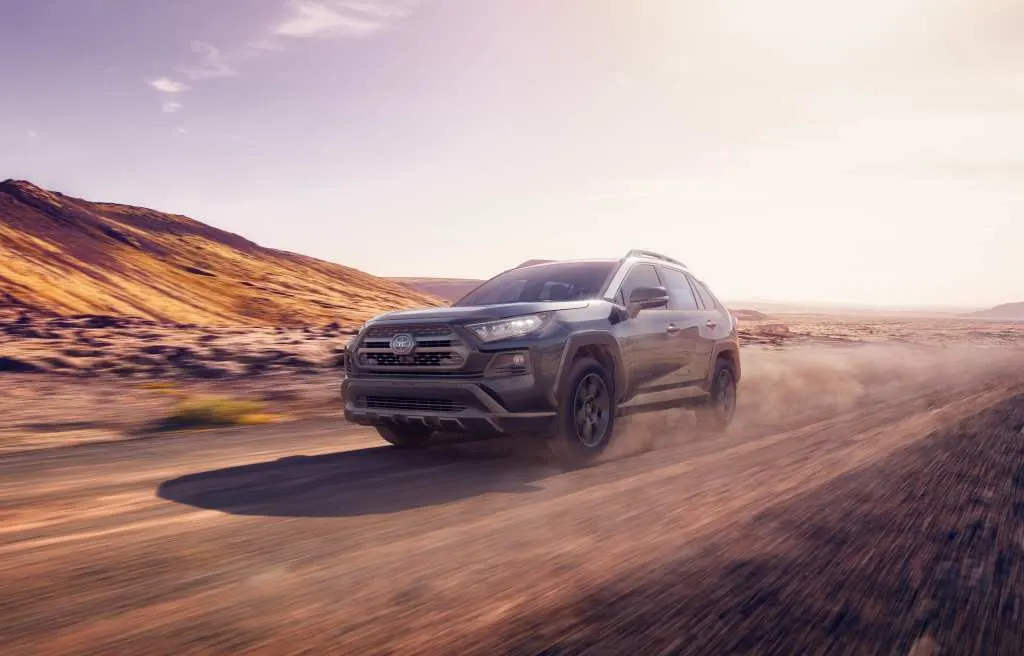 Is the Toyota RAV4 a Good Car for Towing?
The short answer is "yes." The Toyota RAV4 is a good car for towing lightweight trailers.
The RAV4 Adventure and TRD are great sports utility vehicles for towing as long as you keep weight restrictions foremost in your mind. Safety becomes an issue if you push the vehicle too hard. So it's important to remember that the Toyota RAV4s we've been discussing here have more power and torque than lower-model RAV4's.
How Much is a RAV4?
The Toyota RAV4 Adventure starts at a retail price of $33,255 and moves up with options.
The RAV4 TRD starts at $35,880, increasing with options as well.
Base models of each of these trim levels are already pretty decked out, though. And both include Toyota's Multi-Terrain Select (MTS) dial, which allows you to choose from various drive modes to regulate wheelspin in any road condition.
As a result, you shouldn't have to pay a lot more unless you're seeking fancy options not already offered on the Adventure and the TRD.
How Long Does a Toyota RAV4 Last?
Well, let's look at it this way: In 1996, the Toyota RAV4 was one of the first crossover SUVs on the market. We still see them on the road in 2021!
Toyota's solid reputation for reliability stands strong, and like other Toyota models, the RAV4 is a highly durable vehicle when well-maintained. There are many RAV4s on the road today, with over 200,000 miles on the clock. That certainly speaks for something Toyota's done right!
The bottom line is that if you take good care of your RAV4, it is likely to outlast your interest in driving it.
Is the RAV4 All-Wheel Drive?
Both the Toyota RAV4 Adventure and the RAV4 TRD are all-wheel-drive vehicles. Toyota offers the RAV4 with all-wheel drive in every trim level, but it only comes standard with the higher-end Adventure and TRD trims.
Lightweight Towing with the Toyota RAV4
The Toyota RAV4 is a reliable vehicle with a reputation for longevity and good performance. If you're interested in the RAV4 as a vehicle to tow a camper trailer, you'll want to consider the Adventure and TRD trim levels of the RAV4. And you'll want to carefully consider towing only small camper trailers. Happy trails!
Discover the Best Free Camping Across the USA
To be honest with you, we hate paying for camping. There are so many free campsites in America (with complete privacy).
You should give it a try!
As a matter of fact, these free campsites are yours. Every time you pay federal taxes, you're contributing to these lands.
Become a FREE CAMPING INSIDER and join the 100,000 campers that love to score the best site!
We'll send you the 50 Best Free Campsites in the USA (one per state). Access the list by submitting your email below: