What is the Typical RV MPG?
When you're planning your vacation budget, your RV's gas mileage (MPG) certainly factors in.
But, if you're new to the RVing world, how do you know what your gas usage will be?
Let's chat about it!
Factors Affecting RV Gas Mileage
Firstly, you should know that there's no typical gas mileage for all RVs. That's truly impossible to calculate because so many factors impact your vehicle's performance.
For example, weather such as high winds can impact your MPG stats. Strong winds coming from directly behind you can give you a wonderful boost. On the other hand, high winds coming from any other direction will decrease your gas mileage.
Whether it's trying to push you back to last night's campground or shove you off the road, it's going to drag your RV down.
Other elements come into play as well. Road conditions, topography (hills and mountains), and your RV's condition all play a part in your MPG number. In addition, aggressive driving or speeding also cause reduced gas mileage mainly due to the increased air resistance.
Keeping your speed around or even 5 mph under the speed limit is certainly helpful.
The biggest influences overall are probably your RV's mass and age. Each RV type and model has very different specs. However, there are some averages based on size and weight that we can provide.
Class A RV's
Class A motorhomes are typically larger and heavier than the other RV types. They look like city buses and can be up to 45 feet long. At their shortest, they may overlap with some of the Class C styles. But it's their large, square bus-like front ends that create drag even on the smaller models.
Whether the engine is gas or diesel also plays a part. Gas engines often get slightly lower mileage than diesel.
On the other hand, diesel costs more so you'll want to weigh the pros and cons between the two before jumping on the diesel engine.
Gas mileage for these RVs usually ranges between 6 and 13 mpg. However, some can go as low as 4 mpg, depending on their loaded weight and the above-mentioned driving factors.
Class C RV's
The middleweights here are the Class C motorhomes. These can range between 20 and 40 feet long, overlapping Class A and Class B RVs. Class C models have more of a truck cab look than Class A's, so they're slightly more aerodynamic.
They also weigh less, on average. That said, a loaded 38-foot Class C can certainly outweigh a shorter Class A depending on what's inside each.
The same issues play into Class C RV's gas mileage, including the gas versus diesel options. These models will typically see a wide range from 8 to 18 mpg.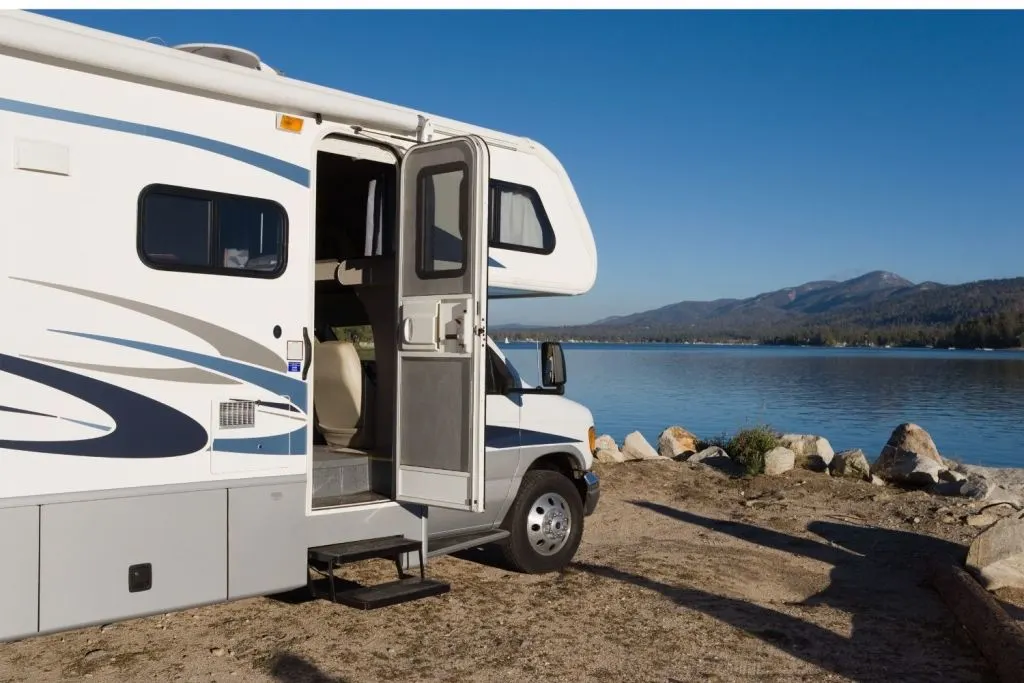 Class B RV's
Of the motorhomes, Class B van-style RVs are the lowest weight and length. Though, they may overlap a bit with the Class C RVs. They're typically between 18 and 24 feet long and are much more aerodynamic than Class A's. Class B's also usually weigh less than the Class C motorhomes.
As with the others, elements such as weather, driving style, and the type of road all affect the Class B gas mileage.
That said, they're, on average, the best of the motorized RVs with approximately 18 to 25 mpg. Some people have noted theirs as low as 10 mpg. These may be older or larger camper vans.
Towables and Truck Campers
It's not simple to provide an average or typical gas mileage for towables and truck campers because it largely depends on the vehicle you're towing with.
Of course, the weight, size, and shape of the towable are also considerations. Obviously, a 40-foot toy hauler with the toys loaded is going to have the lowest gas mileage. And smaller, lighter towables will allow for better gas mileage.
Truck campers will primarily depend on their weight and profile.
RV Gas Mileage Averages Aren't Clear Cut
As you can see, there isn't really a typical gas mileage for RVs other than 'low.' If you're looking for something with the best possible mileage, a Class B motorhome or small towable will be your best bet. What's your RV's typical mpg?
Discover the Best Free Camping Across the USA
To be honest with you, we hate paying for camping. There are so many free campsites in America (with complete privacy).
You should give it a try!
As a matter of fact, these free campsites are yours. Every time you pay federal taxes, you're contributing to these lands.
Become a FREE CAMPING INSIDER and join the 100,000 campers who love to score the best site!
We'll send you the 50 Best Free Campsites in the USA (one per state). Access the list by submitting your email below: