Many RVers want a small, easy-to-tow camper that still has all of the functionality and features of a large, luxury travel trailer.
But can these folks have their proverbial cake and eat it too?
The good news is, with the r-pod camper, they certainly can! Keep reading to learn how this small travel trailer packs a world of amenities into a lightweight design.
Let's dive in.
What Is an R-Pod Camper?
An r-pod camper is a luxury ultra-lite travel trailer by Forest River. These campers redefine camping with their bright, modern interiors, thoughtful features, and lightweight Azdel Composite Panels.
There are currently 10 floorplans in the 2022 r-pod lineup. Let's first take a look at the smallest and largest units; then, we'll dive into the many unique features available in every r-pod trailer.
R-Pod Camper Floorplans and Sizes
The RP-171 is the smallest model at 19 feet long and 2,714 lbs dry. Unlike most of the other r-pod models, the RP-171 does not have slides. However, this floorplan features a queen bed, kitchenette, wet bath, and a dinette that could seat three to four people.
On the other end of the spectrum, the RP-202 is the longest and heaviest r-pod camper. It's 25 feet long and has a dry weight of 4,574 lbs. This floorplan has one slide-out with your choice of a dinette or sofa. Additionally, it has a kitchen at the rear of the trailer and a bedroom at the front. A walk-through dry bath separates the living area from the bedroom.
Between the RP-171 and RP-202, you'll find eight other floor plans. Each offers a unique configuration, giving discerning RVers plenty of options.
Do R-Pods Have Bathrooms?
While these campers are lightweight, they're not light on amenities. All but one of the 2021 floor plans have spacious dry baths for your comfort. The dry baths include a Thetford toilet, a vanity, a storage cabinet, and a shower with a built-in shower curtain.
Forest River's r-pods also have impressive tank capacities. Every trailer has fresh, gray, and black tanks that hold 30 gallons each.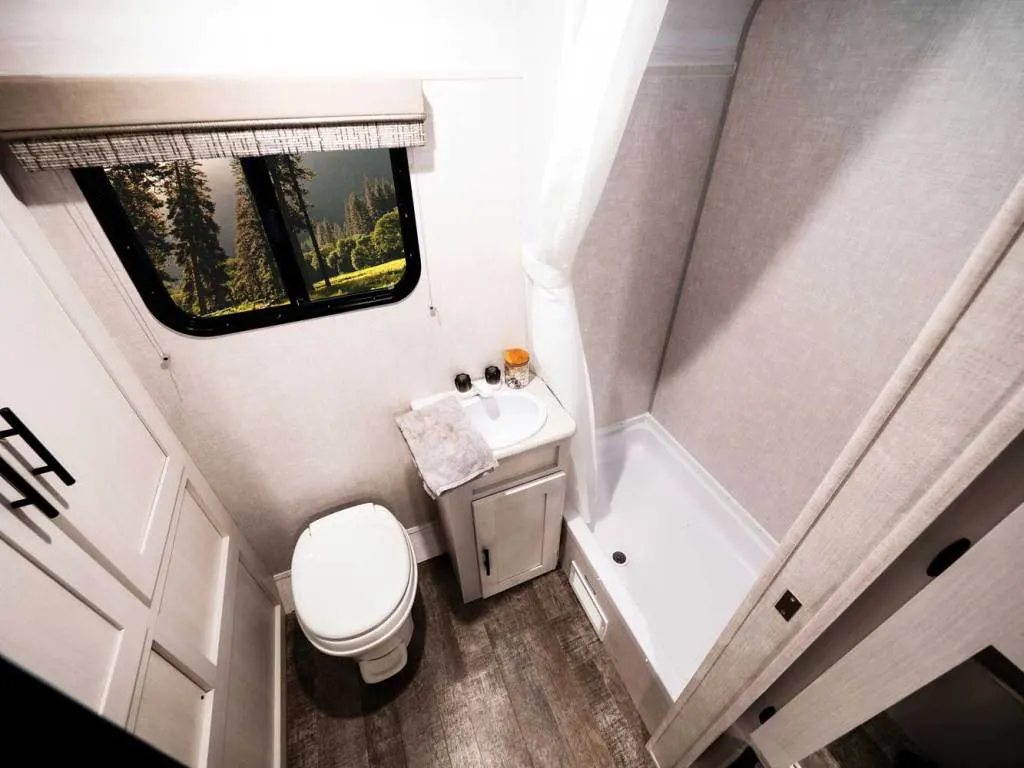 How Much Do R-Pod Campers Cost?
The price will, of course, depend on the dealer, location, floorplan, and options. However, the smallest r-pod models start around $17,000 new, and the largest can go as high as $35,000 new. The mid-range floorplans are typically in the mid $20,000s.
You can also find some fantastic deals on used r-pods. If you don't mind taking home a camper that's a few years old, you could pay as little as $12,000.
Features of R-Pod Campers
When Forest River says r-pods offer "affordable luxury," they mean it!. All r-pod units come with a queen bed, giving you a luxurious night's sleep in a small camper. Two of the available 2021 floor plans even have space-saving Murphy beds. And if you're bringing extra people along, the RP-193 model provides twin bunk beds for guests.
The kitchenettes don't disappoint either. You'll enjoy cooking a delicious meal with your two-burner recessed stove and convection microwave. And when you finish eating, you can store leftovers in the 6 cu ft two-way refrigerator and wash up in the large black stainless steel sink.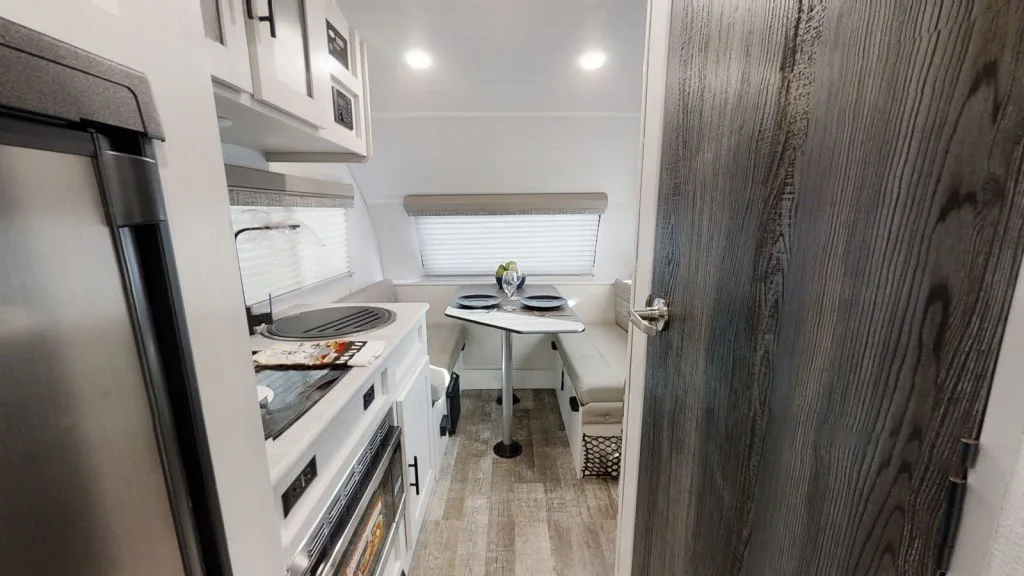 The r-pod campers also have ample seating – perfect for relaxing after a long day on the road. Depending on the model you choose, you'll either get a sofa or a dinette. The benefit of a dinette is it converts to an extra sleeping area. Additionally, all but three r-pod models have one Schwintek slide out, which significantly opens up the floor space in these small trailers.
Those concerned with exterior features will be happy to know that Forest River has thought of everything, from power tongue jacks to battery disconnect switches and even Azdel fiberglass sidewalls.
And if outdoor entertaining is your thing, they've also included outdoor speakers and exterior LED lights.
Last but certainly not least, the r-pods are designed with pets in mind. Every r-pod model has a built-in interior smart vacuum system and a high-pressure exterior shower, making pet hair clean-up and dog baths a breeze!
Forest River has also thoughtfully added pet bowls and leash connections to each of these trailers.
Options Available In R-Pod Campers
In addition to the standard features on an r-pod, Forest River offers a handful of options to enhance your camping experience. Depending on the camper model, you could add either an R-Dome awning or a Thule power awning. And if you spend a lot of time outdoors, you might consider purchasing the outside kitchen as well.
Those who gravitate towards hot climates or do a lot of mid-summer camping could upgrade the AC from the 13.5K BTU unit to the 15K BTU option. Or, you could take advantage of the sun's rays with the 110W solar panel package, which also includes a 1,000W inverter.
What Kind of Vehicle Can Tow an R-Pod Travel Trailer?
Thankfully, you don't need a massive truck to tow an r-pod camper. Most people will find their mid-size SUV or mid-size pick-up truck can do the job. Common examples of vehicles that could pull an r-pod include the Ford Ranger, Chevrolet Colorado, and Jeep Grand Cherokee Trailhawk.
Pro Tip: Here are our 5 Favorite Compact Trucks for Towing.
Check that your specific vehicle model's towing capacity can handle the trailer's weight, especially if you're looking at a heavier r-pod unit. You don't want to buy a new trailer only to find you can't even tow it home!
Are R-Pod Campers Worth It?
An r-pod camper may be worth the price if you want a sturdy, lightweight trailer packed with well-thought-out amenities. While this camper might not have the high-end feel of large, residential-style travel trailers, it certainly feels luxurious compared to other trailers in its class. In fact, few other RV manufacturers pack so many features into an easy-to-tow camper.
Solo travelers, couples, or small families will feel right at home in an r-pod. They're also great for first-time RV owners who aren't quite ready to leap to something larger and heavier. Plus, the quality construction means this trailer will be low maintenance, which translates to even more savings over time.
Ultimately, if you want a fully-loaded trailer that doesn't break the bank or require a gigantic vehicle, we think the r-pod camper is a solid choice. With an r-pod hitched to the back of your mid-size truck or SUV, you'll enjoy camping comfortably for years to come.
Alternative: An A-frame camper is a great alternative to the R-Pod. Check out 5 best a-frame camper trailers.
Discover the Best Free Camping Across the USA
To be honest with you, we hate paying for camping. There are so many free campsites in America (with complete privacy).
You should give it a try!
As a matter of fact, these free campsites are yours. Every time you pay federal taxes, you're contributing to these lands.
Become a FREE CAMPING INSIDER and join the 100,000 campers that love to score the best site!
We'll send you the 50 Best Free Campsites in the USA (one per state). Access the list by submitting your email below: