It's become nearly impossible to snag a campsite or boondocking site. The massive increase in those wanting to camp in the wilderness isn't making it any easier. Stealth camping is on the rise as many travelers are having more trouble finding a spot to park their RV.
What is stealth camping, and is it for you? Today, we're looking closely at this unique camping style. Let's see if this is an option the next time you find yourself in a pinch. Let's get started!
What Is Stealth Camping?
As its name implies, stealth camping is when people attempt to camp unnoticed. Campers typically do this in conversion vans and motorhomes that don't require the users to exit the vehicle after parking.
Most people looking to stealth camp are in urban settings where there aren't many camping options. They'll take advantage of parking spots on the side of the road, parking lots, or other places they can park inconspicuously for the night.
Is Stealth Camping Illegal in USA?
The legality of stealth camping varies by location. In recent years, many cities and local communities in the United States have cracked down on overnight camping. Those caught stealth camping in these areas may be subject to stiff fines or penalties.
However, finding legal spots to camp isn't impossible.
Some locations are more hospitable for overnight camping. In many areas, you may find that you can park for the night and be left alone if you don't draw too much attention. Ensure you're not parking on private property, and you can save yourself a tremendous hassle.
Pro Tip: Avoid the hassle of finding somewhere to stealth camp and head to Walmart. Find out How to Legally Camp in a Walmart Parking Lot.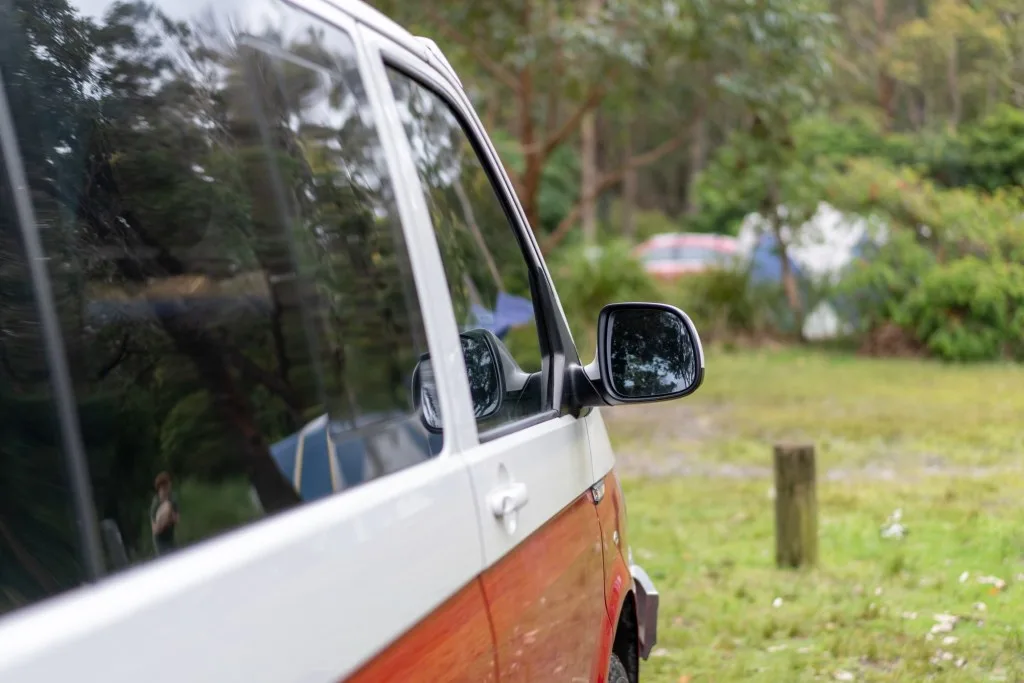 Is Stealth Camping Illegal in Canada?
Stealth camping is often legal in Canada unless a location explicitly prohibits the practice. Most larger cities and urban areas in Canada strictly prohibit overnight camping in a vehicle.
However, as you venture further from densely populated areas, the rules regarding overnight camping seem to relax. You should never park in any spot that prohibits overnight parking. If you do, assume responsibility for the risk you are taking and be respectful if someone asks you to move.
Why Is Stealth Camping Popular?
Stealth camping has become popular as more individuals embrace van life and other traveling adventures. Those traveling in Class B and Class C motorhomes usually have a much easier time with this camping style since they don't have to leave their vehicle once they find a spot to park.
It has become challenging and expensive to find a spot to park a camper in recent years. Many traveling in motorhomes don't choose to stay put for extended periods.
By choosing to stealth camp, travelers can save hundreds of dollars each month and have more money to spend on their adventures.
Can You Stealth Camp in a Truck Camper?
While stealth campers often use Class B and Class C motorhomes, you can successfully camp in a truck camper. However, it can be riskier to avoid drawing attention unless you can access the camper shell from the driver's seat.
Despite the increased challenge, if you have to get out of the cab of your truck to get into a truck camper, it's not impossible. A truck camper can fit in street-side parking spots and is unlikely to draw unwanted attention.
How Do You Stealth Camp in a Car?
Stealth camping in a motorhome or truck camper can be more spacious and comfortable, but stealth camping in a car isn't impossible. Some modify their vehicles to maximize their experiences while stealth camping in their car.
It's not uncommon to see stealth campers create platforms to convert a backseat into a comfortable sleeping area. You'll also see some install solar panels to keep their electronics charged and avoid draining their battery. Almost all stealth campers in a car will install tinted windows or fabricate window coverings to reduce visibility into their vehicle. This provides privacy and dramatically enhances the experience.
Stealth camping in a car may require more effort, but it's possible. Minivans, SUVs, and trucks will be the roomiest options for stealth camping in a car. However, with some DIY skills and creativity, you can stealth camp in just about any vehicle.
Pro Tip: If you're camping for free, make sure not to do any of these Don'ts of Free Camping.
Is Stealth Camping Worth It?
If you're looking to go adventuring on a budget, stealth camping can be beneficial. The more money you can save from not paying expensive campsite fees, the more you have to fill up on gas, try local foods, and experience the culture of wherever your adventures take you.
However, stealth camping isn't for everyone. If you plan to try stealth camping, start with short trips to grow your skills and test how many consecutive days you can camp.
Are you considering stealth camping for your future adventures? Tell us in the comments!
Discover the Best Free Camping Across the USA
To be honest with you, we hate paying for camping. There are so many free campsites in America (with complete privacy).
You should give it a try!
As a matter of fact, these free campsites are yours. Every time you pay federal taxes, you're contributing to these lands.
Become a FREE CAMPING INSIDER and join the 100,000 campers that love to score the best site!
We'll send you the 50 Best Free Campsites in the USA (one per state). Access the list by submitting your email below: