Jeep trucks have skyrocketed in popularity in the last five years. The Gladiator has become one of the highest-rated mid-size pickups in the US.
With its off-road abilities and hauling perks, it's developed a can-do reputation. Of course, it's not without disadvantages.
But can this all-American vehicle really tow anything, and is it a good choice for RVers?
Let's dive in!
What Is a Jeep Gladiator?
Jeep added the Gladiator to its lineup in the spring of 2019. This mid-size rig is the company's first pickup since the Comanche, which was discontinued in the early 1990s. The vehicle is based loosely on the Wrangler and provides off-roading and hauling capacity. Car and Driver and US News ranked it in the top five mid-size trucks.
The 2023 Gladiator's four-door cab seats up to five passengers. It also comes with four-wheel drive and the option for manual or automatic transmission. This newer model boasts up to 285 horsepower. The mileage clocks in at 22 miles per gallon in town and 28 miles per gallon on the highway. Drivers looking for improved fuel economy can opt for a turbo diesel powertrain.
The latest model isn't much different from earlier offerings. However, the optional Freedom package provides a military-themed exterior, steel front bumper, and rock sliders. The Willys models also include new standard features like keyless entry and remote start.
The Benefits of Jeep Trucks
Why buy a Jeep truck? For one thing, their rigs come with many perks that standard ones don't have. Because it's modeled after the Wrangler, the Gladiator is perfect for folks who want trucks with off-road abilities. Drivers get the usefulness of a pickup with the fun of an all-terrain vehicle. The five-foot bed is excellent for hauling without affecting driveability.
On that subject, the Gladiator doesn't just carry cargo. This truck works as a towing vehicle as well. Even the most basic version can pull a two-ton trailer! The 2023 model can pull up to 7,650 pounds with the right features.
But some drivers may just love the classic Jeep-like aspects. Its roof and body panels are removable, providing the option for an open-air cab. Sunroofs are also available. And like their other models, the Gladiator has plenty of interior storage options.
Pro Tip: We crunched the numbers to figure out How Much Can a Jeep Wrangler Tow?
The Disadvantages of Jeep Trucks
Jeep trucks are unique vehicles that come with all kinds of perks. But depending on what you want your pickup to do, this one might not be for you.
Like many vehicles with a V-6, the Gladiator's fuel economy isn't stellar. As mentioned above, buyers can opt for a turbo diesel powertrain to help with the issue. But that added cost may be a turn-off. This may not work for a commuter or cross-country traveler.
Many of the Gladiator's benefits come from its similarities to the Wrangler. Unfortunately, it also shares some of the Wrangler's negative aspects–like ride quality and handling. These vehicles shine on trails and rough terrain. On paved roads, however, they're noisy and awkward to handle.
Budget-conscious buyers will probably be shocked by the price tag. With a base cost of $40,570.00, it's quite an investment. But many of this truck's best features are part of upgrades and packages. The Gladiator won't be the first choice for someone seeking a practical mid-size pickup.
Is the Jeep Truck Good for Towing?
The Gladiator is a true workhorse. If this Jeep truck had a superpower, it would be towing. The Gladiator Sport, Willys Sport, Sport S, and Freedom trims can pull up to 4,000 pounds. These versions come with a six-speed manual transmission.
However, higher-end trims like the Gladiator Overland and High Altitude come with an eight-speed automatic transmission. This boosts their hauling capacities to 6,000 pounds. Customizing your engine can increase that capacity even further. A fully souped-up Jeep truck can pull up to 6,500 pounds.
The payload capacity is just as impressive. It can carry between 1,200 and 1,700 pounds in its cab and bed combined, depending on the trim.
Upgrading to the Max Tow Package is necessary if you want to pull serious weight. The upgrade increases your maximum capacity to a whopping 7,700 pounds.
It's obvious this rig can tow! But can it haul anything?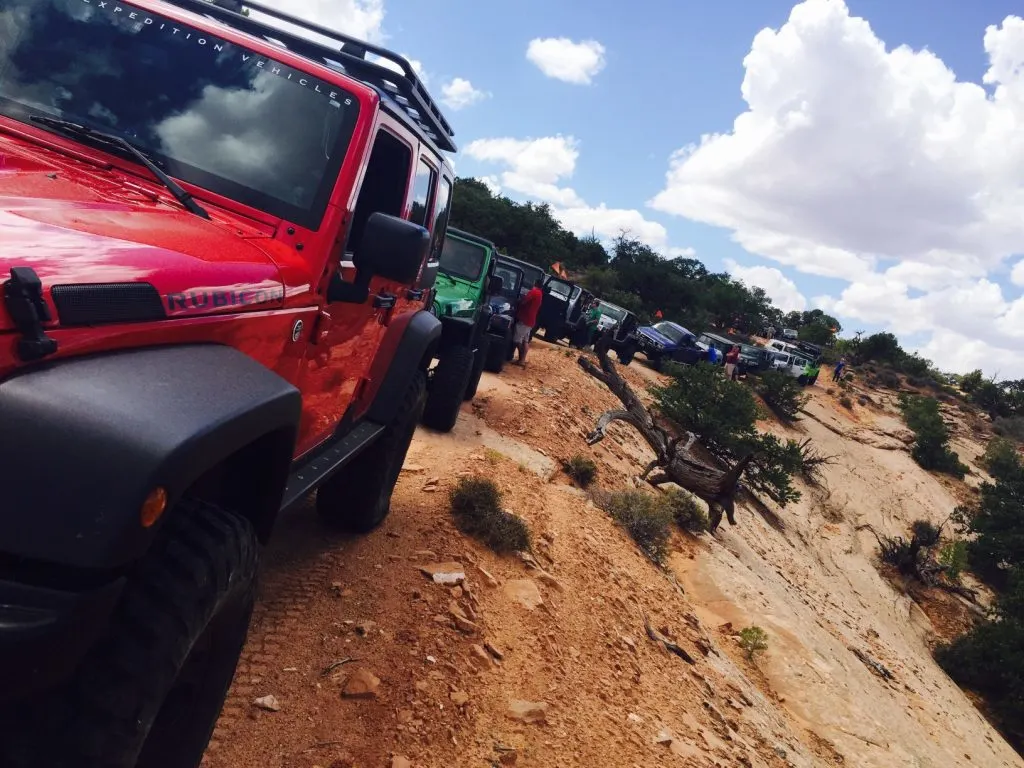 Can the Jeep Truck Tow a Fifth Wheel?
The short answer is that a Jeep truck could probably tow a small fifth wheel. But that doesn't mean it necessarily should.
Fifth wheels range from 7,000 to 12,000 pounds and can be up to 40 feet long. Remember how the Gladiator's absolute max towing capacity is 7,700 pounds? That means if you're hauling an average fifth wheel, it's already at or near the weight limits.
Even though it pulls serious weight, pushing it to the max will strain the transmission over time. That level of stress is likely to result in costly repairs. The same goes for the braking and suspension systems.
However, the truck's main limitation isn't any of those issues. It's the bed length. A pickup needs an eight-foot bed to pull a fifth wheel safely. The Gladiator's bed is only five feet long, putting you at risk for potential cab damage.
Pro Tip: Can you picture exploring in one of these 5 RV Trailers That Can Be Towed With A Jeep?
Is the Jeep Gladiator Worth It?
The 2023 Jeep Gladiator is a unique, powerful vehicle. You won't find another truck quite like it! This pickup is ideal for adventurers with occasional hauling and towing needs.
Keeping your trailer weight at or below 80% of your capacity is a good idea, so you'll probably need a heavy-duty model. If you want to tow your camper, then the Jeep truck probably isn't the best option. This one isn't built to pull fifth wheels.
Discover the Best Free Camping Across the USA
To be honest with you, we hate paying for camping. There are so many free campsites in America (with complete privacy).
You should give it a try!
As a matter of fact, these free campsites are yours. Every time you pay federal taxes, you're contributing to these lands.
Become a FREE CAMPING INSIDER and join the 100,000 campers who love to score the best site!
We'll send you the 50 Best Free Campsites in the USA (one per state). Access the list by submitting your email below: