If your RV awning has seen better days, you may think it needs to be replaced. And in some cases, you might be right.
Luckily, some sagging can be fixed with relatively simple adjustments. Before spending a mountain of cash on a new canopy, we think you should try these simple DIY solutions.
Today, we'll share a few tips on how you can fix an awning that sags
Let's check it out!
What Is an RV Awning?
An RV awning attaches to your camper and extends out to provide shade for your campsite. They can help prevent sun damage to your skin and outdoor furniture.
Some waterproof canopies even give you a dry spot to relax outside on a rainy day. Usually, they're made of vinyl and can come with a polyester coating or metal cover for extra water resistance.
These retractable sunshades are either electrical or mechanical. An electric-powered awning will roll out with just a flip of a switch.
Some high-end canopies will retract if they detect wind or lower a corner if water begins to pool on top. Old-school mechanical awnings usually cost less and have to be put up and taken down by hand.
Common Causes of a Sagging RV Awning
We think these attachments look great on a rig until they begin to droop. Several factors can play a role in a sagging RV awning, including general wear and tear. Even if you've been taking great care of your shade cover, it'll wear out eventually.
Heavy rain, hail, or strong winds can easily damage this vinyl shade cover. If you have a fancy new one, you might not have to worry about taking it down if extreme weather is expected. On the other hand, mechanical awning owners should be vigilant about checking the forecast and roll up their canopy to prevent damage.
Before setting out your shade cover, make sure you have room for it. Overhanging branches can also cause tears or stretch out your awning.
Pro Tip: If your RV awning is in need of some TLC, use our RV Awning Guide for Maintenance, Repair and Replacement.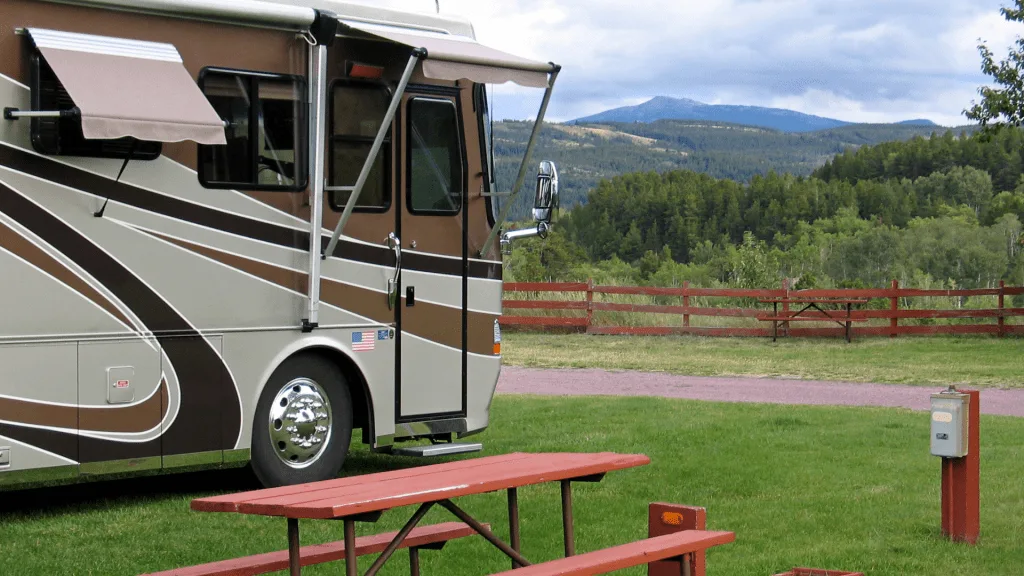 How to Fix a Sagging RV Awning Yourself
Taking your rig to the shop for minor issues can get expensive. We prefer to fix small problems ourselves while leaving the big jobs like engine repairs to the professionals. This'll also save you time. If done correctly, you can correct the issue immediately before it worsens.
Tighten the RV Awning
Some canopies begin to droop because they don't have enough tension. This can be caused by stretching out over time or a night of heavy rain. Whatever caused it, the solution can be easy, but you'll need at least two people.
While one person pulls the awning out, and the other will increase the tension. After extending the canopy, use a hex wrench to make it tighter. Each setup will be a little different, so check your owner's manual for information about tightening your shade covering.
Add a Stabilizer
If adding tension doesn't work, try adding a stabilizer. If you want to fix your sagging RV awning, you can add vertical poles to stabilize it.
Building your own will be the cheapest way to do this. Use PVC pipes slightly shorter than the width of your shade cover and connect them using a T joint. Then use more tubes to reach towards the ground for additional stabilization.
Alternatively, you can buy premade awning stabilizers online if you don't want to build your own. The poles, stakes, and straps will help keep your canopy sturdy and flat.
Adjust the Spring
If your awning looks a little limp, but you've tried our other tactics, it might be time to tighten the spring. First, you'll need to free the support arms from your camper. Just use a screwdriver to detach them, leaving only the roller tube on your RV.
Now you'll be ready to add tension. Do this by rotating the front support arm one turn counterclockwise and the rear arm one turn clockwise. You may need to use vice grips for this part. Then, reassemble your awning to check for tightness. If it still droops, repeat the process.
How to Protect Your RV Awning
It would be ideal if your RV awning never begins to sag in the first place. You can prevent drooping by rolling it up in high winds and retracting it if you plan to head out for the day to avoid damage from UV rays and unexpected storms.
You'll also want to keep your shade cover clean and free of debris. If possible, don't roll it up while wet because the vinyl could grow mold and mildew.
Cleaning it regularly can also extend the life of your awning. Keep a ladder, bucket, and an extendable bristle brush on hand to help tidy it up. Combine water and a bit of dish soap in the bucket and get to scrubbing. Ensure the canopy has plenty of time to dry before retracting it.
When Should You Replace an RV Awning?
Even with regular cleaning and careful maintenance, a sagging RV awning will eventually give out. Once the vinyl cracks or tears, it'll need to be replaced. Over time, the fabric may stretch out, and no matter how much tension you add to the springs, it'll still droop.
Also, watch out for bent hardware caused by heavy winds or other visible damage. If you have an old awning, you may even swap it out for a newer fashionable choice. When it's time to replace your canopy, you'll have many things to consider.
You can save some cash by installing it yourself, or you might choose to have a professional put it on for you. You'll also need to decide which design and fabric you'd like. Or, it could be time to upgrade from a mechanical to an electrical awning. Whatever you decide, know you'll have plenty of options.
Pro Tip: If you're replacing your awning, try out one of these 5 Best RV Awnings and Sunshades.
Fix Little Things Yourself
Maintaining a camper can be expensive, so we prefer to do minor repairs ourselves. This includes making sure our RV awning functions properly. We take preventative measures, like rolling it up in windy weather, to help extend the canopy's lifespan. If it starts to droop, we ensure the springs are taught or use a stabilizer.
Your sagging RV awning can be prevented, and often, it can be easily fixed!
Discover the Best Free Camping Across the USA
To be honest with you, we hate paying for camping. There are so many free campsites in America (with complete privacy).
You should give it a try!
As a matter of fact, these free campsites are yours. Every time you pay federal taxes, you're contributing to these lands.
Become a FREE CAMPING INSIDER and join the 100,000 campers that love to score the best site!
We'll send you the 50 Best Free Campsites in the USA (one per state). Access the list by submitting your email below: