Fiberglass camper trailers are the best! Yes, we may be partial to them (our first camper was a 1985 Fiber Stream) – nevertheless, fiberglass trailers have a lot of advantages.
We're not talking about RVs with cheap fiberglass side panels. Today we're focusing on molded fiberglass units.
These types of campers are usually constructed with two or three molded pieces of fiberglass that create the shell of the trailer. They share more commonalities with a Boston Whaler boat than a traditional RV.
Before diving into the best brands, let's look at the specific advantages.
Advantages of a Molded Fiberglass Camper Trailer
From aesthetics to functionality, here's a list of reasons to consider a molded fiberglass camper.
Better Water Resistance: These trailers have substantially fewer seams than traditional RVs. This means entry points for water are significantly reduced.
Classic Look Means Better Resale: Fiberglass campers haven't really changed their designs in 30+ years. Many brands like Scamp & Casita have looked the same for decades. This consistency keeps the resale value high.
Less Wood: RV's (even fiberglass units) will eventually leak. The fiberglass shells support themselves and don't rely on wood. This means less rot potential!
Light Weight: The campers we're featuring are lightweight. Most SUVs and even some sedans will be able to tow them.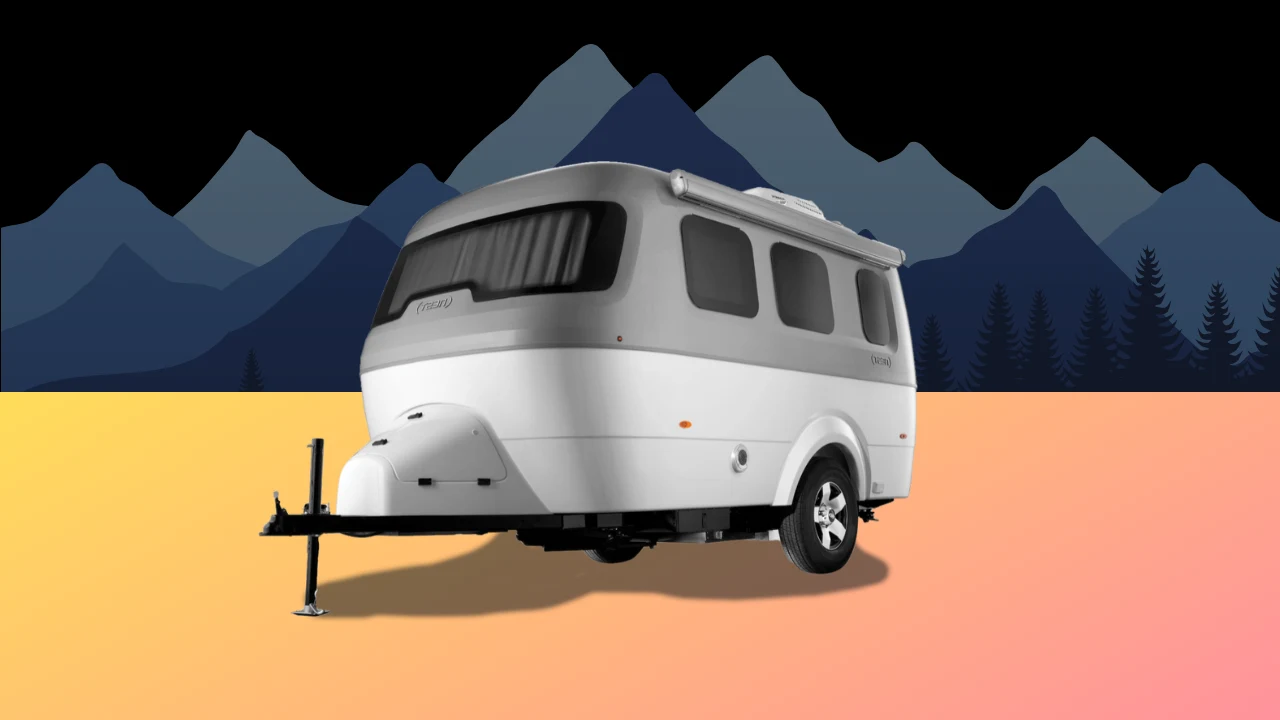 1. Scamp
Starting Price for Used Trailer: around $21,000
Why You'll Love It: These Scamp trailers are perfect for smaller tow vehicles. They start at 13 feet (without a bathroom). Their 16-foot unit is the most popular model. It comes complete with a bathroom, kitchen, and bed/dinette.
There are multiple layouts available for each size, and every order is customizable.
Scamp hasn't really changed their look since originating in the early 70s…and some of those units are still on the road today.
What's the Word: Jack contributed this testimonial to the Scamp website: "On July 11th it will be 6 years to the day that we picked up our Scamp at your plant in Backus. It has been a wonderful 6 year adventure. We have towed our Scamp 52,002 miles.
We have spent 362 nights camping in the Scamp. We have pulled it to the North, East, South, and West. We have towed our Scamp thru 40 of the original 48 states. Our longest trip was 38 days when we went to California."
2. Casita
Starting Price for Used Trailer: around $25,000
Why You'll Love It: The Casita is a higher-end version of the Scamp. These trailers offer more options and higher-quality appliances.
There are 5 different models of the Casita that can sleep between 2 and 6 people.
Interior aesthetics are great with these fiberglass campers, too! Taking note from Airstreams, the Casita has a modern, light feel.
Top Rated Trailers break down all the unique differences between the models.
What's the Word: Julia Thompson on Facebook says, "We enjoyed our little home every mile of the way. It was a delightful experience picking up our Casita. Jonathan and Victor were very helpful in explaining our Casita. We are back home now but looking forward to when we can go again. Very easy to tow, set up and break down and get into the camping spots."
3. Escape
Starting Price for Used Trailer: around $29,000
Why You'll Love It: If the Scamp and Casita seem a little too small, the Escape might be for you!
The Escape 21 offers a bigger floor plan (21 feet) and dual axles. The bed & dinette are separate. This means you'll never have to convert it back and forth between eating and sleeping.
Best of all, you can completely customize it to your needs. You can add solar, give it a lift for off-roading and stock it with a high-powered inverter.
What's the Word: Upfisk Garl on Facebook says, "Every trailer can be customized; the list of options extended to 2 pages when we ordered ours. The trailers are well made with high class finishes unlike other trailers of its size."
4. Nest
Starting Price for Used Trailer: $45,900
Why You'll Love It: If you love Airstreams, the Nest is for you! This is the first time Airstream has ditched the aluminum and opted for fiberglass.
The Airstream Nest measures in at 16.6 feet – from tongue to bumper. The exterior height is 9.5 feet and the width is 7 feet. Overall, the measurements make for easy parking!
The Nest weighs 3,500lbs dry – this means with no belongings on board and no water in the tank. The GVWR (how much your trailer can safely weigh including payload) is 4,000lbs.
What's the Word: Justin Humphrees, the COO of Airstream says, "Nest appeals to those consumers who like understated and clean design lines. The Nest is more automotive and modern in look and feel which really hits home for this consumer.
Although the product is great for boondocking as well, we find this customer to utilize campgrounds more."
PRO TIP: We put the Airstream Nest and Airstream Basecamp head to head – this is what we found!
5. Oliver
Starting Price for Used Trailer: around $55,000
Why You'll Love It: The Oliver travel trailer is the best molded fiberglass camper available. It's beautifully constructed with attention to detail.
Every Olivier is made custom to the owners preferences. Better still, these trailers are made for 4-season camping. No need to store it in the winter!
The dual axles and aerodynamic design make it easy to tow.
The only downside is price.
What's the Word: Linda Benson on Facebook says, "My husband and I are still impressed with the quality of our new trailer and the excellent service we received from first contact through pick-up and beyond. This is a top notch company with a superior product. We could not be happier."
Discover the Best Free Camping Across the USA
To be honest with you, we hate paying for camping. There are so many free campsites in America (with complete privacy).
You should give it a try!
As a matter of fact, these free campsites are yours. Every time you pay federal taxes, you're contributing to these lands.
Become a FREE CAMPING INSIDER and join the 100,000 campers that love to score the best site!
We'll send you the 50 Best Free Campsites in the USA (one per state). Access the list by submitting your email below: