Many reasons exist for travelers to avoid the Mexico border when planning vacations. But some of them may surprise you.
The border region stretches from coastal California to south Texas. It's one of the most fascinating, culturally diverse areas in the U.S. But it's also chock full of natural danger.
Join us as we share a few surprising reasons you should avoid RVing near the Mexico border.
Let's roll!
Why You Might Not Want to Avoid RVing Near the Mexico Border
While we can think of a few obvious reasons to avoid the Mexico border, we know of just as many why visiting this region is recommended. If you've never explored the Southwest, there's a lot to see and do.
Much of the land along the Mexico border is desert. This landscape may be dry, dusty, and hot, but it's also beautiful. Sure, you might miss the peaceful lakes and towering trees found in other parts of the U.S. But deserts offer gorgeous sunsets, colorful plateaus and rocks, and an array of plants and animals.
And despite its reputation for danger, the Mexico border region is relatively safe. Many towns bordering our neighbors to the south are welcoming and full of great food, culture, and people.
But of course, the Southwest isn't all fun and games. There are many perilous spots.
Here are five practical reasons you might want to avoid areas near the Mexico border.
Pro Tip: Make sure you know these 5 RV Safety Concerns before you hit the road.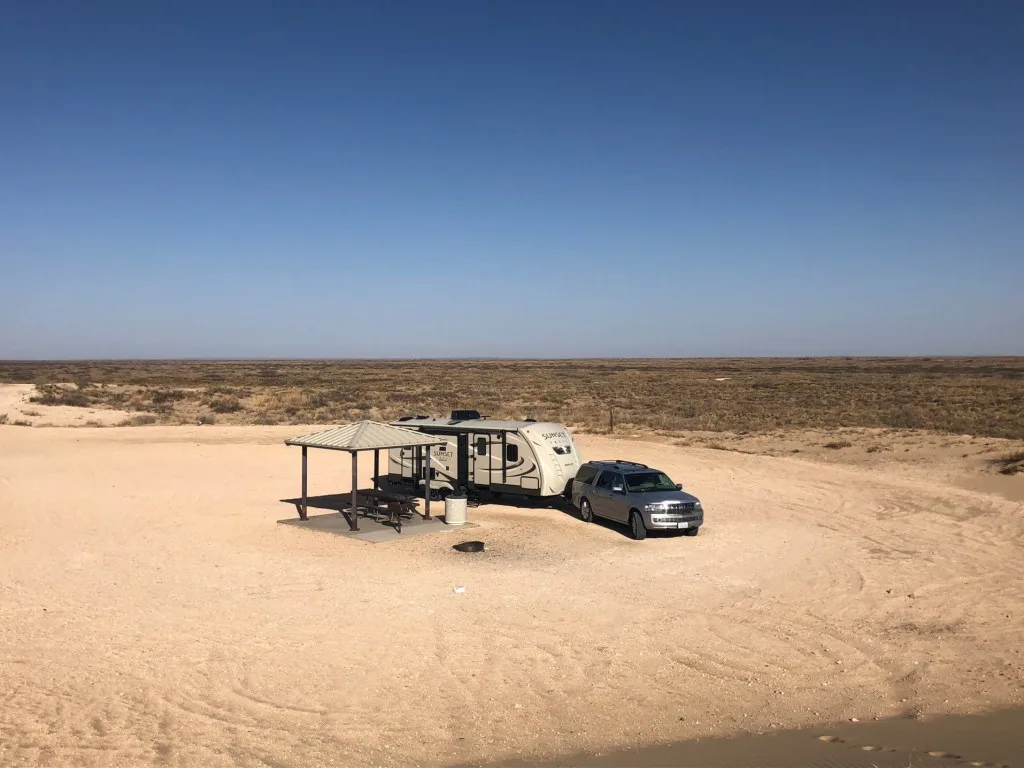 #1 Desert Flora Near the Mexico Border Can Be Dangerous
A trip to the Mexico border means lots of encounters with prickly plants. While most desert flora is harmless, there are a few exceptions. This region is home to hundreds of species of cacti. Most cacti are harmless so long as you keep your distance from them.
Prickly pear cacti produce fruit during the spring and summer months. But eating it may lead to unpleasant side effects like nausea and vomiting. Other varieties, like cholla and barrel cacti, have harmful needles that can cause severe issues if stuck in your skin.
Peyote and San Pedro cacti are dangerous for totally different reasons. These species produce chemicals that cause hallucinations.
If a cactus pricks you, wash the affected area with soap and water as soon as possible. And if your child or pet happens to ingest any part of the plant, seek medical attention immediately.
#2 Summers Are Hot Near the Mexico Border
Desert summers are sweltering. A typical day in the desert between May and August can reach regular highs of 100 degrees or hotter. And where there's excessive heat, there's the risk of serious medical problems.
Exposure to high temperatures can cause many kinds of health issues. Heat stroke, exhaustion, and dehydration are common in this part of the country. These problems can result in death if left untreated.
If you plan to hike or explore the Southwest, pack plenty of water and avoid lengthy periods in direct sunlight. Watch out for symptoms like dizziness, nausea, clammy skin, weak pulse, and high body temperature. And if you're sensitive to extreme heat, you may want to avoid the Mexico border altogether, at least during the summer months.
#3 Flash Flooding Near the Mexico Border Can Be Deadly
Deserts are generally dry, dusty places. So what happens when these regions get a rare downpour?
Rocky arid landscapes aren't very good at absorbing moisture. These dusty areas contain dry soil that's difficult to penetrate. Deserts also experience monsoon climate, a phenomenon that causes intense storms without much warning. These conditions are a recipe for flash flooding.
Flash floods can topple buildings, wash away cars and RVs, and cause landslides. They can happen suddenly and without warning. It's a real danger that RVers should take seriously and might be another reason you choose to avoid the Mexico border during certain times of the year.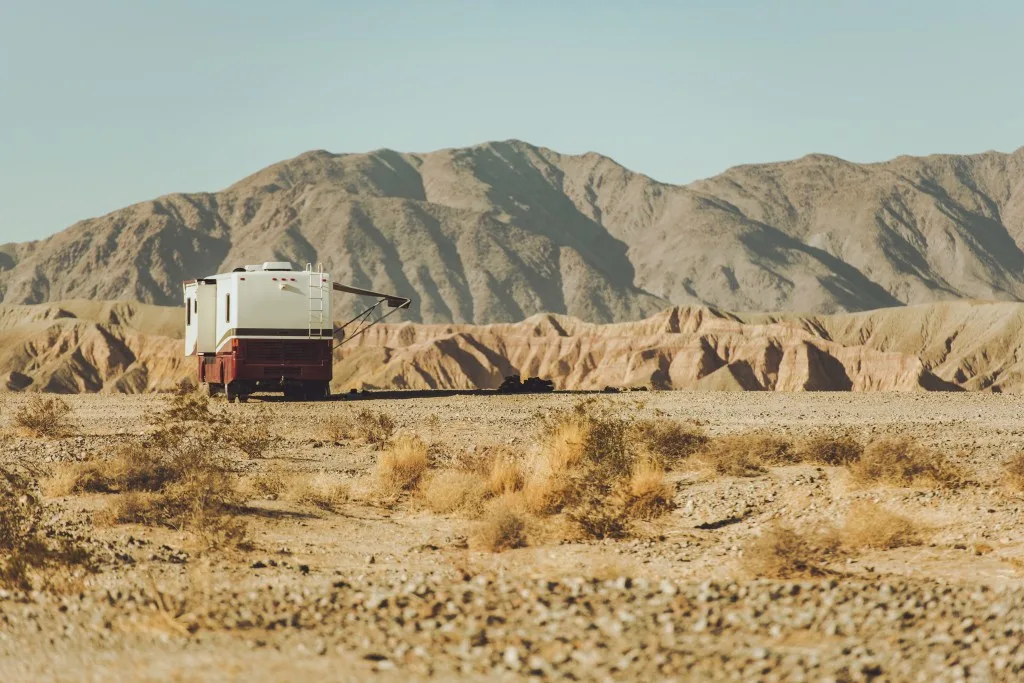 #4 Venomous Creatures Are Abundant
For all its beauty, the Southwest can also be dangerous. We've already covered the heat, the poisonous plants, and the risk of flash floods. But we haven't yet discussed one of the most obvious dangers of this region: the wildlife.
The list of creatures to avoid near the Mexico border is very long. Venomous animals like rattlesnakes, bark scorpions, and Gila monsters live along this boundary. So do bears, black widow spiders, toxic toads, and aggressive honey bees. You could even run into a giant desert centipede, a poisonous insect that grows to nearly one foot in length.
These creepy crawlers and scary bears are just the beginning. The Southwest probably isn't for you if you enjoy a vacation free of encounters with dangerous animals.
Pro Tip: Beware of these Most Dangerous Creatures in the Gulf of Mexico.
#5 Dust Storms Can Be Brutal Near the Mexico Border
Flash flooding isn't the only weather event to watch for in desert regions. Dust storms can be just as dangerous and can hit just as quickly.
Dust storms, sometimes called haboobs, usually happen after a thunderstorm. Strong winds kick up dirt and send dust clouds, sometimes thousands of feet high, blowing across the landscape.
These wild storms may arrive with little to no warning. As a result, they can affect road visibility, making driving extremely dangerous. Haboobs also send bacteria, fungi, and other pollutants into the atmosphere, creating hazardous conditions for people with respiratory diseases.
Intense dusty wind storms are especially dangerous for RVers. So consider these weather events when planning a trip to the Mexico border area.
The Elephant in the Room: Illegal Border Crossing
The Texas/Mexico border is enormous. There are definitely concentrated hot spots of illegal border crossings. These areas can be extremely dangerous.
However, in our experience, we've camped within a few miles of the border (multiple times) and have felt very safe. It's because of two reasons:
We do a lot of research on sites like Campendium to read about the experiences of our fellow campers.
And, once we set up camp at the spots we deem safe, we see more Border Patrol vehicles, day and night, than anything else.
Border Control has a lot of area to cover; in our experience, they keep our camping sites safe every visit.
One last thing. Organ Pipe National Monument is among the best parks in the USA. It butts up right to the border. Don't be scared or hesitant to visit the park. It's stunning. And, if you want to see the new border wall in person, you can also do it there.
Be Cautious When Visiting Desert Regions
The Southwest is a place of great beauty. You'll find so much gorgeous nature and scenery in this part of the country.
However, don't ignore the dangers of this region. Deserts are awesome in many ways, but not all awe-inspiring things are safe!
Take care of yourself and your travel companions during your adventures. And plan to avoid the Mexico border region altogether if any of these factors sound too risky for your taste.
Discover the Best Free Camping Across the USA
To be honest with you, we hate paying for camping. There are so many free campsites in America (with complete privacy).
You should give it a try!
As a matter of fact, these free campsites are yours. Every time you pay federal taxes, you're contributing to these lands.
Become a FREE CAMPING INSIDER and join the 100,000 campers who love to score the best site!
We'll send you the 50 Best Free Campsites in the USA (one per state). Access the list by submitting your email below: