Wondering what a yard guy costs? The question is simple, but the answer isn't!
Yard care is a lot of work, and sometimes it's a lot of money. Pricing out lawn care involves lots of factors. You have to account for the size of your yard, the number of workers you need, and how much your project materials will cost.
Fortunately, we know some tricks to help you find the perfect landscaper. Ready to learn more?
Let's dig in!
What Are Yard Care Services?
Maintaining a garden, even just grass, is time-consuming and requires a lot of hard work. Even basic maintenance can be a real headache. That's why lots of folks take advantage of lawn services.
Yard care can include landscaping, lawn care, or both. Some people just want someone to mow the grass every two weeks. Others hire whole teams to handle landscaping, planting, and weeding.
The ways to customize your services are endless. Whether you want to win Yard of the Month or keep your grass short, you can find someone local to help.
What's the Difference Between Lawn Care and Landscaping?
Landscaping and lawn care sound like similar terms. But they're entirely different services.
Lawn care refers to anything specific to your grass and turf. This includes mowing as well as edging, fertilizing, and weeding. Yard companies also handle pest control, fungicide treatments, seeding, and aeration.
On the other hand, landscaping encompasses almost everything else.
Landscapers handle tasks like laying sod, planting bulbs and flowers, and hardscaping. A landscaping team can even help you decide where to place lawn ornaments, fountains, and other outside decor. Think of landscaping as the interior design of the outdoors.
Did you know: How to easily keep ticks off your lawn.
How Much Should Yard Care Cost?
The cost of a yard guy depends on many factors. Your location, property size, and the care you want will affect your total bill.
In the U.S., an average mowing job costs between $30 and $77. Mowing is almost always the most inexpensive service a company offers. Adding other jobs will increase your bill significantly. Professionals usually charge between $100 and $375 for grass cleanup, while something like overseeding can cost over $1,000.
The bottom line is simple: the bigger your lawn is, the more you'll spend on care. If your yard care team has more ground to cover, it'll take them longer to finish their work. That drives up costs.
How Often Should I Schedule Yard Care?
If you want a healthy yard, regular care is a must. So how frequently should you schedule it?
It's important to remember that different kinds of lawn care happen throughout the year. Maintenance services like mowing, weed-eating, and pest control are most important when your yard is in active growth. Spring and summer are the busiest times for these companies. Be prepared to schedule maintenance every one to two weeks while your grounds are green and lush.
Proactive services are essential, too. These are tasks that keep your grass healthy over multiple seasons. Shrub care, aeration, fertilization, and tree maintenance are just a few items in this category. While some of these add-ons may be expensive, they're significant for your lawn's lifespan. And the good news is you don't need to schedule these tasks more than a few times each year.
Pro Tip: Protect your lawn by knowing these 5 Reasons to Avoid Gas-Powered Lawn Mowers.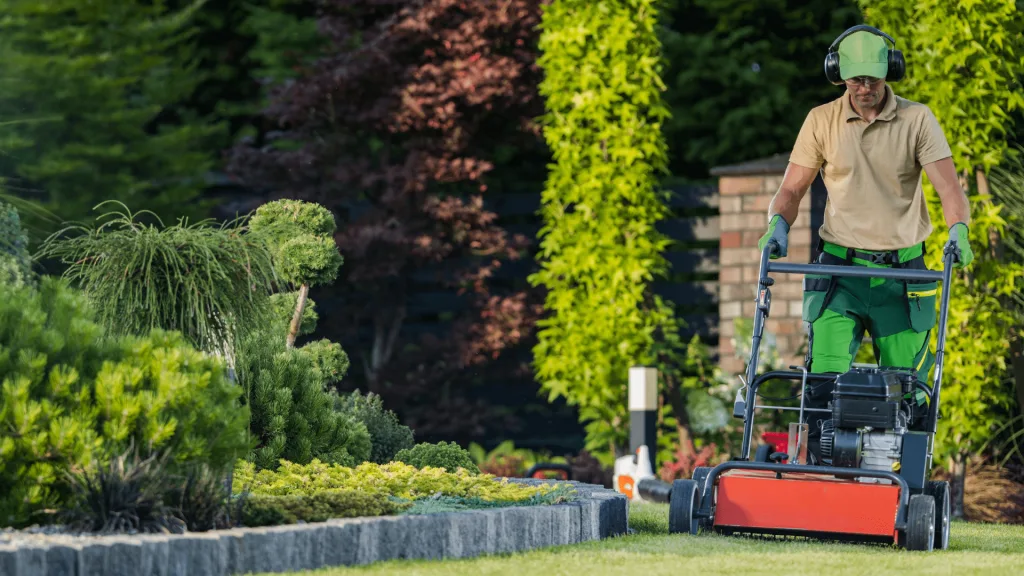 How To Find Yard Care Services Near Me
Hiring a yard guy, or even a whole team, might sound like a big task. But all it takes is a quick online search. Here are some easy ways to find yard care to fit your needs.
Local Listings on Home Improvement Websites
The Internet makes it easy to find yard care. Websites like Angi, HomeAdvisor, and Thumbtack are geared toward home improvement services.
Angi asks users to provide information about the kind of help they need. Then the website matches you with professionals in your area, allowing you to compare reviews and get quotes.
HomeAdvisor asks you for some basic information, then gives you a survey on what you're looking for. You'll receive suggestions for yard care services based on your answers.
Thumbtack searches your general area to find nearby lawn and landscaping pros. It's a quick and easy way to get an estimate for your project.
Yelp
Most folks probably associate Yelp with restaurants and bars. But this website can also help you locate yard care services near you.
Simply enter your zip code, and Yelp will provide you with every lawn and landscaping company in your area. You can use their Request-a-Quote system to get an estimate for yard work before officially hiring a pro. Just answer a quick questionnaire to get the ball rolling. And, of course, Yelp's customer reviews will help you narrow down your options.
Craigslist
From scams to robberies and other horror stories, Craigslist frequently gets a bad rap. It can be tricky to distinguish between legitimate professionals and online scammers. However, this virtual bulletin board is still a good tool for finding lawn services.
It's better to search existing Craigslist posts than to make one of your own. Creating a post that says you're looking for yard care will attract lots of replies–and while some may be good, the majority won't be.
Check out the "real estate" or "farm and garden" boards to find posts from lawn and landscaping professionals. Craigslist requires that business owners pay fees for their listings, weeding out random folks looking for a quick buck. You can also communicate with the businesses and ask questions to ensure you're hiring the right team.
Pro Tip: Beware of these 5 Common Garage Items That Can Be Deadly.
Is It Cheaper To Do Your Own Lawn Care?
Lawn care is a tricky business. Where you live, the size of your property, and the services you request all affect the cost of a yard guy.
If you just need your yard mowed every few weeks, you'll probably save a lot of money doing it yourself. But if you take on a big project like planting shrubs, laying sod, or hardscaping, you might need a yard care service to help.
Big outdoor projects don't just require money. They also take time. One of the benefits of hiring out lawn care is that someone does the labor for you. Despite the out-of-pocket cost, you may decide it's more fun to spend your weekends relaxing instead of doing all that work yourself.
Discover the Best Free Camping Across the USA
To be honest with you, we hate paying for camping. There are so many free campsites in America (with complete privacy).
You should give it a try!
As a matter of fact, these free campsites are yours. Every time you pay federal taxes, you're contributing to these lands.
Become a FREE CAMPING INSIDER and join the 100,000 campers who love to score the best site!
We'll send you the 50 Best Free Campsites in the USA (one per state). Access the list by submitting your email below: