If you're looking for RV renovation inspiration, Summer & Ryan Ginther are serving up a healthy dose. This camping couple has transformed two RVs into boho beauties.
Today we're talking to them about their most recent RV renovation undertaking.
If you want a quick tour of their camper, you can check out the YouTube video below. However, we recommend scrolling through the entire article to see all the before & after photos. They also share a few great renovation tips.
Let's dive in!
How long have the Ginthers been RVing?
Summer and Ryan started RVing in June 2019. They purchased their first RV in August of 2018, a 1969 Shasta Compact.
Summer says, "We spent the next nine months renovating this travel trailer without intending to live in it. But while renovating it, we decided not to renew our lease on our house and take off full time in June!"
After traveling full time in this 70 square foot trailer for eight months, the Ginthers decided to continue the RV lifestyle and purchased their current motorhome in April 2020.
Summer and Ryan spent four months renovating their motorhome and have been traveling and living in it since!
What type of RV are you currently traveling with?
They have a 2001 Shasta Freeport that they renovated. It is a 29 foot Class C motorhome.
Pro Tip: If you're in the market for Class C RVs, here are our 5 favorite Class C Brands.
Why did you choose to renovate an RV? What inspirations did you draw from?
Summer says, "This was the second RV we renovated. Our first trailer was a vintage trailer, and we wanted to renovate it as a fun side project. We followed Mavis the Airstream and fell in love with making vintage trailers come alive again!
When we decided to buy a bigger RV to live in full time, we knew we wanted to renovate it because we loved being able to design our home exactly how we wanted it. We wanted our RV to be practical but also fun!"
The Ginthers added a lot of accent pieces and were inspired by bright pinks, oranges, and green!
Their design skills are what drew us to learn more about them.
Let's take a look at each specific area in their RV and see the before & after photos.
Living Area Renovation
"In the living area, we took out both the dinette and couch that were originally in the RV. We built our own custom couch/twin size daybed," Summer says.
"The couch also has built-in storage underneath it. We added a lightweight desk to use as our home office and dining table. We also renovated the cab area to make our own little herb garden and shelves to store our records!"
Herb gardens are an easy touch that RVers can add to liven up any room. Here's an example of camper-ready herb gardens.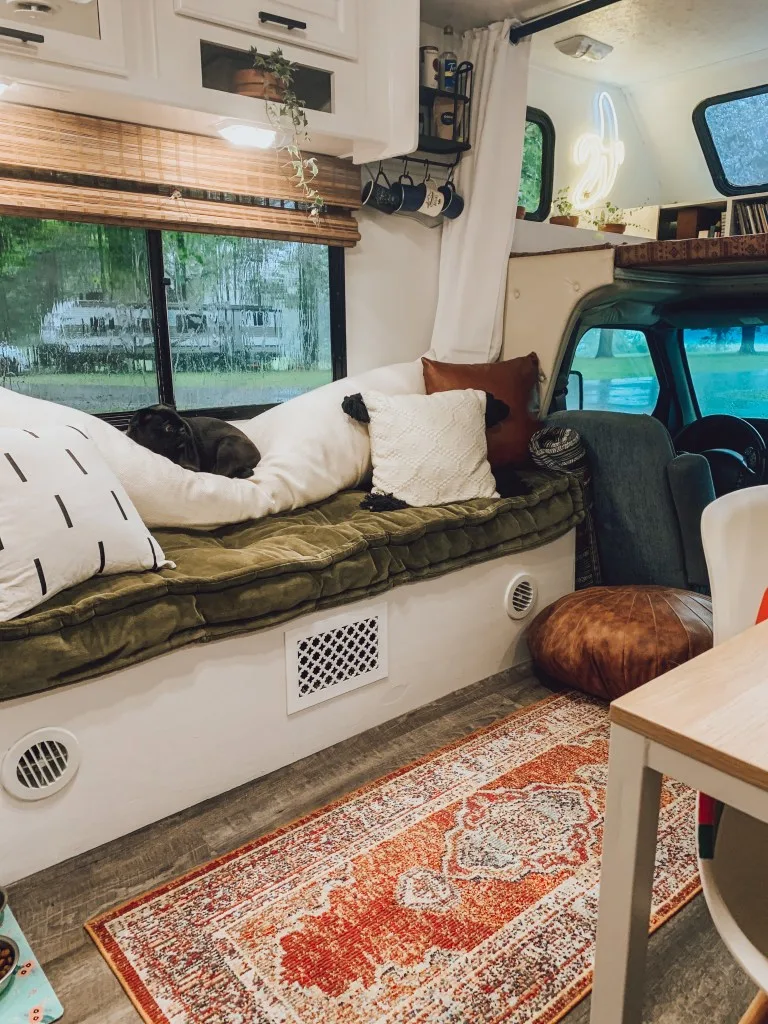 Bedroom Spruce-Up
The Ginthers admit that bedroom was thankfully a pretty easy upgrade! They say, "We painted the entire interior of our RV including the cabinets.
In the bedroom we also added new hardware and light fixtures."
BoHo Bath Room Remodel
The bathroom renovation was one of thier favorites!
Summer says, "Our bathroom has an odd set up. We have the bathroom portion with the sink and toilet. In this area, we replaced the countertop, painted an accent wall, and added new storage and a mirror. We also replaced the sink with a vessel sink."
The shower sits across from the bathroom in the corner of our bedroom. This was their least favorite part of the RV when they bought it so they knew they wanted to do something special!
The Ginthers replaced the shower doors with cedar half walls! We also used copper pipes to create a unique curtain rod.
In fact, when we renovated our Airstream Argosy, we used copper pipes to create a curtain rod as well.
RV Kitchen Renovation
In the kitchen, the Ginthers painted the cabinets white and added new hardware.
"We also painted our fridge all black, added a backsplash, and more storage," Summer says. "One of my favorite parts of our kitchen is the open concept spice cabinet we built!"
RV Exterior Upgrade
They painted the exterior of our RV ourselves (an undertaking that isn't easy). Since their RV is 20 years old, the exterior paint was not in great condition or their hip style.
The Ginthers opted for a simple black and white look!
What tips do you have for folks interested in renovating an RV?
Here's what Summer & Ryan have to say:
Patience is a virtue when working on RVs!
Working in such a small space can be challenging, and sometimes it takes a few attempts until you figure out the best way to do something.
Also, the internet is your friend!
We learned so much simply by watching YouTube videos of other amazing RVers!
What was the most important tool while renovating?
Summer says, "We were super lucky because my dad actually works in construction, and we had access to his entire tool wagon!
He was also a huge asset during our renovation because of all of his knowledge and experience!"
Where can you follow Summer & Ryan?
You can follow the Ginthers' travels across the following channels:
YouTube: All Signs Point West
Instagram: @summerginther @ginther
Tik Tok: @summerginther
Discover the Best Free Camping Across the USA
To be honest with you, we hate paying for camping. There are so many free campsites in America (with complete privacy).
You should give it a try!
As a matter of fact, these free campsites are yours. Every time you pay federal taxes, you're contributing to these lands.
Become a FREE CAMPING INSIDER and join the 100,000 campers that love to score the best site!
We'll send you the 50 Best Free Campsites in the USA (one per state). Access the list by submitting your email below: