Do You Need an RV Camper Cover?
If you're like most people, you probably only use your camper for a few months of the year. The rest of the time, it is sitting in storage.
Since a camper is a large investment, it makes sense to do everything you can to take care of it, so it lasts for years to come.
That's where a camper cover comes into play.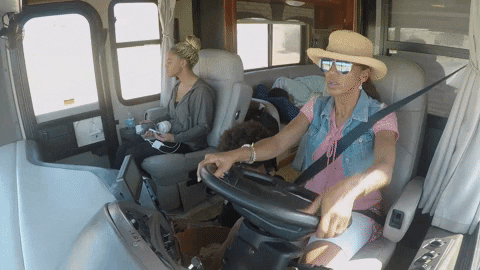 What is a Camper Cover?
A camper cover is a fabric cover you can place over your RV when it is not in use.
The camper cover protects your trailer from sun, wind, rain, snow, and more. This added protection will help your trailer last longer.
If you have your RV stored inside a 100% enclosed storage unit, you won't need a camper cover. However, when we compare RV storage options, an enclosed unit is by far the most expensive.
Who Needs a Camper Cover?
Unless you use your RV year-round as a full-timer, chances are you could benefit from a camper cover. A camper cover is a great purchase for people who live in very sunny environments where UV light can easily damage a camper over time.
Your RV roof is where most problems begin.
A camper cover can also be great for people who live in cold, snowy, or wet places where moisture could otherwise get in through seals and cause significant water damage to your rig.
So basically, if you store your trailer outside (or partially outside) for any length of time, you need a camper cover.
Here's an example of the average price of an RV camper cover.
Benefits of RV Covers
There are several benefits to having a cover for your RV.
First, RV covers help protect from UV light damage which can break down the fiberglass or paint exterior on your RV. UV light can also damage your seals which could let water into your rig. An RV cover can help prevent this.
Camper covers also keep your rig clean by keeping out dirt, sap, bird poop, and more. This means less maintenance because you won't have to be constantly cleaning your RV while it is in storage.
Another benefit of a camper cover is that it helps keep out moisture as long as you set it up properly. Keeping water out of your rig is always a good thing.
For a small cost, camper covers go a long way to preserve the look and function of your RV. This helps maintain its value and makes it easier to sell if you ever decide to.
Pro Tip: Travel Trailers are apt to leak before any other RV type. Here are the reasons we think you may want to avoid an RV travel trailer.
Disadvantages of RV Covers
Although there are benefits of camper covers, there are also a few drawbacks.
First, it can be a pain to cover your RV. You'll be dealing with an extensive amount of fabric flapping in the breeze while you try not to fall off the roof of your rig. Putting on an RV cover is one more thing on your to-do list every season.
Another drawback is that low-quality covers don't actually provide that much protection for your RV. And sometimes, with low-quality material and improper installation, they could actually do more harm than good.
If moisture gets under the cover in the winter, it can freeze and cause the exterior of your RV to crack. In warmer places, water accumulation can cause mold and mildew to build up.
Camper covers can also flap around or blow off if not put on correctly. You then have the headache of completing the task all over again.
How Much Does a Camper Cover Cost?
Camper covers come in a range of prices depending on quality and size. But given the potential downsides of a cover, cheaper is not always better.
Camper covers can cost as low as around $100 for a cheap fabric cover, offering little protection up to almost $1,000 for something more top-of-the-line.
Top RV Cover Brands:
If you're in the market for a great RV cover that will actually protect your rig, here's what we recommend.
Goldline
Goldline designs high-quality covers for almost any kind of RV. These camper covers fall in the price range of around $525-725 depending on the size of your rig. They are made of 100% waterproof 300D polyester material making them extra durable. They also treat the cover with Durapel UV sun inhibitor to provide added protection for your RV.
The fabric is microporous to allow for breathability, so you don't have to worry about mold and mildew. Additionally, they have heavy-duty straps that prevent your camper cover from falling off.
Goldline is definitely one of the best options out there for your camper cover. And since they make these covers to last, you won't have to buy another cover for a long time.
ADCO
Another great option for a solid camper cover is the ADCO cover. ADCO has been around since 1955, making them the oldest company of protective covers in America. With a company that has been in business this long, you know they deliver quality products.
Their class A RV covers are easy to install with weighted buckles and slip-seam strapping that cinch at the bottom and the top. Their fabric is made of triple-layer SFS aqua shed breathable material to protect against any level of rain or humidity.
These covers are best for moderate climates, where moisture is the biggest concern.
Camco
Our final recommendation is a camper cover from Camco. This is the go-to choice for travel trailers. The Camco ULTRAGuard Supreme RV cover is durable, weatherproof, and provides excellent UV protection.
This camper cover is made of three-layer non-woven polypropylene. There are covered air vents to prevent mold and mildew build-up. And the front and rear straps along with an underbelly strap cinch down tightly so there is no loose fabric.
Another thing we love about this camper cover is the zipper entry doors. If you want to check in on your RV while it is in storage, you don't have to remove the cover to do so. All you need to do is unzip the door and hop in. That way you can rest assured knowing both the interior and exterior of your RV are in good shape.
Is an RV Cover Right for You?
An RV camper cover is an awesome and affordable way to protect your rig all year round.
If your RV is in outdoor storage in climates with extreme weather or lots of sun, a camper cover provides year-round protection.
An RV cover can help keep your rig looking newer and working better for longer. Just make sure you install it correctly to limit the downsides and you'll be good to go!
Discover the Best Free Camping Across the USA
To be honest with you, we hate paying for camping. There are so many free campsites in America (with complete privacy).
You should give it a try!
As a matter of fact, these free campsites are yours. Every time you pay federal taxes, you're contributing to these lands.
Become a FREE CAMPING INSIDER and join the 100,000 campers who love to score the best site!
We'll send you the 50 Best Free Campsites in the USA (one per state). Access the list by submitting your email below: