Some might tell you that enjoying tiny living at its finest means buying a teardrop camper. It's by far one of the most nimble and compact options for RVers on the market today.
Teardrops may be ideal for one or two travelers and easy to tow, but the limitations can be monumental.
Let's find out together why you might reconsider RVing in a teardrop camper.
What Is a Teardrop Camper?
Resembling the look and shape of a teardrop, this camper design is sleek yet constricted. Besides sleeping only one or two people, some teardrop campers have a simple kitchen system, a bathroom, and a storage area, although those extras are rare.
What Kind of Vehicle Can Pull a Teardrop Camper?
On average, the weight of a teardrop camper is below 4,000 pounds. With such a featherweight construction, this camper is perfect for most vehicles with a tow package.
Small trucks, SUVs, and even the occasional motorcycle can tow this camper safely and comfortably.
Pro Tip: Here are the 5 best crossover SUVs for towing.
5 Reasons to Avoid Teardrop Campers
Although these campers are appealing because of their confined composition, there are a few missing features. Let's explore what this camper lacks.
1. They're Small – No Standing Room in Most Teardrops
The flexibility and spontaneity associated with RVs and camping are two of the many reasons people gravitate toward RVing. Many consider gathering with friends to be one of the best aspects of RV living.
Many teardrop campers, however, offer no room to stand, let alone entertain indoors.
As a result, you're left with a finite number of options when hosting a gathering of any size.
2. Many Have No Bathrooms
Who could imagine that having a bathroom within the confines of your RV would be considered a luxury?
With this trailer, you'll rarely find a bathroom.
You'll be at the mercy of public facilities wherever you may roam, and that may be unacceptable for some. Should you find yourself in that situation, you might have to get creative and concoct an alternate method.
Keep in mind: Even if you can fit a composting toilet in your teardrop, here's the dirty truth of composting toilets.
3. No Indoor Kitchen
As mentioned earlier, many teardrop campers offer a basic kitchen setup within the RV. Bear in mind, however, these kitchens are not comparable to what you'd find in a more substantially-sized trailer.
So, during those times of entertaining with friends and family, you'll have to utilize the outdoor space as much as possible.
You may have to take up precious cargo space to pack around portable grills and refrigerator/freezer combination appliances to make your bare-bones kitchen work.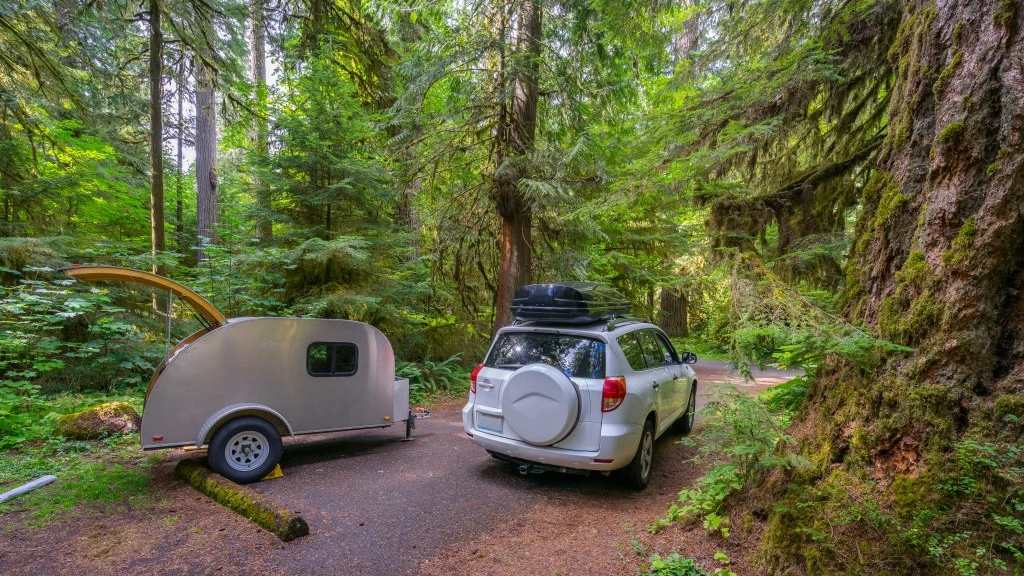 4. Very Limited Storage Space
So, you downsized your list of belongings before you moved into an RV. Except that drastic reduction in possessions probably wasn't enough for a teardrop trailer.
Before purchasing this small specimen, be aware that storage space is at a premium. Not only does it feel cramped, but you'll also have to be choosy in what you bring along.
Traveling with your absolute necessities is essential to avoid exceeding safe weight restrictions.
5. Nowhere to Hang Out in Bad Weather
Envision yourself in the middle of a torrential downpour or blustery snowstorm. Your first thought is to move your party inside your RV where you can chat, eat, and relax comfortably–not the case with this kind of camper.
Minute amounts of square footage combined with a lack of awning on the camper make for a sizable drawback.
You can hunker down in your bed until the storm passes, but there will be little room to stretch out and nowhere to invite your guests to sit.
Thus, you may find yourself rethinking whether or not this type of camper is right for you.
Are Teardrops Too Tiny?
There you are, fellow RVing enthusiasts. If you happen to fall within the spectrum of solo traveler or are part of a dynamic duo that enjoys traveling, the teardrop camper may be an optimal RV for you.
But most of us prefer a rig where we can stretch out and invite our friends. It's something to think about the next time you're RV shopping.
These 7 Small RVs are still nimble, but offer a little more room to move.
Discover the Best Free Camping Across the USA
To be honest with you, we hate paying for camping. There are so many free campsites in America (with complete privacy).
You should give it a try!
As a matter of fact, these free campsites are yours. Every time you pay federal taxes, you're contributing to these lands.
Become a FREE CAMPING INSIDER and join the 100,000 campers that love to score the best site!
We'll send you the 50 Best Free Campsites in the USA (one per state). Access the list by submitting your email below: