Today, we're looking at a new RV reservation rule you'll want to follow if you plan to camp anytime soon.
With so many jumping on the bandwagon and buying RVs in recent years, it should come as no surprise that it's becoming difficult to find a campsite.
Many campgrounds love that their sites are in such high demand. However, this is leaving quite a few unhappy campers that can't seem to make a reservation.
Let's dig into the details!
RV Sales Are Down, but Campground Reservations are Still Up
What goes up must come down, and camper sales are no different. Manufacturers often stay slightly ahead of the game when shipping new units to dealerships. However, the RV Industry Association data indicates that sales dropped dramatically in the second half of 2022, especially compared to the previous year.
The forecast for RV sales in 2023 isn't looking much brighter.
However, campsites remain very full.
While many campgrounds were typically full during holiday weekends or peak seasons, fully booked campgrounds are becoming the norm. This change is forcing those looking to camp to adjust how and when they make their reservations.
Whether you like it or not, you may as well jump on board because it's likely not going to change.
PRO TIP: 5 Reasons RV Parks will Deny Your Reservation.
The New RV Reservation Rule: Book At Least 6 Months in Advance
You previously may have been able to snag a great campsite at the last minute. However, that's not likely to happen any longer. Many RVers are finding that to get a campground reservation; they need to plan for at least six months in advance.
The Rule of Thumb: Plan reservations six months in advance. You may also look three months in advance if your schedule is flexible.
You'll need to stretch this out to nine to twelve months if you plan to camp on a holiday weekend or in a popular tourist location.
As New RVers Hit the Roads, Campgrounds are Filling Up Fast
If you've been RVing for a while, it's easy to forget how exciting it is to pack up and take the new RV out for a camping trip. While manufacturers can quickly crank out new RVs, campgrounds can't upgrade their infrastructure nearly as fast.
This means although there are tons of new RVs hitting the roads, we're not seeing thousands upon thousands of new campsites becoming available. So even if you plan or get lucky and snag a campsite, don't be surprised if the campground is nearly full.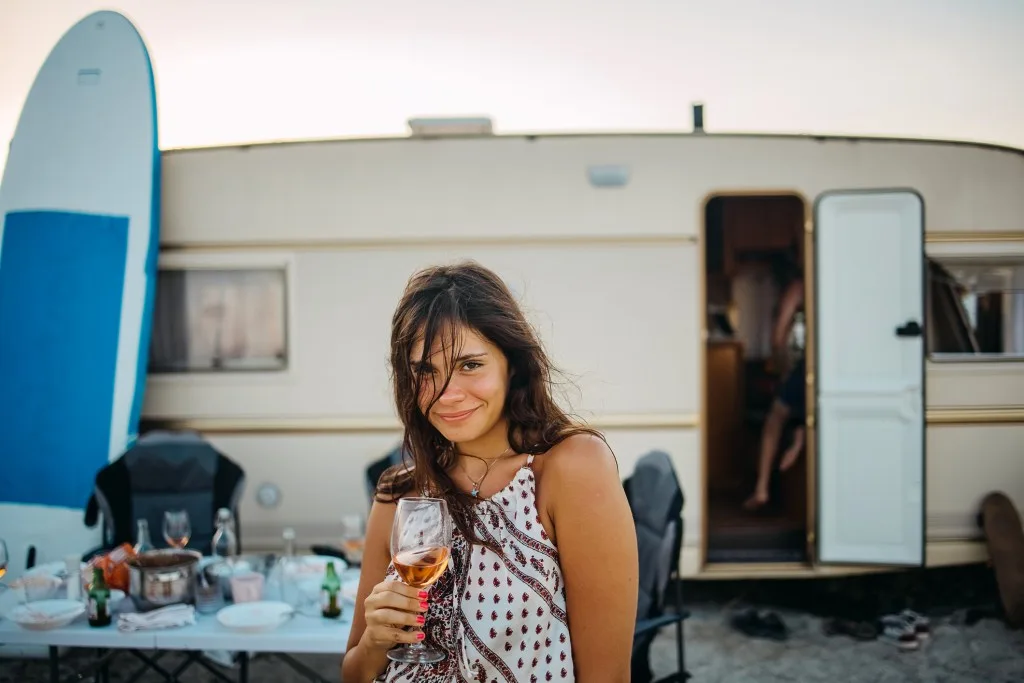 Tips for Making Early RV Site Reservations
Because things aren't changing soon, here are a few tips for booking your spots early. Let's take a look!
Pre Plan Your Trips and Stops
Many RVers have a general idea of where they plan to be for the next 12-18 months. While this may be a pretty generic idea, and there's always a possibility that it will change, you need to have a plan for your trips and stops.
This can allow you to avoid traveling to popular tourist destinations during peak seasons. You increase your chances of getting a site and not having to deal with crowds. Some campgrounds even offer discounted rates if you're staying during the off-season.
Sometimes it's only possible to see an area during the busy season. Planning your trips and stops can help ensure you're able to snag a site, even when it's busy. The more popular the area, the further in advance you'll need to plan.
Keep in mind: The RV Park 55+ Rule may Catch You off Guard
Be Prepared to Reserve with a Deposit
Not all campgrounds will request it, but some often require you to pay a portion of your site fees in advance to reserve your site. By paying a deposit, you're putting some skin in the game to ensure you're not going to back out at the last minute.
Policies regarding deposits will vary from campground to campground. The payment could be anything from the first night's stay to a certain percentage of your camping fees. Whether a deposit is refundable or non-refundable will also vary.
If it's non-refundable, you may still be able to move your reservation to another date to avoid losing any money.
Make Note of RV Reservation Cancellation Policies and Fees
If you're booking several different campgrounds, make sure you keep track and are aware of the cancellation policies and any fees. Because policies vary so much between campgrounds, it's easy to get campgrounds confused, especially if you're booking them all at the same time.
Some campgrounds may charge more for pets, kids, or extra vehicles. So don't forget to read through the policies and fees before booking a site, especially if any deposits paid are non-refundable.
Take note: Some Campgrounds Are Even Running Background Checks on Guests Who Want Reservations.
Book Longer Stays to Save Money
A great way to save money when booking sites in advance is by booking a longer reservation for your RV. You're not likely to find this in a state or national park campground, but many private campgrounds will offer discounts for weekly or monthly stays. You may not see them advertised, so it never hurts to call and ask if there are any deals.
"But I Don't Plan That Far Ahead!"
You may be saying, "But I don't plan that far ahead!" That may be true, but if you enjoy staying in campgrounds, you'll need to start making RV reservations. Whether it's your personality, sports, or work schedule that prohibits you from planning that far in advance, you'll miss out if you don't. This may mean you need to fill out the paperwork at work to ensure you get the vacation time or miss a game or practice due to vacations.
If none of these sounds like viable options, you may need to try some alternative camping methods. This could be through memberships like Harvest Hosts, Boondockers Welcome, or even finding campgrounds that are less in demand.
The most important part of the process is that you and your fellow campers get to enjoy your time spent together.
Want to Keep Winging It? Try Free Camping Instead
If you enjoy free camping and the thrill of winging it, you could always try boondocking. This often means camping on public lands without hookups or any amenities. You'll need to bring everything you need with you, but it can provide a tremendous amount of privacy and space in some pretty epic camping locations.
Using resources like Campendium and iOverlander are great places to start looking for free camping locations near you. Both resources often provide pictures and reviews from others who have camped at the location. This can allow you to find campsites that are easy to navigate and meet your camping needs.
Tips for Getting a First-Come, First-Served Campsite
Some campgrounds are opting to steer away from RV reservations and adopting first-come, first-served campsites. This can be stressful and frustrating but also rewarding if you can snag a site. Here are a few tips when it comes to first-come, first-served campsites.
Get There Early
The earlier you can arrive at a first-come, first-served campground, the better. Many of these campgrounds will have lines that form of guests looking to camp. If you're at the front of the line, you'll have the best chance of getting a spot.
However, just because someone leaves doesn't mean the site they were occupying will fit your rig. So this can be frustrating, especially if you're in a larger RV.
Avoid Holiday Weekends
It doesn't matter whether it's a first-come, first-served campsite or in a state park; holiday weekends are typically the busiest. Some guests will arrive as far ahead as possible to get a site for the holiday weekend. If you're planning to stay during a holiday weekend, a first-come, first-served campground may require you to have a backup plan.
Come Prepared With Cash
Many first-come, first-served campgrounds are often very minimalistic. There may not be camp hosts or attendants on duty when you arrive. This means you'll need to handle the financial transaction yourself.
There will typically be envelopes available at the main gate or registration booth for you to put your money in and drop it in a lockbox or other secure location. Carrying cash means you can pay for your campsite and not have anything to worry about.
Some of these campgrounds will allow you to leave your credit card information, but you'd have to be pretty trusting to leave that for anyone to have access to.
Are You Prepared For These RV Life Changes?
The RV community has seen some massive changes in recent years. When it comes to adapting to change, there are not many communities more suited for adapting than RVers.
If you're planning to do any camping soon, your best bet is to embrace these RV life changes. Are you ready? How will these changes affect your camping experience?
Discover the Best Free Camping Across the USA
To be honest with you, we hate paying for camping. There are so many free campsites in America (with complete privacy).
You should give it a try!
As a matter of fact, these free campsites are yours. Every time you pay federal taxes, you're contributing to these lands.
Become a FREE CAMPING INSIDER and join the 100,000 campers that love to score the best site!
We'll send you the 50 Best Free Campsites in the USA (one per state). Access the list by submitting your email below: