Give them an inch, and they'll take a mile. RVers can't get enough of free camping at Walmarts across the USA.
This morning a YouTuber documented the situation on her cell phone and posted the video on YouTube.
Called Grass Roots Living on the video platform, she says, "It's not even 6 o'clock in the morning yet, but I had to bring you outside to show you the Walmart parking lot."
She continues, "I came out this morning and counted – and I know I can't even see them all – I counted 20 RVs. I'm not even counting the big rigs that are here."
However, Grass Roots Living didn't mind the crowd.
In fact, they said they felt safe because of the numerous RVs.
Looks Like Celebs Overnight at Walmart, Too
Both Kristin Bell & Jimmy Kimmel are fans of parking overnight at Walmart. Even multimillionaires enjoy the simple things in life…like waking up at Walmart.
Bell says, "You can just go camp in the parking lot."
This can't be good for the future of Walmart overnight parking!
By the way: This celebrity exchange was also when Jimmy Kimmel totally ripped on the quality of his brand new RV.
Despite what Kristen Bell says, camping at Walmart is no good. We believe overnight RV parking is ok at Walmart…if you follow these rules.
What's The Walmart Corporate Take on Overnight RV Parking?
Here's what they have to say on an FAQ point asking "Can I park my RV at a Walmart store?":
"While we do not offer electrical service or accommodations typically necessary for RV customers, Walmart values RV travelers and considers them among our best customers. Consequently, we do permit RV parking on our store parking lots as we are able.
Permission to park is extended by individual store managers, based on availability of parking space and local laws. Please contact management in each store to ensure accommodations before parking your RV."
There you have it, straight from the Walmart Corporate website. Walmart as a corporation leaves the decision up to local store management teams and local laws.
Why Stores Across The Country Are Banning Overnight RV Parking
With the recent announcement about Cabelas rolling up the welcome mat for RVers and more and more Walmart stores banning overnight parking, one has to wonder: Why are so many stores banning RVers?
The answer here is pretty simple: abuse of the privelege.
Redditor DudeWithAMood12 hit the nail on the head with this quote:
"People don't value anything free. Others have ruined it for everyone."
This is why stores are banning overnight RV parking: a few bad apples have ruined it for everyone.
Free parking at public places is a privilege that shouldn't be taken lightly, and unfortunately it's abused by most people.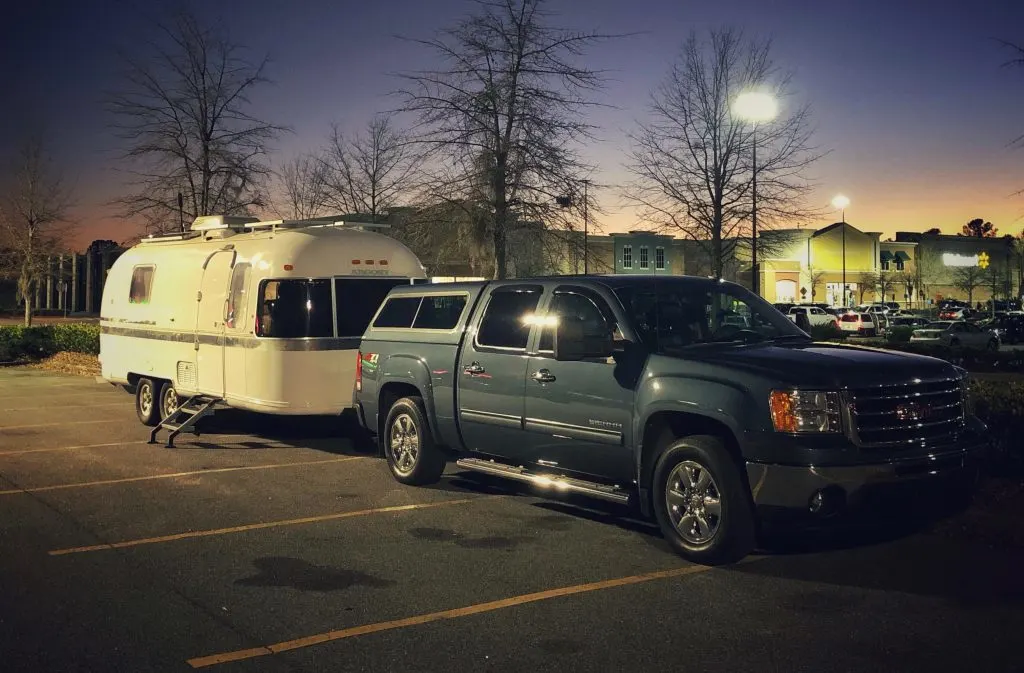 Rules and Etiquette for Boondocking At Walmart
There are some general unwritten rules about boondocking at Walmart. While they are unwritten, they should always be followed.
Being respectful about your stay and following these general rules will help keep these overnight parking options available for all travelers.
You know the saying "one person can ruin it for everyone" – don't be that person.
Never fully set up camp. Walmart parking lots are for sleeping only – no setting up your camp chairs, rugs, or grills.
Avoid using your RV's jacks if possible. They can cause dents in the asphalt of the parking lot.
The slide debate. There is much debate about whether or not you should fully extend your slides while "Wallydocking". Some RVers can't access their bedroom or bathrooms without them, so this is up to you.
Don't overstay. It's customary to arrive in the evening or at night and leave early in the morning. Some stores will ask you to leave by 8am. Never stay more than one night in a row at any store!
Patronize the store. Although overnight parking at Walmart is free, it's a good gesture to purchase something during your stay.
Leave it better than you found it. This should go without saying but: don't litter. Don't let your tanks leak on the lot. Don't leave anything behind when you go, not even food scraps or waste water.
Overnight RV Parking Spaces Disappearing Right Before Our Eyes
We've seen a bigger influx of new RVers hit the road over the last couple of years than in many years prior. And with the influx of new RVers comes the consequences, like losing some of our favorite free overnight parking spots.
From popular BLM and public land boondocking sites being shut down to private parking lots around the nation banning RVers, we're seeing more and more camping bans almost every month.
With more people continuing to hit the road without much preparation, it doesn't look like this trend will slow down anytime soon.
Discover the Best Free Camping Across the USA
To be honest with you, we hate paying for camping. There are so many free campsites in America (with complete privacy).
You should give it a try!
As a matter of fact, these free campsites are yours. Every time you pay federal taxes, you're contributing to these lands.
Become a FREE CAMPING INSIDER and join the 100,000 campers who love to score the best site!
We'll send you the 50 Best Free Campsites in the USA (one per state). Access the list by submitting your email below: