Towable vs Drivable RV: Everything You Need to Know
RVs fall into two basic categories, towable & drivable. Each of these two styles have many sub-groups within.
Today we're breaking it down into easy-to-understand terms to help assist you in your RV research.
We'll teach you about all the RV styles, the benefits & challenges of each and the price differences. Additionally, we surveyed over 500 RV enthusiasts about their thoughts on the age of question – towable or drivable RV?
Let's dive in!
Towable RV Types
While you may have a specific idea about what a towable RV is. You may be surprised about the variation that exists in the RV market today.
Travel Trailer
A travel trailer is the most common type of RV, and according to 'yearly new RV shipments' it's the most popular new RV type to buy.
Travel trailers are pulled by standard truck or SUV hitches and vary greatly in size & price.
In addition to a sleeping area, they usually have bathrooms with showers and full kitchens. Here's a list of the best, smallest travel trailers with bathrooms.
5th Wheel
A 5th wheel is unique for a few reasons. Primarily, rather than hitching to the rear end of a truck, 5th wheels connect to a hitch inside the truck bed.
This allows for easier towing, better weight distribution and more flexibility with floor plans.
5th wheels can be single, double or triple axle and measure over 40 feet long.
Pop Up Camper
A pop up camper is like the basic travel travel, except it has collapsible walls that "pop up" when in use.
The pop up functionality is great for storing these trailers in a residential garage. They're also great for weekend camping trips.
However, most often pop up campers don't have bathrooms and showers. In 2020 there are some pretty epic pop ups, though (check the top 5 out right here).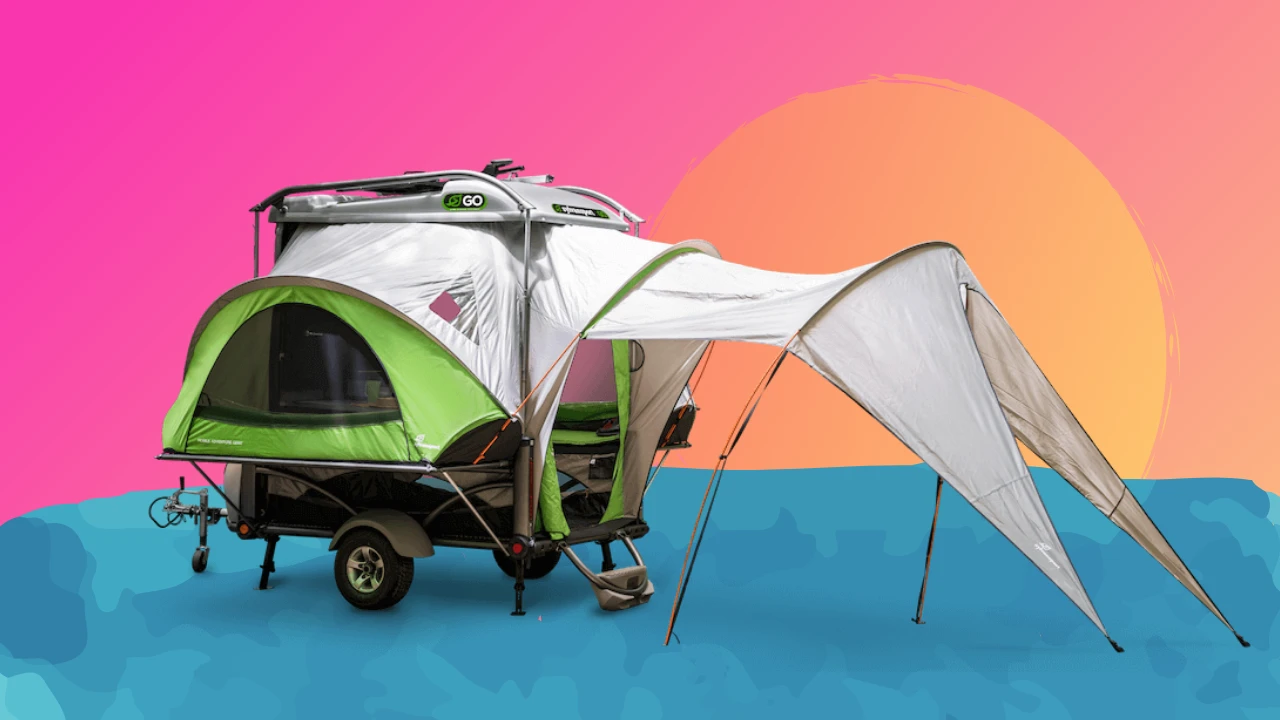 Tear Drop
A tear drop is a tiny travel trailer. In most cases, they can be towed by sedans and light weight SUVs.
Tear drop trailers are perfect for minimalist campers who don't need many amenities. These trailers never have built in bathrooms and rarely have full kitchens.
The Polydrop trailer, pictured below, is a great example of a modern tear drop trailer.
Truck Camper
While a truck camper doesn't have wheels, it's "towed" in the bed of a truck. These campers sit inside the truck bed to create a livable space.
Even though they're seemingly small on the outside, they quite often have built in bathrooms and kitchens.
Drivable RV Types
Just like towable RVs, drivable RVs come in all shapes and sizes. Additionally, the class types can be pretty confusing!
Class A
A Class A RV is the traditional motorhome. These RVs have the notoriously large window in the front and gives you many comforts of residential living.
They look box-y, which means they don't handle well in high winds.
Class A's also range greatly in price. They start around $50,000 and can go into the million dollar range. Here's what a $1.5 million dollar Class A looks like.
Class B
A Class B RV is most often associated with Van Life. These are large vans with the luxuries of an RV.
While they usually have a wet bath and kitchen, the interior space can be pretty tight. The bed is often transition-able – meaning it's a couch in the daytime.
Here's an example of the Leisure Van Class B with a murphy bed.
Class C
The Class C, despite its name, is actually the middle ground between a Class A and Class B. These are classic-looking RVs that you see on the road quite often. They have a van style front with an RV style rear.
Class C RVs are also the most popular type of rental RV. You can see in the picture below what it looks like.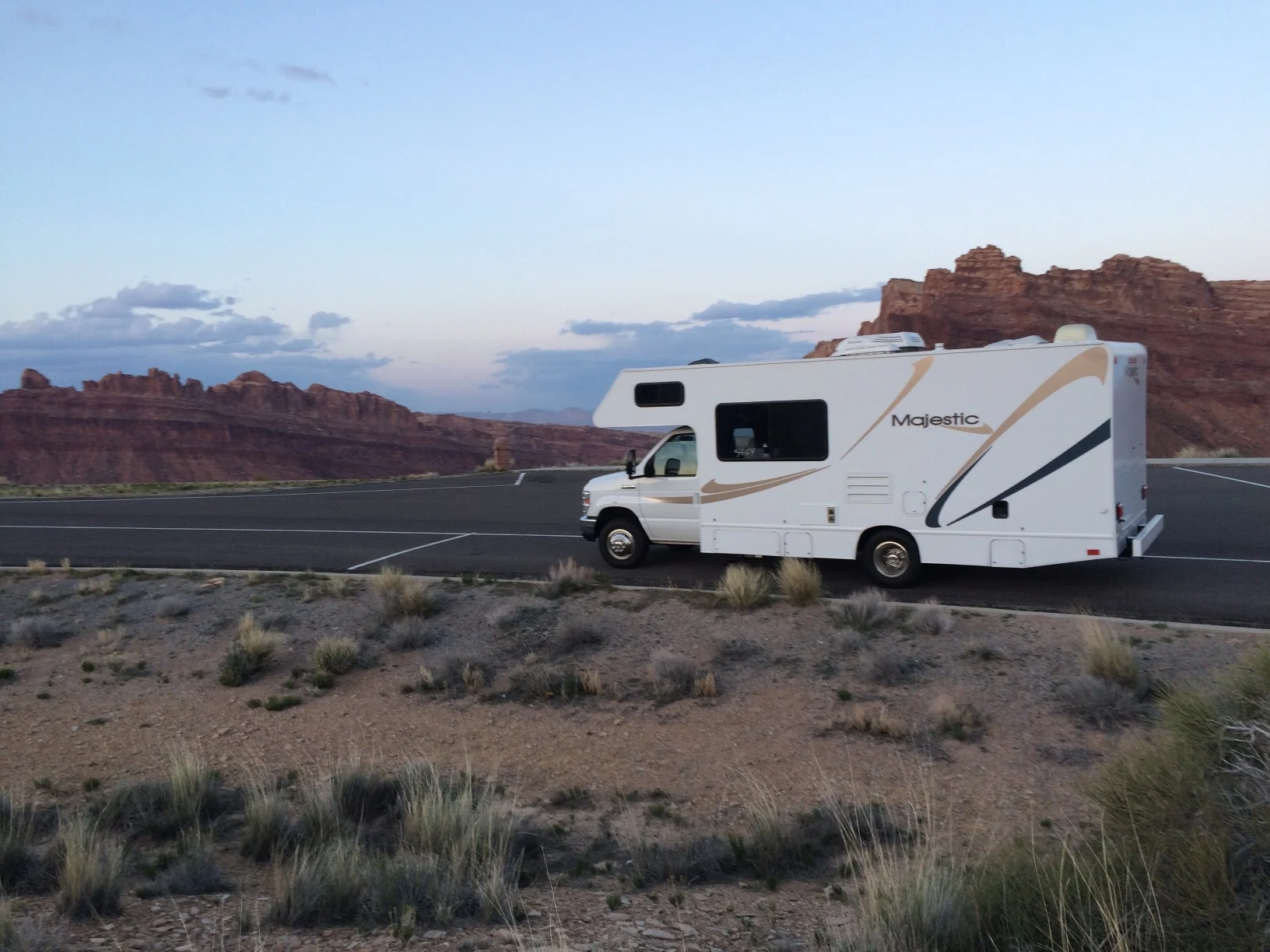 Super C
Super C RVs are the newest addition to the bunch. They have all the luxuries of Class A motorhomes, but the safety features of Class C RVs.
Super Cs look like a semi-truck from the front and a motorhome from the rear. They can tow massive amounts of cargo behind and inside the unit.
Here's the best Super C RVs in 2020.
Towable vs Drivable RV Characteristics
We asked over 500 RV enthusiast, "When deciding between towable and drivable, which is your top concern?"
The results were interesting to say the least.
Safety
Of all the options, RVers considered safety the least important deciding factor when choosing between drivable and towable.
We think that Class Cs and Super Cs are among the safest due to the front engine and overall drivability.
However, if you have a powerful truck, most of the towable RVs will be safe. 5th Wheels handle better on the interstate. Small RVs like a tear drop and pop up should be overall safer than a traditional travel trailer.
Maneuverability
Maneuverability was the most popular deciding factor when deciding between towable and drivable RVs.
Travel trailers and 5th wheel may be challenging to tow in a tight area like a gas station or windy mountain roads.
Class As and Super Cs are long and tall, making maneuverability challenging.
For easy access to all areas, tear drops, truck campers and Class Bs are your best bet.
Comfort
There's no doubt here! Class As, Super Cs and 5th wheels will offer you the most comfort. Manufacturers make luxury versions of each of these RV types.
The trade-off is maneuverability.
Price
As a rule of thumb, drivable RVs cost more. This makes sense because you're buying an engine and drive train.
However, you must consider the cost of a tow vehicle if you want a towable RV. 5th wheels require large, heavy duty trucks that often cost a pretty penny.
Class Bs, despite being smaller, often charge a premium. In 2020, these RVs are in high demand and the price reflects that.
Floor Plan
As far as floor plan diversity goes, 5th wheels will give you the most options. 5th wheels also have many toy hauler floor plans.
The smaller the RV, whether drivable or towable, will offer less floor plans.
Additionally, Class A motorhomes are limited by the front driving area. This means the living room and kitchen will always be in the front.
Towable vs Drivable RV | Biggest Challenges
No matter how you slice it, there will be challenges. In our survey we asked RV owners to share their unique challenges associated with each RV style.
Towable RV Challenges
Fitting everyone comfortably inside the truck on the drive.
Hitching up and setup.
Getting gas in tight gas stations.
sway, wind, and nerves while driving
No generator, smaller tanks and a truck big enough to tow the size we want.
Having to buy a Truck.
Turning in heavy traffic
Drivable RV Challenges
If it breaks down, you lose your home while it is being fixed.
Lack of a car if you don't want to tow one when you arrive at your destination.
Cost, space and inability to detach in a repair scenario
Finding places to stop where getting in or out is possible without having to back up as we tow a car.
Complex expensive mechanical systems
Initial cost
The gas bill
The Best FREE Camping in the USA
We love camping across this amazing country. And, we really love it when its free. Here's our list of the 20 Best Free Campsites in the USA.
If you haven't tried free camping before, also known as boondocking, take a look at our beginners guide to boondocking filled with everything you need to know to get started.
Become a FREE CAMPING INSIDER and join the 100,000 campers that love to score the best site! Simply enter your email below.